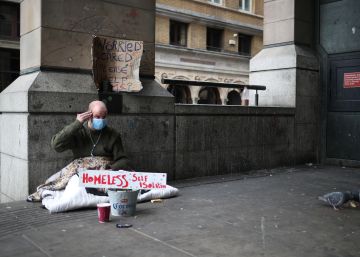 "Everyone in" is the name of a British government campaign to enable its homeless citizens, like the rest of the population, to remain confined during the pandemic of coronavirus. The measures were based on giving them a ceiling in hotels and the cheapest bed and breakfasts of the country, but with its reopening on July 4, many of them would have ended up on the streets again.
Now, a government initiative can prevent many of them from having to go back to sleep in the open. The executive has allocated a game of 105 million pounds (about 116 million euros to change) so that the country's municipalities provide a roof for the homeless. The initiative is not intended to be more than a temporary relief to a problem that requires more structural actions, according to the BBC.
The Government estimates that some 14,500 people benefited from the protective measures during the beginning of the confinement. Thousands of homeless citizens were transferred to isolated rooms, many of them in hotels. According to the BBC, three quarters of the beneficiaries are still temporarily housed in these establishments, although some have returned to sleep on the streets.
The town councils may extend the contracts they signed with the hotels, or they may also agree others with university residences or hostels, as they wish, because they will be able to freely allocate the money allocations as they consider best to face the problem. Most of the budget line is new, although £ 20m comes from government budgets to alleviate the situation of homeless people in England. Also the nations of Wales, Scotland and Northern Ireland will receive extra money.
Before the measure, several charities had alerted to the problem's emergence. The director of the services for homeless people of the St. Mungos organization has assured the British chain that talks have already begun to plan the departure of these citizens. "We have weeks, months at the most, to find alternative solutions."
.