200 Peruvian citizens, 130 Colombians and 550 Bolivians remain at exterior of their respective consular buildings of the Metropolitan region in order to have a humanitarian flight to be repatriated.
Consulates full of people waiting for help and repatriation flights to their respective countries are part of the images that the pandemic has left for some weeks in the capital.
People of all ages have set up camps outside the buildings and only a few have had the possibility of being transferred to shelters.
At the Peruvian Consulate, the nearly 200 people continue to have improvised places to spend the night and depend directly on donations to be able to feed.
It is expected that this Wednesday a group of them will be transferred to a shelter, however, a clear date of return to their country is unknown.
Meanwhile, the Colombian Embassy is experiencing a similar situation with about 130 Colombians who have more than a month waiting for a humanitarian flight.
A group of them carried out procedures with a lawyer to be able to manage a flight to our country and thus be able to return to Colombia, but in the same way they would have to pay for the return. However, this value could not be paid by most of them due to lack of money and work.
Karen Mosquera, one of the spokespersons for the place, indicated that they were offered a temporary shelter, but they rejected it as a measure of pressure towards their authorities.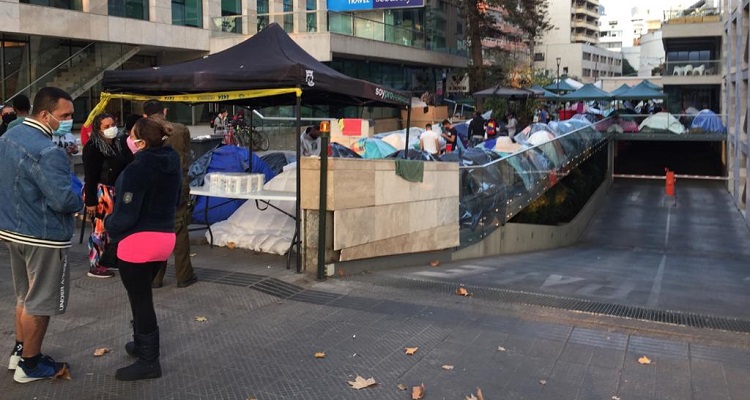 At the Bolivian Consulate the number of people surpassed the one that was registering in other weeks. Bolivian citizens demand that they be relocated to a shelter to be able to quarantine and then be repatriated to their country.
Reynaldo Choque, who manages this aid, directly criticized his authorities for the slow aid to his compatriots.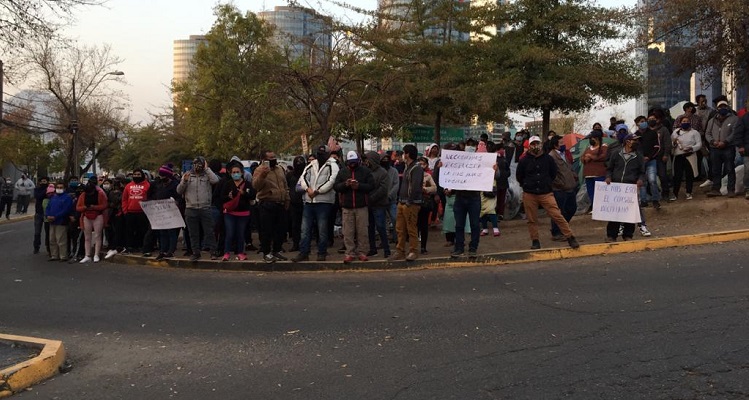 Captain John Green of the Diplomatic Services Sub-station highlighted the good behavior of foreign citizens outside the various consulates and embassies.
In addition, he stressed that due to the levels of overcrowding that are being registered, it is necessary to adopt protection measures.
About 200 Bolivian citizens have been transferred to shelters, while other precincts in Recoleta are managed to provide help to these people who have mostly asked for their job sources.
The approximately 200 Venezuelans who camped outside their embassy were transferred in their entirety to a shelter set up at the Liceo José Victorino Lastarria, but with uncertainty whether they will be able to return to their country in the coming days.
.