The artist, Mostafa Qamar, deleted photos that he had published with his daughter Judy while they were praying, through the Instagram photo site. The artist, Mostafa Qamar, was subjected to many criticisms after publishing the photos, and some followers demanded that he delete the photos.
The artist, Mostafa Qamar, had shared with his followers pictures of him wearing glasses, through his account on Instagram with Jodi, and wrote on the photo, saying: "I tried to photograph her while she was praying beside me without feeling anything but a stinging passion and a curmudgeon and she saw the camera.. But you are running away, and when you sing, why don't you slack off, Judy?
Mostafa Qamar and his daughter
Some of the followers attacked the artist, Mustafa Qamar, and demanded that he delete the pictures, pointing out that prayer is not a place for joking, which is what called Qamar to delete the pictures from Instagram.
And the star Mustafa Qamar's face was a message of thanks to all the stars who attended the wedding of his eldest son Iyad, which was held last week, and Mustafa Qamar published photos from the wedding, through his account on Instagram, and wrote, saying: "The joy of Iyad, my son, and his bride, Sarah, my daughter, is really a joy from the heart." Thank you to all my sisters, the stars of Egypt and the Arab world. The love is in your eyes. Recognize your feet that brought you.. And thank you for your hard work, which is indescribable. Your love in my heart is indescribable. ".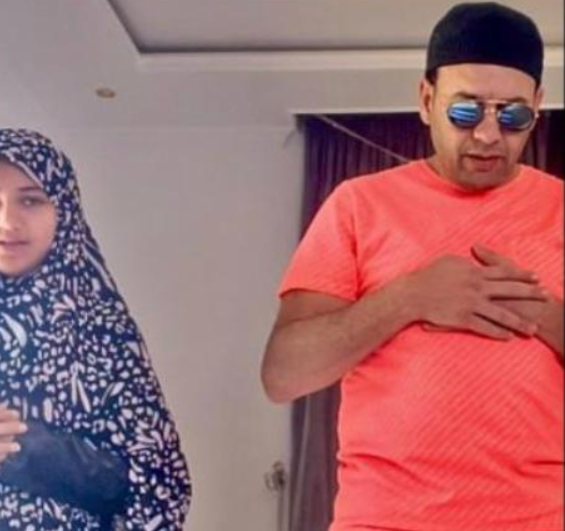 Mostafa Amar
The ceremony witnessed the singing of Mostafa Qamar, the song "The Black Eyes", with the participation of the artists who attended the ceremony, and he also sang the song "Ashab Wala Business" with the participation of Hani Salama, 20 years after it was presented in the film that brought them together and carried the same name. Hamaki also sang a number of his famous songs such as "The Most Beautiful Day" and "One One", and the stars present were keen to sing and participate with their friend Mustafa.
.