Madrid
Updated:
save

Related news
NASA has finally found the place of the landing accident Vikram of the mission Chandrayaan-2 from India, which it crashed last September when it tried to reach the moon. The images taken by the camera of the Lunar Recognition Orbiter (LRO) show the point of impact and the debris surrounding it about 600 km from the unexplored lunar south pole, the ship's target.
The mission was intended to send an orbiter, a landing module and a rover to the surface of the Moon. The orbiter had to release his lander to settle gently on an elevation next to two craters. Afterwards, the module would deploy a small exploration vehicle, Pragyan. The objective was to map the surface of the region, examine its composition and look for water. But those ambitions were truncated at the last moment. The Space Research Organization of India (ISRO) had already warned that the descent of the landing module from the lunar orbit, dubbed "15 minutes of terror," was extremely complicated. It was then that ISRO lost contact with the device due to a problem during braking. Despite the loss, says NASA, getting so close to the surface was an incredible achievement.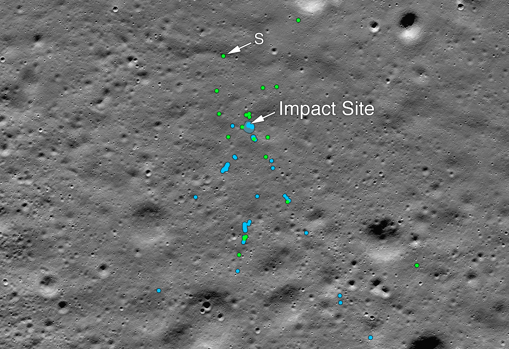 Before and after
On September 26, the LRO team published a first mosaic of photographs so that the general public could analyze it in search of the Indian ship. An amateur named Shanmuga Subramanian found something suspicious and contacted the investigators to alert them. The team confirmed the identification by comparing before and after images.
When the images were acquired for the first mosaic, the impact point was poorly lit and, therefore, was not easily identifiable. Two subsequent image sequences were acquired on October 14 and 15 and on November 11. The LRO team toured the surrounding area in these new mosaics and found the impact site and associated debris. The November mosaic had a better pixel scale (0.7 meters) and lighting conditions (incidence angle of 72 °).
The rubble located for the first time by Shanmuga is about 750 meters northwest of the main accident site. The November mosaic best shows the impact crater, the lightning and the extensive debris field.
India failed in its attempt to become the fourth country to touch the Moon, behind Russia, the United States and China (which this year landed on the hidden face), just five months after the failed landing of the Israeli probe Bereshit.
. (tagsToTranslate) nasa (t) moon (t) india