2023-09-19 13:31:33
Ottawa Public Health (OPH) plans to publish summary results of drug testing conducted at supervised injection sites online. The goal: to allow the City to have a clearer picture of the supply of illicit drugs.
The data will come from four new drug testing devices. SPO buy two of them, which will be added to the other two devices obtained through a provincial research initiative.
Ottawa Inner City Healthwhich operates at Shepherds of Good Hope, recently launched its testing service, and the Sandy Hill Community Health Center has just followed with its new machine detection.
SPO plans to use one in its own market facilities By and provide another to the Somerset West Community Health Centre. The devices should be operational by the end of the year, according to staff at SPO.
Change behavior
The chief public health officer at Ottawa Public Health, Dr. Vera Etches, mentioned Monday evening during a meeting of the board of health that precise information on the contents of drugs can help drug users take better better decisions.
In other places where drug control is used, it has been demonstrated [qu'il est possible] to change people's behavior, to help people slow down their use or decide that they are not going to use itshe explained.
It's complex. It's hard to know what's inside drugs. As we see, it can be deadly even with a single use.
The Sandy Hill Community Health Center began using a mass spectrometer to test drugs in its supervised injection center a few years ago. But according to Dr. Etches, this machine is capricious.
The new machines will do much more than save lives, she continued. They will provide large-scale information that can inform the entire community. SPO plans to release certain information publicly on its mental health, addiction and substance use dashboard.
Dr. Vera Etches, chief public health officer at Ottawa Public Health (File photo)
Photo : Radio-Canada / Francis Ferland
We will be able to show that someone can come into this department saying they bought cocaine, but when we check it there could be other substances.explained the program manager of sexual health and harm reduction services to SPO, Count Mandryk.
She added that the machines have a extensive library of substances that they could detect. According to Ms. Mandrykthe data will come from all four machines, combining information from SPO and its partners, in order to provide an overall picture of the supply of unregulated drugs in Ottawa.
According to her, this presents a clear advantage in terms of public health.
I think it is important for people to know what is available in the supply of unregulated medications so that they can make informed decisions about their use and the level of risk of that use, in the event of an overdose that may occur. .
Worried elected officials
All of this information about the new screening devices came at a meeting where several people highlighted the magnitude of the city's opioid and overdose crisis.
In the first three months of the year, 49 people died of overdoses, according to data from SPO. More recent figures for emergency room visits suggest the crisis continues. There were 135 emergency room visits for overdoses during the months of May and July.
We see things getting worse, not betterdeclared the Rideau-Rockville municipal councilor, Rawlson King.
Her colleague from Rideau-Vanier, Stéphanie Plante, added that this is a problem with tentacles, the scale and complexity of which no one really understands. She admitted that her office had been flooded with emails about it. She called for better data, better collaboration and ambitious goals.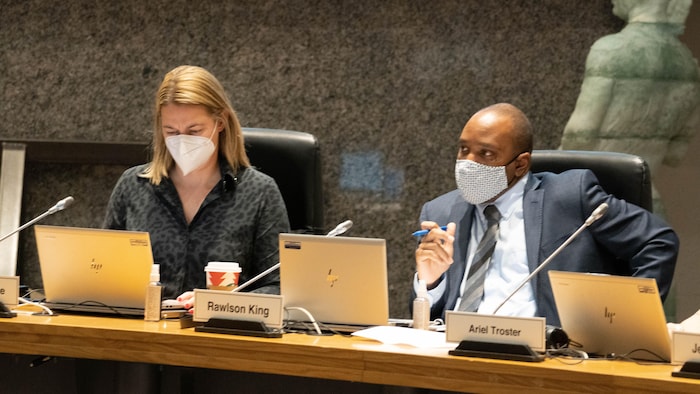 Advisors Stéphanie Plante and Rawlson King (Archive photo)
Photo : Radio-Canada / Jean Delisle
The advisor ofHigh view, Marty Carrintroduced a motion directing Ottawa Public Health to increase public awareness, improve data sharing and further develop its multi-sectoral overdose strategy to respond to the opioid crisis.
Dr. Vera Etches said she noted that many people were concerned that strategies are not linked and it is not clear what is being done. She plans work to strengthen an overdose prevention and response task force, saying it's necessary to reinvigorate and attract new members.
With information fromArthur White-Crummey of CBC News
1695147129
#machines #discover #contents #drugs #streets #Ottawa