Game news New Pokemon Snap: Can the concept still work? The director answers us
Published on 4/14/2021 7:30 AM, updated on 04/14/2021 at 07:30
Expected on April 30 exclusively on Switch, New Pokémon Snap is presented as the spiritual sequel to the first Pokémon Snap of the name, released more than 20 years ago on Nintendo 64. For the occasion, the formula imagined by Bandai Namco is modernized a bit, but retains its original "rail photographer" nature. A choice that may seem daring, even out of step with current productions, and which we discussed with Haruki Suzaki, director of the project.
If you owned a Nintendo 64 in the late 90s, Pokémon Snap No doubt evokes good memories for you, the possibility of maliciously observing the famous pocket monsters – for the first time in 3D -, in a title that is similar to a video game safari, full of secrets. But the series has not been restarted for more than twenty years, enthusiasm at the approach of New Pokémon Snap is undoubtedly less for those who did not know the original title. Especially since this new opus uses with a few details the same formula as at the time, namely a "rail photographer" where you have to take pictures following a predefined route. In short, not necessarily the best seller for the general public today. But not enough to discourage Haruki Suzaki, who joined Bandai Namco in 2002, director of New Pokémon Snap after having overseen Pokkén Tournament, certain that his new project can convince in 2021.
We've kept some of the basics of the game like the total number of photos players can take, but we've added new systems like zooming and picture editing to create a more modern feel. –Haruki Suzaki
Haruki Suzaki concedes it. He first thought about offering players more freedom in New Pokémon Snap, before changing his mind. "I felt that if we followed this path, it would no longer look like (the original formula, editor's note)" explains the director. "It would have looked more like a game with a photo mode". Obviously, the exclusive Switch is not to be considered as a standalone photo mode, at a time when almost all triple-A include this option. "The concept here is completely different" thus supports Haruki Suzaki. "New Pokémon Snap is all about the satisfaction of finding a wild Pokémon at a defining moment and triggering the shutter". After each level, the player will have to submit their pictures to Professor Mirror. The latter will evaluate your hard work according to several criteria, then assign a number of points and increase your level of experience. The more experience you have, the more you will progress in the adventure.
New Pokémon Snap: We hunt the Poussifire in the middle of the desert (Gameplay)
Apparent simplicity
Simple on paper, New Pokémon Snap actually looks like a little work of art: insofar as each route is predefined (with the added bonus of a few secondary roads to be unlocked over the course of the adventure), Haruki Suzaki and his team had to carefully plan the journey of the 200 Pokémon in the title, in the hope of regularly creating an effect of surprise and satisfaction:
When creating this game, we carefully planned the pace of events on the various routes. Pokémon go about their daily lives while the player observes. When using items or getting close to a Pokemon, something can happen (…) Many of these actions build and intertwine to show the player a variety of scenes and interactions. –Haruki Suzaki
Especially since the opportunities to take the best shots are not served on a silver platter. Haruki Suzaki thus evokes the various objects (apples, scanner, music box, light orbs) that will allow the player to trigger poses with Pokémon, even unexpected reactions, like the first opus, where a Reptincel pushed into the lava suddenly changed to Charizard. "The game features various puzzle elements, similar to those found in Pokémon Snap on Nintendo 64" confirms Haruki Suzaki, before continuing: "The players will replay the courses in order to take better photos. This is part of the basic gameplay of New Pokémon Snap ".
The director also specifies that we must not neglect the off-screen either. In New Pokémon Snap, the player will be able to rotate the camera 360 degrees, and will often miss a detail when his camera is already pointed in one direction. In addition, depending on your experience level, new pocket monsters will appear in areas already visited, and some will even behave "Completely differently" says Haruki Suzaki. A wealth that will be highlighted via a community platform, where players will be invited to share their best photos, and which will above all serve to arouse everyone's curiosity about the presence of a Pokémon in a specific level (an option will however allow hide photos of creatures you haven't yet discovered).
In New Pokémon Snap, you can easily see the photos taken by players around the world and also see the scores of their photos. I hope these features will encourage players to take part in even more expeditions on different courses in the game. –Haruki Suzaki
New Pokémon Snap – Little Walk on the Beach (Gameplay)
Mission contemplation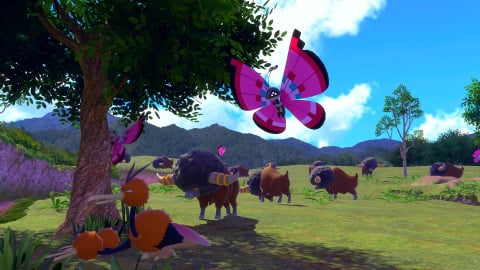 In addition to its richer design than it seems, we should not forget another very important element in New Pokémon Snap: the visual. The "rail photographer" now displays a very nice technical achievement, for a colorful and sparkling result, despite still a little clipping, as we have seen in the context of our preview The whole thing obviously lends itself perfectly to contemplation, with the Lentis Islands as a setting, specially created for New Pokémon Snap. For now, we do not yet know the exact number of levels that the title will include. But everything promises to be varied, from the beach to the forest and the desert, sometimes with variations of day and night where the creatures will still be different.
We wanted to create a world in which you can imagine how wild Pokémon actually live and their ecosystem. So we first considered the environment each Pokémon lives in as well as the terrain and climate (…) We also explored how Pokémon would live side by side in their respective environment and what the relationship between them would look like. –Haruki Suzaki
Haruki Suzaki also claims that the behavior of each Pokémon has been done "manually", each with a very distinct personality. "We've even made reference to animal movements in the real world that look a bit like those in the Pokémon world to make them as natural as possible". It will obviously be necessary to wait to have the game in hand to decide on the care given to each pocket monster. In any case, we can't wait to get our camera out.
To read also:

Through Indee, Journalist jeuxvideo.com
MP