The small sedan market in Thailand has been shaken again when Toyota Motor Thailand Co., Ltd. launches the Subcompact sedan or small 4-door sedan. newest version World's first with Toyota Yaris ATIV (ALL NEW TOYOTA YARIS ATIV)
In this event, Toyota leverages various strategies to put it in a new Ativ. With the main concept of creating a car to be liked by Thai people (Beloved car) 3 main principles are 1. The best product. Exterior design style Fastback (Fastback) interior is luxurious, spacious, good driving performance. Price is easy to own (Affordable)
2. The best experience with a new car loan package Make it easier for customers to own, such as the insurance package PHYD : Pay How Your Drive, reducing insurance interest for safe driving customers and TFSR : Toyota Connected Frequent Service Reward to reward customers for taking the car to the center as scheduled.
3. The best driving with T-Connect service that takes care of drivers anytime, anywhere. Through various systems such as Theft Track, Digital Maintenance Reminder, Digital booking, SOS emergency assistance, and Concierge service
Highlights of the Atif, such as a fast bag style body, a sloping roof, are popular in many European car models. gives a more luxurious feel The coefficient of air friction is as low as 0.284. All models are equipped with full-LED headlights, 16-inch two-tone alloy wheels, full-LED taillights, C-turning lights. new quantitative The interior design emphasizes elegance. It is the first brand to have EPB electric handbrake.
Safety equipment is standardized in all models, such as airbags 6 positions, anti-lock system ABS / brake force distribution EBD / brake reinforcement system BA / stability control system VSC / TRC / HAC / EBS with safety technology Toyota Safety Sense is complete and there is also a specification that is installed as the first brand as well.
Summary of outstanding specifications of each model, including the entry model, Sport (SPORT), such as the start button, smart key, entry, full-LED headlights, 16-inch two-tone alloy wheels, 4-way adjustable steering wheel. With a button to select the driving mode ECO / Normal / Power on the steering wheel, an 8-inch touchscreen radio, supports Apple Car Play and Android Auto, a 4-position cup holder, a soft-padded front console. standard safety system Anti-lock braking system (ABS) / Electronic Brake Force Distribution (EBD) / Brake Assist (BA) / Traction Control VSC / Reverse Warning System RCT / Hill Start Assist HAC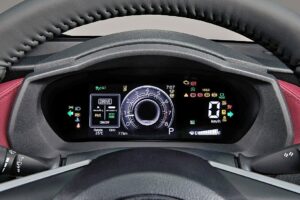 Smart version (SMART) adds functions such as LED daytime running lights, guidance, full digital gauges, 9-inch touchscreen radio, Apple Car Play support. and Android Auto 4 USB ports on the front and rear consoles Synthetic leather and fabric seats, shark fin antenna. Safety system Toyota Safety Sense Safety system before collision (Pre-Collision System) Lane Departure Alert system with pull-back steering wheel Front Departure Alert, Pedal Misoperation Control, and front-facing camera and rear view camera
The premium version adds a lighting system after the engine is off or Follow Me Home lights on the side floor, full LED taillights with sequential turn signals. Ambient Light, adjustable in 64 colors in the center console, PM2.5 dust filter system with status display EPB electric hand brake system with automatic brake delay ABH, complete safety upgrade from the SMART model with Panoramic View Monitor, 6-position warning signal, Blind Spot Monitor ), Rear Cross Traffic Alert, Automatic High Beam and 4-wheel disc brakes
and the Premium Luxury version, the interior is decorated in red. Both in the front console and leather seats, Ambient Light, add positions in the front console, center console and front door panels, 6 Pioneer speakers.
Available in 7 colors: Orange, New SPICY SCARLET, White Super White, Silver Metal Stream, Urban Metal Gray, Red Mica Metallic, Attitude Black Mica, Pearl White, Platinum White Pearl
Price: PREMIUM LUXURY model 689,000 baht, PREMIUM model 659,000 baht, SMART model 584,000 baht and SPORT model 539,000 baht.
come with package new form of finance allowing customers to choose from a variety of services as well as compressing the campaign into 3 more options: no down payment or installments starting at 5,499 baht per month (25% down payment for 84 months) with free first-class insurance, or receive a minimum interest of 0.75% (25% down payment for 48 months) with free First class insurance
And there are also more special offers. For a specific group of customers, "Payroll" salary employees receive special offers. "No need to download No guarantor needed" with a maximum interest discount of 0.40% worth more than 14,000 baht "Graduate" fresh graduates get special offers Interest discount up to 0.40% worth more than 14,000 baht
Toyota invests 5.2 billion baht for this model. Assembled at Toyota Gateway Plant, Chachoengsao Province and exported to more than 35 countries around the world. Domestic sales target of 3,500 units per month
Called this event, Toyota nailed the coffin lid to compete in the small sedan market.
general