(PLO)- Mr. Chris Hipkins officially took office as Prime Minister of New Zealand, days after Ms. Ardern announced her resignation.
Chris Hipkins was sworn in as New Zealand's prime minister on January 25, succeeding Jacinda Ardern, who unexpectedly announced her resignation last week. Reuters.
Mr. Chris Hipkins at the inauguration ceremony of New Zealand Prime Minister. Photo: AFP-JIJI
The inauguration ceremony took place in the capital Wellington under the witness of Governor-General of New Zealand Cindy Kiro.
"This is the greatest privilege and responsibility of my life. I am full of energy and excited about the challenge ahead," said Mr. Hipkins at the inauguration.
Mr Hipkins also acknowledged he became New Zealand's leader at a challenging time and said his new government would focus on "livelihood issues".
"We will focus on low- and middle-income New Zealanders as well as struggling small businesses," he said, adding that the health of New Zealand's economy remained stable.
The new Prime Minister also praised her predecessor Ardern, describing her as one of New Zealand's greatest prime ministers and an inspiration to women everywhere.
Mr. Hipkins appointed Carmel Sepuloni as Deputy Prime Minister, becoming the first Pacific New Zealander to hold the position.
Mr. Hipkins, 44, was named the architect for the policy to deal with the COVID-19 epidemic. New Zealand's new Prime Minister has been in parliament since 2008. He held key positions in the New Zealand government including Minister of Education, Minister of Public Security and Minister of Public Service before being appointed as the Minister. Chief of COVID-19 response by the end of 2020.
At the end of last week, Mr Hipkins was selected as leader of New Zealand's ruling Labor Party, paving the way for him to become the next Prime Minister after Ms Ardern announced on January 19 that she would step down due to "not having enough energy left to do the job". lead the country". That means Mr Hipkins will have just nine months to steer the Labor Party through the October general election.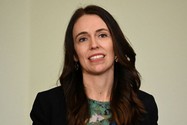 New Zealand Prime Minister announces his resignation
(PLO) – New Zealand Prime Minister Jacinda Ardern said she will step down in the near future and confirmed that the general election will take place in October this year.
VINH KHANG