No more than 33 billion yuan! Ping An Life has invested in real estate again!
On June 28, Ping An Life in ChinaInsuranceIndustry association website publishes information disclosure on large real estate investmentannouncement, Said it plans to invest in six commercial office real estate projects including Shanghai Raffles City. The announcement shows that as the main investor, Ping An Life invests in real estate by directly holding part of the equity of each project company, and the investment amount is expected to not exceed 33 billion yuan. Currently, this transaction is in the agreement signing stage.
Source: ChinaInsuranceIndustry Association
A relevant person of Ping An Life told CITIC Jun that the CapitaLand Raffles project invested by Ping An Life is mainly commercial office real estate. Among the target assets, six projects including Shanghai Raffles Square are the core high-quality assets of CapitaLand, tenants. Excellent quality and stable lease.This investment is in line withInsuranceThe principle of matching capital assets and liabilities can optimize the allocation of insurance assets, obtain a good and stable return on investment, and realize the preservation and appreciation of insurance funds.
  The transaction is expected to be completed in the third quarter
Specifically, the six projects in the above transaction are Shanghai Renguang Raffles Project, Shanghai Changning Raffles Project, Beijing Raffles Project, Hangzhou Raffles Project, Chengdu Raffles Project and Ningbo Raffles Project. The project is under the CapitaLand Group.
Public information shows that CapitaLand Group is a large-scale diversifiedreal estateThe group is headquartered in Singapore and listed in Singapore.As of March 31, 2021, CapitaLand Group has approximately S$137.7 billion in assets under management, and its portfolio spans diversifiedreal estateCategories include office buildings, shopping centers, industrial parks, industrial and logistics real estate, commercial complexes, urban development, service apartments, hotels, long-term rental apartments and residential buildings.
On June 28, the CapitaLand Group's official website also showed that CapitaLand Group and Ping An Life Insurance signed a cooperation agreement to sell part of the equity of China's six Raffles asset portfolios to the latter. The total asset value of the asset portfolio is 46.7 billion yuan, and Ping An Life will acquire part of the equity. The transaction is expected to be completed in the third quarter of 2021.After the completion of a series of transactions, CapitaLand's shareholding ratio in each project has beenfundHold 30.7% to 55%, change to 12.6% to 30%, and continue to be responsible for project operation and asset management.
Regarding this cooperation, CapitaLand Group CEO Li Zhiqin said: "Welcome Ping An as our strategic partner. CapitaLand will continue to hold equity in these six Raffles projects and will be responsible for project operations and asset management. We have Ability to drive and participate in the future growth of the project."
It is worth noting that Ping An Life has become theshareholderLater, Ping An Life plans to provide shareholder loans totaling 4.1 billion yuan to five of the project companies, which will constitute connected transactions. Ping An Life said that the final amount of borrowing by shareholders depends on the funding needs of the underlying projects, and the actual capital contribution shall prevail. The pricing of the related party transaction will determine the final price with reference to the fair price range of the similar transaction market to ensure the fairness of the pricing of related party transactions.
  Allocation of a certain proportion of real estate is a long-term investment strategy of Ping An
This is not Ping An Life's first real estate investment this year.

Source: China Insurance Industry Association
Zhongzheng Jun checked the website of the China Insurance Association and found that, together with the Raffles project, Ping An Life has invested in 3 large-scale real estate projects this year. The remaining two projects are the D-03 and D-04 real estate projects in Beijing's Lize Business District. For Ping An's Hong Kong headquarters building, the former has invested a total of 6.941 billion yuan, and the latter has invested a total of 4.517 billion yuan and 8.973 billion Hong Kong dollars across borders. These two projects have entered the actual funding stage.
  Ping An of ChinaChief Investment Officer Chen Dexian said in an exclusive interview with the China Securities Journal in February that "the real estate project has a long investment period and relatively stable rental income, which can well match the large-scale and long-duration liability characteristics of life insurance funds. Therefore, a certain proportion of real estate can be reasonably allocated. AlsoPing An of ChinaOne of its long-term investment strategies. "
"In addition to traditional real estate such as mature commercial office buildings with stable income and good locations, we are also investing in new real estate such as public rental housing, health care, and talent housing." Chen Dexian revealed,Ping An of ChinaThe properties currently held on hand account for 2% of the total insurance funds, and the rental rate of return has reached 7%, providing an annual rental income of about 4.2 billion yuan for insurance funds.
According to the data, as of March 31, 2021, Ping An Life's I39 consolidated total assets of 3.51 trillion yuan and net assets of 280.7 billion yuan, after deducting salesRepurchaseThe total assets of financial assets and investment-linked assets are 3.3 trillion yuan, and the net assets are 274.582 billion yuan.
As of the end of March, Ping An Life's comprehensive solvency adequacy ratio was 239.18%, and the core solvency adequacy ratio was 234.30%, which met regulatory requirements.
  Many insurance funds are keen on real estate investment
It is not only Ping An Life that is keen on real estate investment. Since the beginning of this year, other insurance funds are also actively investing in real estate, including Taikang Life, Harmony Health Insurance,Pacific OceanLife, of which Taikang Life has the most investment.
Specifically, Taikang Life will continue to invest in Beijing Yanyuan Pension Community and Taikang Group Building in 2021.Pacific OceanLife has invested in plots of blocks 123, 124, and 132 in Huaihai Middle Road, Huangpu District, Shanghai. Harmony Health Insurance invested in Beijing SK Building.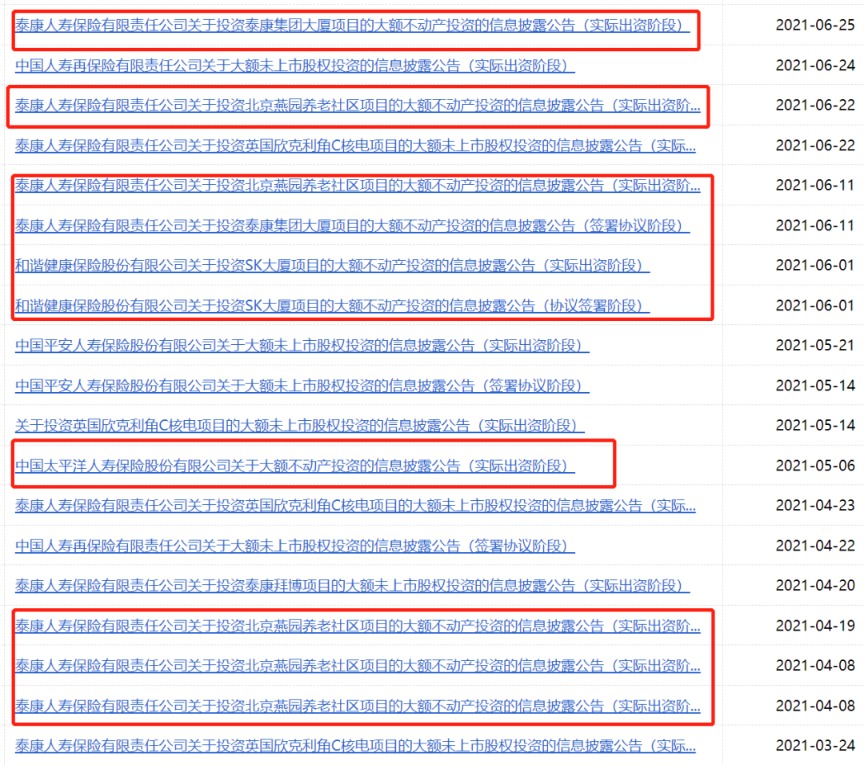 Source: China Insurance Industry Association
According to the "Interim Measures for the Investment of Insurance Funds in Real Estate" issued in 2010, insurance companies can invest in infrastructure real estate, non-infrastructure real estate and real estate-related financial products. However, the real estate that insurance funds are invested in in the form of debt, equity or property rights is limited to commercial real estate, office real estate, and self-use real estate related to insurance business such as pensions, medical care, and automobile services.
(Source: China Securities Journal)
.