Olympic soccer team Jung Tae-wook (Daegu) trains at the Gangchang Stadium in Jeju on the 2nd. (Provided by Korea Football Association) 2021.6.2/News1 © News1

Kim Hak-beom-ho, who is preparing for the Tokyo Olympics, which is about 40 days away, is able to take a breather as he finds a solution to the complicated recruitment problem.
At a press conference held through the Korea Football Association on the 11th, Olympic soccer team coach Kim Hak-beom said, "I asked the K-League coaches for their cooperation and gave a lot of consideration to the Olympic team. Thank you so much and thank you."
The under-24 Olympic team convened in Jeju on the 31st of last month and is in full swing.
28 athletes, including overseas players such as Lee Kang-in (Valencia) and Jung Woo-young (Freiburg), are sweating before advancing to the Olympic finals. The total number of entries for the Tokyo Olympics is 18, excluding 3 wildcards, only 15 can participate. There is fierce competition going on.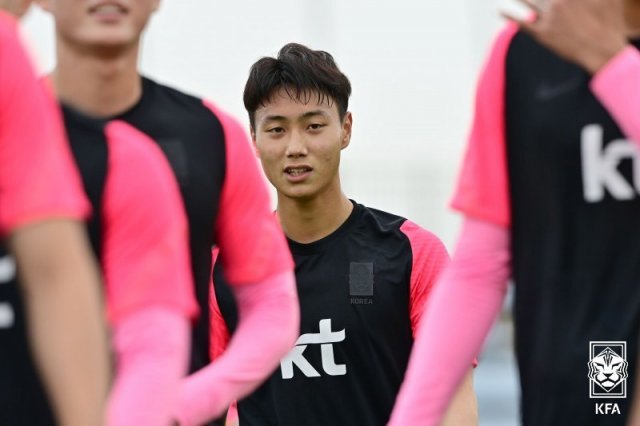 Olympic soccer team Baek Seung-ho (Jeonbuk) trains at the Gangchang Stadium in Jeju on the 1st. (Provided by Korea Football Association) 2021.6.1/News 1
Head coach Hak-beom Kim, who is going to play a jade match with Ghana on the 12th and 15th, had a complicated head over the Asian Football Federation (AFC) Champions League (ACL) issue ahead of the Olympics.
Jeonbuk Hyundai, Ulsan Hyundai, Pohang Steelers and Daegu FC will participate in the ACL to be held in Thailand and Uzbekistan at the end of this month.
If the Olympic team players returned to their teams and participated in the ACL, it could be difficult to digest normal training. Beom-geun Song, Seung-ho Baek (above Jeonbuk), Young-woo Seol, Doo-jae Won (Ulsan above), Min-gyu Song, Sang-woo Kang (above Pohang), Tae-wook Jeong and Seung-won Jeong (above Daegu) were ahead of their ACL appearances.
However, the Korea Football Association and the K-League teams faced the issue of recruitment, and fortunately, they agreed to consider the Olympic team as much as possible.
An official from the Korea Football Association said, "I have been requesting cooperation from the clubs from the past, but it was not an easy decision. thanked him.
Manager Kim Hak-beom said, "I am very grateful that each club has taken care of the Olympic team. I will work harder to bring good results with that as a foothold."
The Olympic team will play two evaluation matches against the Ghana Olympic team in Jeju on the 12th and 15th and plan to finalize the 18 finalists at the end of this month.

(Seoul = News 1)
close the window
Recommend an article
'Olympic national team' training instead of ACL… Kim Hak-beom-ho who took a breath
Best Featured News