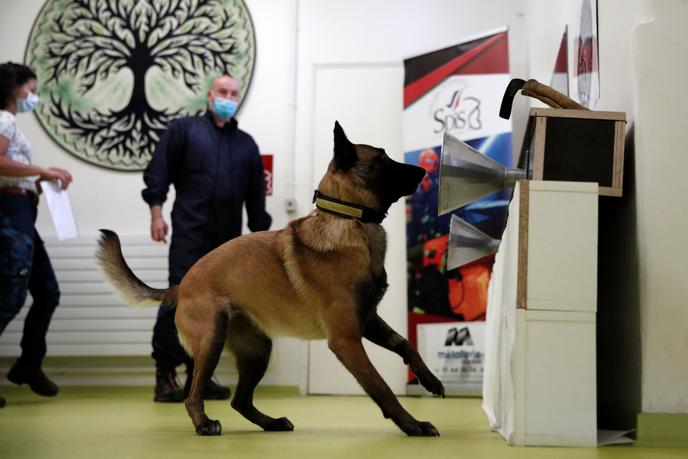 Oslo is an 18-month-old Belgian Malinois shepherd with an already sharp flair. In front of him are four metal supports, each containing a sample of human sweat, collected under the armpits using compresses. Three filters are from people who have not crossed the virus, and the fourth is from a patient who tested positive for SARS-CoV-2. After inhaling the four supports, in a few seconds, Oslo retraces its steps and sits in front of the second filter holder, the one containing the patient's compress. His master immediately rewards him with his favorite toy. The exercise will be repeated several times, this Wednesday, May 27, at the National Veterinary School of Alfort (ENVA, Val-de-Marne), with four dogs and new filters placed in a different order: the canids will manage to each time to "mark" the stop in front of the filter of people infected with the new coronavirus.
For several weeks, Dominique Grandjean, professor at ENVA and head of the veterinary service of the Paris fire brigade, has brought together veterinary researchers, dog teams and firefighters to conduct an experiment on the detection of Covid-19 . "Dogs have been trained for years in the early medical detection of certain pathologies, such as colon cancer or Parkinson's disease, with very convincing results", he announces. When the epidemic due to the new coronavirus settled in France, the veterinarian very quickly wanted to know if dogs could smell the presence of Covid-19.
"95% positive results"
At this early stage of the experiment, carried out with around twenty canids who carried out around 400 exercises – "passes", in jargon -, Dominique Grandjean assures him: the patients of Covid-19 have a specific odor that the dogs can detect it. "We have 95% positive results. And when there are errors, it is more about false positives than false negatives, which means that we do not miss out on patients. "
Aymeric Bernard, veterinarian: "The dog has exceptional olfactory capacities that we are far from imagining. It is possible that it will detect minute traces that would not be identifiable in the laboratory "
In Ajaccio, where a similar experiment is carried out in agreement with the prefecture and the regional health agency, Aymeric Bernard, veterinarian chief of the fire and rescue service of Corse-du-Sud (SIS-2A), confirms: "There is a very good sensitivity of the dog to this odor, and a particularly frank marking on positive samples to Covid. " A new experimental phase, which will start in June, will determine the precise sensitivity rate of this method. "We know that the values ​​are very good and that they will make it possible to classify dogs among the most sensitive detection tools", advances Mr. Bernard. In this phase 2 of research, methods will be tested in particular of "double blind detection" (with two dogs passing over the same filters, without their owners knowing which filters are positive).
You have 60.99% of this article left to read. The suite is reserved for subscribers.