Xander Schauffele was able to play his first round on Thursday in Hawaii, at the Tournament of Champions (26th, -3), with his new driver Callaway Paradym Triple Diamond… yet he had white lines on the face added by the player.
Alignment marks made by Hideki Matsuyama on his 3 wood at the Memorial Tournament in June 2022 had earned a disqualification of the Japanese. (picture below).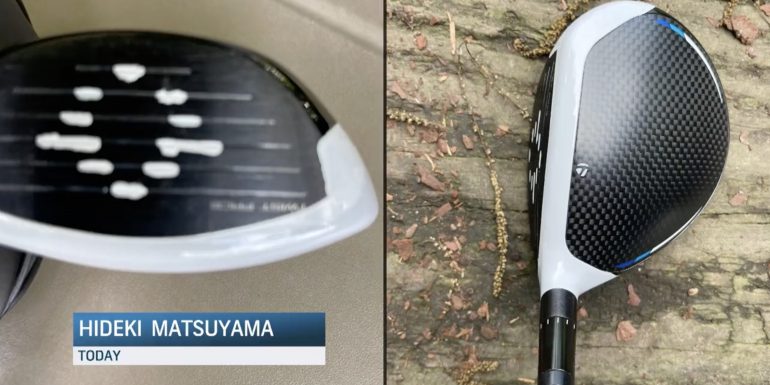 For a very similar case the American Xander Schauffele was spared Thursday in Hawaii in the 1st round of the Tournament of Champions. Difficult to find there.
Winner of this tournament in 2019, on the Plantation Course of Kapalua, Schauffele "wants to see the face of his club"explained his caddy, Austin Kaiser, on GolfWRX's Instagram accountsupporting photos.
We can indeed see that the white, horizontal traces are obvious, but there is a nuance compared to the Japanese winner of the Masters 2021.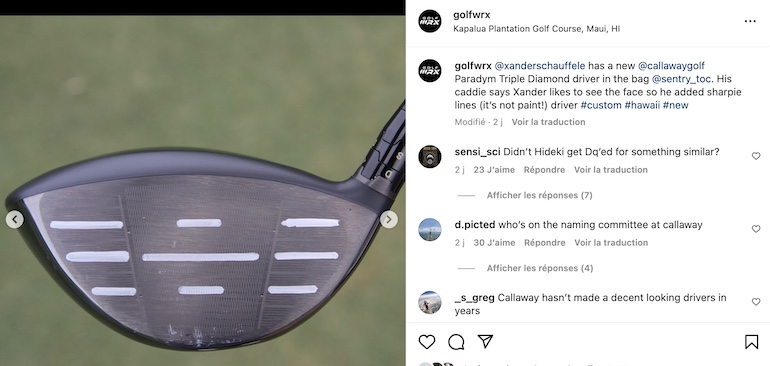 On the photo above we see that the traces have been made with white feltwhile those observed on the fairway wood of Matsuyama, last June in Ohio, had been made at the White paint.
Another nuance, the traces on the driver of the Japanese delimited the shape of a ball, while those of Schauffele are all horizontal and spacedwithout revealing the impact zone of a golf ball.
Changed properties
Like last year, it is Rule 4.1a of golf that is called upon. The one who had decided Steve Rintoul to disqualify Matsuyama, guilty of having played his fairway wood from hole 1.
Another decisive element, if we go by Steve Rintoul's explanations in June, " aiding (the player's) alignment, by placing a small mark on the face, is certainly permitted ". What had been reproached to Matsuyama, it is that the white paint was not only present in the grooves (of the face of his club), which would have been tolerated, always according to Steve Rintoul, but was present in layer " very thick", elsewhere on the face, changing the specifications of the club and making it non-compliant.
Photo © Harry How / GETTY IMAGES NORTH AMERICA / Getty Images via AFP