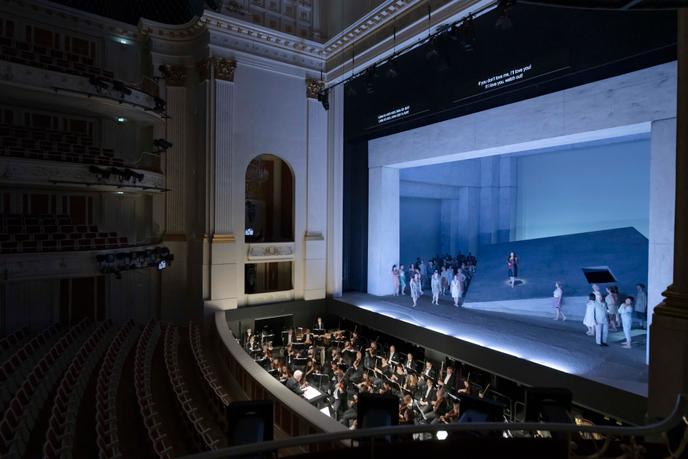 Over the next three months – at least – no more concerts, opera or live shows: the brutal closure of all musical institutions under the impact of the coronaviral pandemic prompted many of them to take the relay by playing the digital card. The goal ? Contribute to the morale of the troops and help the population to better endure containment by broadcasting free concerts and lyric art productions on their websites so that music and live performances remain present in the shrinking life of music lovers.
As of last week, the Berliner Philharmonikers have set up free access to their video platform, the Digitalconcerthall.com by means of a nominative registration. In this Ali Baba cave, more than 600 concerts, including fifteen under the direction of the new boss of the Berlin phalanx, Kirill Petrenko (inaugural concert with the Ninth Beethoven in 2019), or evenings of archives under prestigious rods such as Claudio Abbado, Simon Rattle, Christian Thielemann …
"The Berlin Philharmonic is closed until April 19 to help contain the coronavirus, but the orchestra will continue to play for you," is it noted in the opening text. Many videos are also available: documentaries on the history of the orchestra, portraits of musicians and conductors (like that of Herbert von Karajan, whose historical recording of 1966 is also broadcast in the Symphony No. 9 from Dvorak, known as the "New World"), educational program projects led by Berliners.
"Nightly Met Opera Streams" and Gothenburg Symphony Orchestra
The need to keep in touch with an audience whose habits are likely to have changed after weeks of confinement, while at the same time building up databases likely to be exploited when better days return, is also at agenda. Won't this profusion of music on the surface 24 hours a day upset the subtle alchemy that makes us predisposed to the ritual of concerts or opera performances?
Anxious to respect these social codes, the Gothenburg Symphony Orchestra, via his site gsoplay.com, preferred to give meetings to music lovers, in order to preserve the time anchoring and the frequency of use. " The ambition is to offer a new concert available every Tuesday and Friday (…) from our rich archive of international artists such as Santtu-Matias Rouvali, Barbara Hannigan and Kent Nagano. We hope that musical creation will be a calming and encouraging element in these troubled days. "
Peter Gelb, General Manager of Met: "We would like to offer some comfort to opera fans in these difficult times"
The same peaceful and therapeutic sound from the Metropolitan Opera in New York, which decided to offer free access to some of its productions, grouped under the label "Nightly Met Opera Streams". To start with Carmen de Bizet directed by Richard Eyre, with Roberto Alagna and the incandescent Elina Garança under the direction of Yannick Nézet-Séguin. " We would like to offer some comfort to opera lovers in these difficult times Said its managing director, Peter Gelb, on the Met website, adding that each of the proposed operas has already been broadcast in HD for the past fourteen years.
Until Sunday March 22 will be visible flagship productions: Bohemian by Puccini on March 17 (directed by Franco Zeffirelli, with Angela Gheorghiu and Ramon Vargas, directed by Nicola Luisotti), Le Trouvère by Verdi on March 18 (directed by David McVicar, with Anna Netrebko, Dolora Zajick, Yonghoon Lee and the late Dmitri Hvorostovsky, conducted by Marco Armiliato), La Traviata by Verdi on March 19 (directed by Michael Mayer, with Diana Damraun Juan Diego Florez, conducted by Yannick Nézet-Séguin), Daughter of the Regiment by Donizetti on March 20 (directed by Laurent Pelly, with Natalie Dessay and Juan Diego Florez, directed by Marco Armiliato), Lucia di Lammermoor by Donizetti on March 21 (directed by Mary Zimmerman, with Anna Netrebko, Piotr Beczała and Mariusz Kwiecien, directed by Marco Armiliato) and, finally, Eugene Onegin by Tchaikovsky on Sunday March 22 (directed by Robert Carsen, with Renée Fleming, Ramon Vargas and Dmitri Hvorostovsky, directed by Valery Gergiev). Each video will remain available for twenty hours.
"Keep a link with the Paris Opera"
In France, the Paris Opera, which has just announced in turn its own contribution – which is modeled on the programming initially planned – has planned wide. The program runs, in fact, until May 3 included. "Nothing will ever replace the emotions felt in a concert hall or an opera, remark Stéphane Lissner, but it's essential in these difficult times that people can listen to music and keep in touch with the Paris Opera. " The boss of the Grande Boutique in this respect does justice to his goodwill partners, France Télévision, Culture Box and Arte Concert.
A succession will therefore follow in March on the operadeparis.fr site and on Culture box, the Manon de Massenet, with Benjamin Bernheim and Pretty Yende (from March 17 to 22), Don Giovanni by Mozart by Ivo van Hove (March 23 to 29), a great romantic ballet, Swan Lake (from March 30 to April 5), then The Barber of Seville by Rossini under the extravagant management of Damiano Michieletto (from April 6 to 12), a dance evening with Jerome Robbins (from April 13 to 19), The Tales of Hoffmann success story by Offenbach and Robert Carsen (April 20-26), Carmen de Bizet (still Michieletto) with Roberto Alagna and Elina Garança (from April 27 to May 3). At the same time, the cycle of Tchaikovsky's symphonies by the Paris Opera Orchestra conducted by Philippe Jordan will also be available, as well as the ballet. Giselle and the opera The gallant Indies by Rameau in the direction of Clément Cogitore.
The rich "concertography" of the Philharmonie de Paris
With more than a hundred concerts available on its live.philharmoniedeparis.fr website, the Philharmonie de Paris is not to be outdone. It will probably take several confinements to exhaust a rich "concertography" which counts in its ranks the best artists, symphonic phalanges and sticks of the international musical world – complete Beethoven symphonies by Bernard Haitink on modern instruments, by Emmanuel Krivine on instruments era, the concert of 40 years of flourishing Arts, etc. Without counting the recordings of major interviews and meetings with Daniel Barenboïm, Kaija Saariaho, George Benjamin, Christoph Eschenbach.
Also to be visited without moderation, the France Musique concert platform (Francemusique.fr) which offers a selection of concerts in high definition, whether those of house bands (the Radio France Philharmonic Orchestra, the National Orchestra from France) or many international orchestras and soloists.