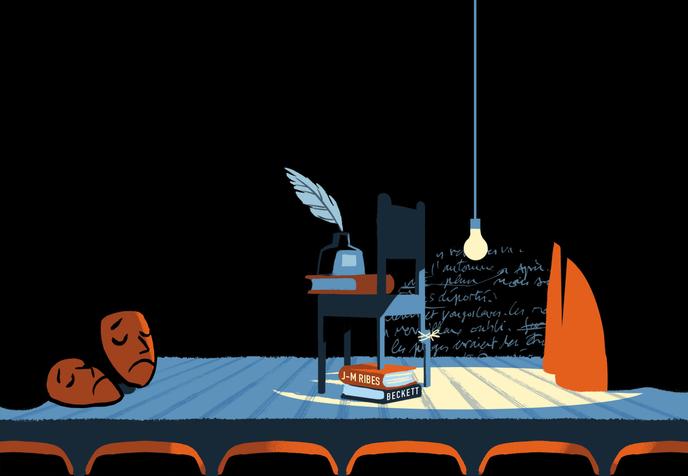 One day, perhaps, a little virus with an elusive physiognomy, having succeeded in bringing the world to a standstill for many months, will become the hero of a play, accompanied by the fears and the damage he has caused. engendered. But while waiting for this day, the small virus in question decimates the playwrights. The observation is simple, and unanimous, based on the principle of the funnel: in a crisis which particularly affects culture, and within it particularly the performing arts, the authors, already the most fragile link in the chain, are the most weakened.
No intermittent status
For playwrights in the time of Covid-19, it is indeed the double or even the triple punishment. "An author is not paid at all during the period in which he writes, it is the common lot of writers, notes Denise Chalem, vice-president of the Society of dramatic authors and composers (SACD) and herself a playwright. For a playwright, there are three sources of remuneration: writing commissions or grants, which are rare; copyright, the main source of income; and publishing revenues, generally minimal, as plays are not subject to the same sales volumes as novels or essays. Playwrights, moreover, do not benefit from the safety net offered by the intermittent entertainment regime, unlike all the other performing arts professions, artists and technicians alike. "
The jaw has closed, especially on those who are not otherwise directors or actors. With a theatrical activity at a standstill since March 16, a timid recovery at the start of the school year with half-gauge rooms, the curfew and then the re-containment that took place on October 29, copyright has evaporated. Sales of plays, closely linked to theatrical activity, have fallen. "Amateurs usually buy texts when going to the theater, or during festivals, note both Claire David, director of the theater department of Actes Sud, and François Breur, director of Les Solitaires intempestifs. The cancellation of a festival like Avignon, in particular, led to a sharp drop in sales of plays. "
Read the story:
How the Festival d'Avignon is dealing with the consequences of the cancellation
"Depending on whether one is in Paris or in the provinces, in the private theater or in the public, the authors are paid either by the number of spectators, or on a percentage of the show's revenue, which is between 9% and 12 % in general, summarizes Stanislas Nordey, director of the National Theater of Strasbourg (TNS) and fervent defender of contemporary writing. Either way, they are losing out in the current period, with rooms that when open operate with reduced gauges, and revenues reduced as a result. "
You have 67.23% of this article to read. The rest is for subscribers only.