Sebastián Padrón decided to leave La Plata permanently two years ago, after spending almost a decade in Rome and having tried, without luck, to settle again in Los Hornos. It was a difficult decision that had been in his head for a long time. But yesterday he had the signal that he lacked to know that the course taken, difficult by the way, had been worth it: Pope Francis invited him to the Vatican to meet him in person.
"He really likes the ice cream we make and the other things we prepare. That is why for some time now they have called me 'Pope Francis's ice cream maker'," he said at the beginning of the talk with EL DIA from Gelatería Padrón, in Rome and a few meters from the Vatican.
The ice cream man revealed that on Tuesday his ice cream parlor's phone rang. It was a person who asked about Sebastián Padrón. "They want to talk to you," they told him. On the other side, minutes later, Pope Francis greeted, who asked to meet him at the Vatican headquarters, marveling at the dulce de leche granita and the meat patties that he buys every week.
"The meeting was yesterday. We went with my wife and my two children. The truth is that it was something wonderful, unforgettable. On the one hand, because I am a Catholic, but at the same time it was a personal satisfaction that thanks to my work I was able to meet a personality so important, "he continued with his story from the trade, which is open but again with restrictions and many doubts due to the 22 thousand cases of coronavirus that were declared today in Italy.
The ice cream parlor is on Via Gregorio Séptimo number 38, which leads to the Vatican. One day he was the bishop of Santa Marta, where Pope Francis lives, and Padrón did not hesitate to ask him for the favor of bringing him the ice cream so that he could try it. "From that day on, an assistant of his calls us to ask us for four kilos, one of granized dulce de leche, one of common dulce de leche and the other two vary: sambayon, chocolate with raisins on the run or others."
"He liked it so much that sometimes he sent cardinals to look for the order," he said and assured that he never accepted it as a gift but asked to pay. "Otherwise you don't accept it." The cup is worth 2 euros and the large cone, 5 euros. The kilo is about 20 euros and the ice cream parlors in the center of Rome sell for almost double.
What is the secret of that dulce de leche granita? The ice cream maker himself told it: "Dulce de leche is not good here and since I bring it from Argentina a top-of-the-line one, we clearly make a difference. It is really very different from those sold here, which use a caramel paste or products flavorings ". The rest is more traditional: heavy cream, milk, sugar, eggs and fresh fruits.
In La Plata Sebastián Padrón had his ice cream parlor on avenues 60 and 135 and 136. The neighbors still remember his tastes and, in addition to the caramel granita, the raspberry and watermelon stand out. "In 2010 I opened it with my wife, who is Italian and I had met in my first stage in Italy."
"We had some incidents of insecurity and since my children were still young, in 2006 we decided to come to Rome again." We had already seen and studied the field a little, so we did not hesitate to open an ice cream parlor here, "he said in the talk since commerce, where it produces, sells and distributes around the neighborhood.
He stressed that he feels fortunate to have been invited by Francis, since as the situation became complicated again in Italy, surely the Pope will be preserved and isolated from the people to protect him from the coronavirus, which is hitting hard in Europe again. "He told us that when all this happens, maybe one day he can come to see the ice cream parlor, but it is very difficult to move him, it is not often that he does."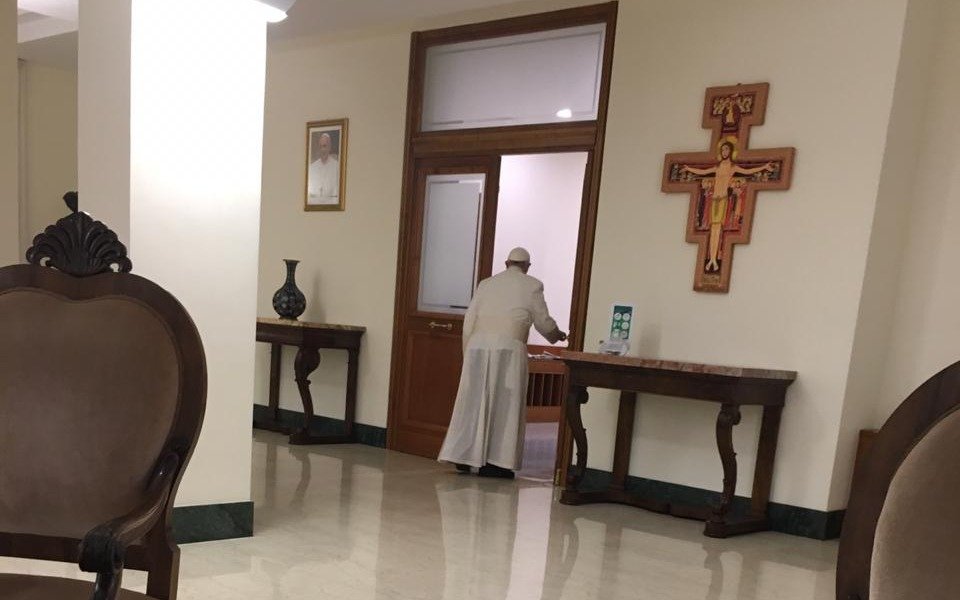 "The talk lasted a few minutes. We did not talk about football even though he is from San Lorenzo and I from Gymnastics. At first we were very nervous, but he is such a simple guy that he was taking us and asking about the family and the business. It's like talking to you or anyone else. He's nice, "she recalled.
When the nerves passed, they also asked and consulted him because of the pressure of being Pope and Francis did not hesitate to confess that it is not simple. "He told us that after so many years it has its wear and tear."
In the end he said that there were other celebrities who passed by his ice cream parlor, such as Commissioner Montalvano, the one from the series and the actor Franco Nero, who is a neighbor of the neighborhood. "And several footballers passed such as (Fedderico) Fazio and (Diego) Peroti, both Roma players. And Abel Balbo, who happened several times to take ice cream".
.