The Chevrolet Groove already has prices in Mexico: the new access to the brand's SUV stands out for its comfort and spaciousness in the cabin
The Chevrolet Groove makes its debut in Mexico for a highly competitive segment that increasingly offers more nuances of offer for any client. This new access product seeks to be that first "SUV", rather a crossover, of many customers with a sufficient price and equipment offer. Here are the details of prices, versions and equipment of the Chevrolet Groove in Mexico.
Things clear from the start
While American brands such as Ford and Dodge lose a lot of ground by not having true cars accessible to developing markets Like ours, Chevrolet takes advantage of its international alliances to take everything that the aforementioned brands are abandoning.
This advantage comes directly from its alliances with some brands in China. That they have already provided several products to cover the access segments in a country like Mexico. Al Aveo, Cavalier and Captiva, now the Chevrolet Groove is added, which was originally a Baojun 510.
Groove will play in the segment of the B-SUV, that is to say that of the smallest and most accessible SUV / crossover in the country, its measurements are 4.2 meters long by 1.7 m wide and 1.6 meters high, placing it below the Chevrolet Tracker. The wheelbase stays at 2.5 meters long and the capacity of the trunk in 318 liters. An average size for this segment.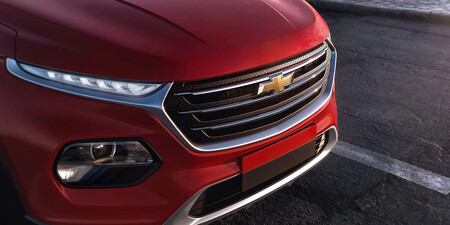 Outside we will find details such as LED headlights with LED daytime running lights, 16 "wheels, LED skulls, panoramic roof and a C-post with black trim to give the appearance of a floating roof. Like Captiva, Groove has a new grille and fascia shape to go a little more in line with the current language of the brand and its original products.
Interior with spaciousness and sufficient equipment
Inside we have a somewhat conservative look, but with enough contrasts to seek to give a stronger perception of quality. The equipment may include a 8 "touch screen compatible with Apple CarPlay and Android Auto, in addition to the Bluetooth connection and several USB ports.
It will carry details such as automatic A / C, monochrome trip computer, power mirrors and windows, speed limiter, partial electric adjustment for the seats, synthetic leather upholstery and some color contrasts. Like other products from China, Chevrolet Groove is not compatible with the system OnStar of General Motors.
In terms of safety, Chevrolet Groove arrives with 4 airbags In all its versions, ABS brakes, electronic stability control, tire pressure monitor, proximity sensors and reverse camera.
Mechanics focused on the city
Under the hood Chevrolet Groove offers simple mechanics, as it will move thanks to an atmospheric engine of 1.5-liter with 110 hp and 108 lb.-ft. of torque, which can be tied to a box 5-gear manual or one automatic CVT and that will only bring power to the front axle.
In terms of suspension, the front axle will be independent, while on the rear we will find a rigid axle.
The Chevrolet Groove will have a price range that will go from $330,000 a $396,000, It will be available from XXX, XXX and will seek to compete with Nissan Kicks, Renault Duster and company.
Version and pricing details
| Model | Price |
| --- | --- |
| Chevrolet Groove LT TM | $332,900 |
| Chevrolet Groove LT CVT | $360,900 |
| Chevrolet Groove Premier CVT | $390,900 |
m