Prince Andrew and Prince Harry banned from saluting during the Queen's coffin procession ElizabethToday, other members of the royal family including King Charles III, Prince William and Princess Anne performed the gesture, according to the British newspaper, "Daily Mail".
Members of the royal family greeted as they passed the memorial in Whitehall this afternoon on their way from Buckingham Palace to Westminster Hall, where the Queen will stay in the state until her funeral next Monday..
But Andrew and Harry bowed their heads next to the National War Memorial because they were not allowed to wear military uniforms, due to the fact that neither of them are now working in the royal family..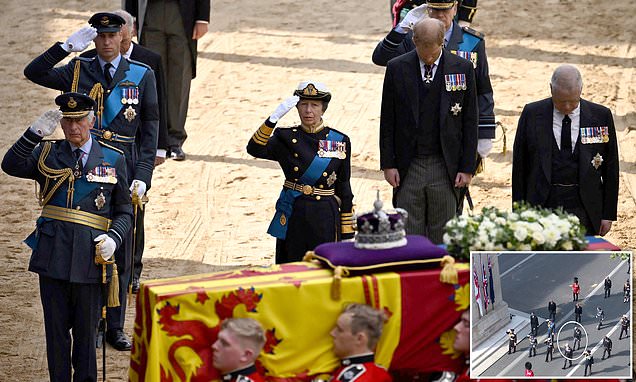 During the royal salute
Nor were they greeted – unlike other members of the royal family – when Queen Elizabeth II's coffin, adorned with the royal standard and imperial crown, arrived at Westminster shortly after during the procession..
It comes after Andrew, Duke of York, was banned from wearing his military uniform and saluting his mother earlier this week at St Giles' Cathedral in Edinburgh on Monday afternoon for the same reason..
The decision to ban Harry and Andrew from wearing a military uniform at the events following the Queen's death at Balmoral last Thursday is a reminder of how much the two are now involved in the royal family..
Prince Harry spent 10 years in the military, but was stripped of his honorary military titles in 2020 after he and wife Meghan Markle announced they were stepping down as senior royals and moving abroad.