The meeting of the Prof. Wong Yai approved the vaccination. Sinopharm Cross-formula may use the same principle as Sinovac. Prepare to continue buying vaccines from EU countries. At the end of the year, there are 178.2 million doses of vaccines in Thailand.
On September 27, 2021, at the Government House, Dr. Taweesin Witsanuyothin, spokesman for the Center for Epidemic Management of the Coronavirus Disease 2019 (COVID-19) situation, said that a large meeting with Gen. Prayut Chan Ocha, the Prime Minister presided over the meeting. Concerning cross-formula Sinopharm vaccination
According to a resolution of the Subcommittee on Immunization on 25 August 2021, it is recommended that cross-formula injection of Sinopharm may be used on the same principle as Sinovac vaccine.
Because we still have to wait for more information from research results. according to the following formula
Sinopharm + Pfizer, 3 weeks interval between needles.
Sinopharm + AstraZeneca, 3-4 weeks between needles
Sinopharm – Sinopharm stimulated with AstraZeneca from 4 weeks after the 2nd dose.
Sinopharm – Sinopharm Stimulated with Pfizer 4 weeks or more after the 2nd dose
Therefore, crossover Sinopharm vaccination has not yet been established as the country's main formulation. In addition, the use of this formula is in accordance with the conditions of the vaccine license registration by the Food and Drug Administration. voluntarily by the vaccination recipient and the discretion of the service provider
Dr. Taweesilp also stated the plan for organizing the vaccine.Covid-19 of Thailand in 2021 that from Feb. to Dec., the country will have the main vaccine consisting of Sinovac AstraZeneca Pfizer and an alternative vaccine consisting of Sinopharm Moderna, entering the country with a total of 178.2 million doses.
This includes the total amount of donations from China, Japan, the United States and the United Kingdom. but does not include vaccine exchanges from Bhutan and Singapore But that amount will also depend on the delivery of the vaccine from the manufacturer.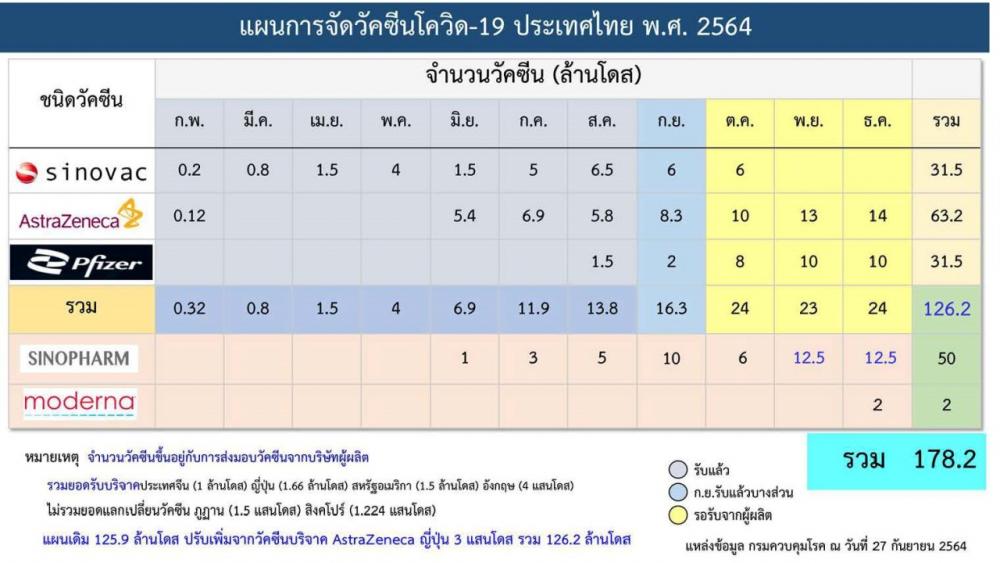 At the same time, the meeting also agreed Procurement of vaccines from EU countries that are ready for resale as notified by the Ministry of Foreign Affairs, consisting of:
Spain offers 165,000 doses of AstraZeneca (Vaxazevria) for 2.9 euros each, and 2,788.110 million doses of Pfizer for 15.5 euros each.
Hungary offers 400,000 doses of AstraZeneca (Vaxazevria) vaccine for 1.78 euros each.
There will be other expenses such as packaging costs. and temperature control, delivery point delivery cost, international shipping cost, Thailand domestic freight, export-import customs duties, VAT, damage insurance. Which will be proposed to the Cabinet meeting for approval of the budget for the next procurement.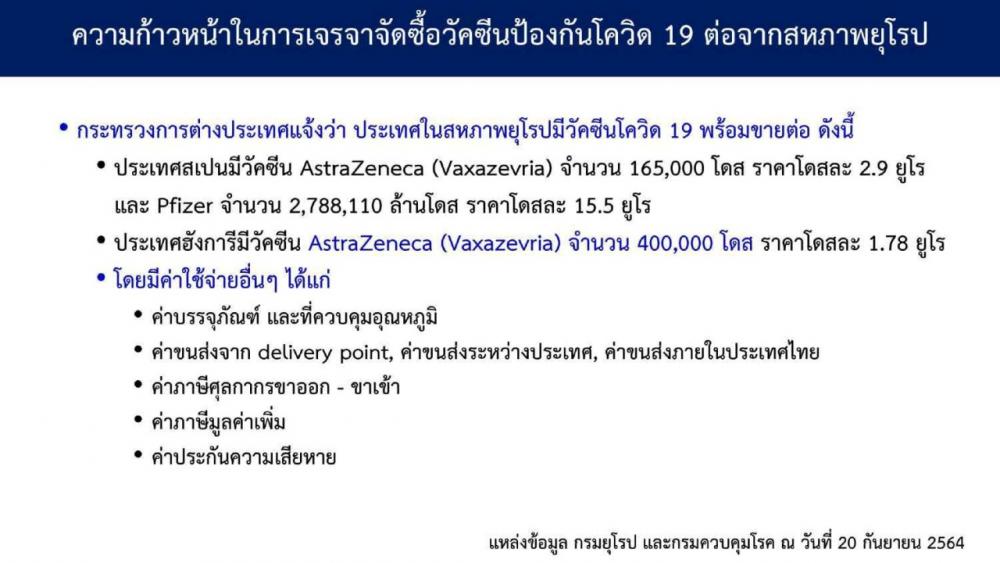 Read more…