'Prof.' reveals that the province's infection rate has surpassed the Bangkok Metropolitan Region, proposes the provincial governor to prepare a plan to quarantine communities and houses in case of overflowing beds, aiming to discuss the green light, positive results from ATK entering the system, no need to wait for PCR to reduce dead man at home
at 12:30 p.m. on July 26 at the Government House Apisamai Srirangsan, MD. Assistant spokesman for the Center for Covid-19 Situation Administration (CCSA) announced today that the number of confirmed cases of COVID-19 worldwide is 194,825,130. The number of deaths increased by 6,859, bringing the total to 4,175,080 deaths, with South East Asia still having relatively high reports of deaths and infections, Malaysia at 17,045, Myanmar at 4,998, Vietnam at 7,531 and Cambodia at 819. At the small batch, there were discussions and concerns. In the event that there is still travel across the area Today there will be Thai people traveling from Malaysia. It is an illegal journey through natural channels, 10 of which have been detected. and brought to detention facilities provided by the state I would like to emphasize that the people's brothers and sisters must help each other as eyes and ears. Because the officers on patrol are still detecting illegal actions all the time.
Dr. Apisamai said that for Thailand Today, there are 15,376 new cases, 14,321 domestic, 14 foreign and 1,041 from prisons. This is a number that has not yet been taken into account from the Antigen Test Kit-ATK. It is expected that the numbers will be included within this week. in order to see a more clear overview
"Today there are 87 deaths, 96,0038 hospitalized and 71,019 field hospitals, totaling 167,057 cases, 6,782 more recoveries, 15,960,778 doses of vaccinations, 80,943 increase in first dose. revenue, cumulative total of 12,307,788 cases, and the second needle increased by 9,991 cases, cumulative total of 3,652,990 cases for the direction of the country Today, the numbers are quite high and positive. The number of prisons is 1,041." Dr. Apisamai said
Dr. Apisamai said that The death toll was 87 from Bangkok, 40, Pathum Thani 6, Nakhon Pathom 6, Samut Sakhon 2, Nonthaburi 1, Samut Prakan 1, Pattani 6, Songkhla 1, Krabi, 2, Nakhon Si Thammarat 1, Nakhon Ratchasima 2, Ubon Ratchathani 2, Kalasin 1, Udon Thani. 1 case, Chachoengsao 2, Trat 2, Chonburi 1, Rayong 1, Sa Kaeo 1, Tak 2, Kamphaeng Phet 1, Sukhothai 1, Suphan Buri 2, Phetchaburi 1, and Phra Nakhon Si Ayutthaya 1
Dr. Apisamai said that It can be seen that the deaths are spread throughout the country. not limited to Bangkok and surrounding areas or only provinces that are in the dark red group Most importantly, they remain in the elderly and have congenital disease. in the number of days in bed with a long bed occupancy rate and 5 people died at home. However, if compared to the total number of the whole country, it can be seen that the ratio of Bangkok and its vicinities were 41%, while the provincial 71 provinces had overtaken the BKK and perimeter at 59%.
Dr. Apisamai said that When divided by region, the health group from the higher graph is imported infection means that in that province There are relatively few infected people. But there are people traveling from Bangkok and its vicinities entering District 1 will focus on Nan, Phayao, Phrae, District 2, Uttaradit Province, District 3, Nakhon Sawan, Kamphaeng Phet, Phichit, Uthai Thani and Chainat, District 7 is Khon Kaen Province, District 9 is Nakhon Ratchasima Province, District 10 is Province. Mukdahan, Amnat Charoen, Sisaket, Yasothon, Ubon Ratchathani by Dr. Taweesin Witsanuyothin, spokesman of the Prof. has visited the area and reflected that the management in many provinces Both in the northern, northeastern and southern parts of the country that were found to be infected were those who returned from the dark red area. Therefore, it must be emphasized that these provinces must be vigilant. Because from reports, it was found that each province has a tight public health potential. and some areas have a bed occupancy rate of up to 70% of the existing beds. and more deaths
"In addition, some provinces that have a policy to accept patients from Bangkok and surrounding areas return to treatment which the provincial governor Must emphasize that there is a strict screening of people. and may have to use the same treatment system as Bangkok and its vicinities, namely the opening of quarantine in the community and quarantine at home to support it." Dr. Apisamai said
Dr. Apisamai said that infection in BKK today is a fairly high number: 2,573, Samut Sakhon 1,074, Samut Prakan 970, Chonburi 867, Nonthaburi 719, Rayong 411, Chachoengsao 320, Nakhon Pathom 311, Pathum Thani 301, and Phra Nakhon Si Ayutthaya, 290. The Bangkok Metropolitan Administration reported that Of the total number of infected patients, the vast majority of them, almost 80%, are still classified as green syndromes, i.e. the young and the working age group. It has always been emphasized that those who have been confirmed to be infected and are in the "green syndrome" category. green level please stay at home
"Currently, many departments and hospitals are able to provide isolation services at home. You can contact us at 1330 press 14 or you can scan the QR code and website. or government and university applications The Ministry of Public Health has made a manual for people to study and understand. This allows many agencies to provide assistance to infected people and bring them into home quarantine.
"Covid-19 Prevention and Solution Team Proactive in the community (Bangkok Comprehensive COVID-19 Response Team-CCRT) today visited 57 communities with a total of 5,325 recipients. Of these, teams in each community will have ATK testing and history taking. each house If there is no positive result, vaccination is also provided. Of which 3,897 people have been vaccinated.
"There are 1,982 elderly people, 1,903 congenital diseases and 12 pregnant women over 12 weeks. The CCRT team has accumulated 45,977 vaccinations. The Bangkok Metropolitan Administration will visit the community every day, falling for nearly 100 communities a day, which will specify the plan. at the website of Bangkok which areas to visit Ask the people's brothers and sisters to follow in detail because this team has access to the people. This makes it possible to search for infected people who do not have symptoms. in order to get care as quickly as possible and not spread the infection to the families and communities involved." Dr. Apisamai said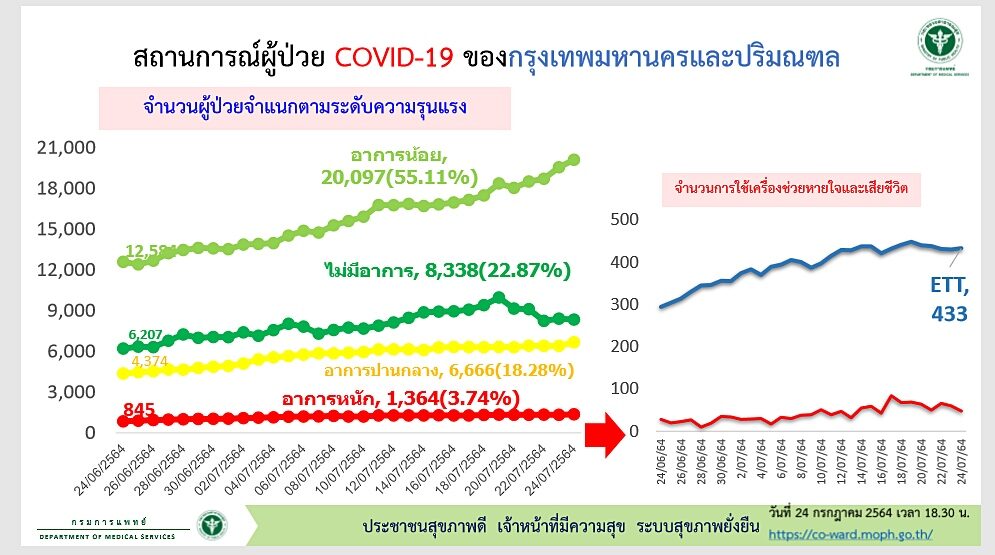 Dr. Apisamai said that The Department of Medicine has reported that In the case that people go to check by themselves in private labs or the company bought it for inspection It will cause a problem is that when receiving a positive result, it will not be maintained. Because the staff will ask to go for RT-PCR verification before entering the community quarantine. The Ministry of Public Health has clarified that the ATK test will have problems with accuracy. and can produce false positives Therefore, RT-PCR must always be tested first, which is a limitation. because a number of people could not find it Or the examination has to wait for several days for the results, which the small group Prof. is discussing that if there is a positive ATK result, they will be admitted to the community quarantine system first. However, the results of the meeting must be clearly heard.
Dr. Apisamai said that in addition, there may be training for the community to study the methods of accurate ATK testing and to examine the nasal cavity correctly, and the BMA has been approved by the Ministry of Public Health to provide an additional 8.5 million ATK test kits. Set to support people's brothers and sisters to have access to ATK testing as much as possible. Originally there was a bed to support. including 32 main hospitals, both public and private, 4 field ICUs, 7 field hospitals, which the hospital has continuously adjusted its plans
"Today, Dr. Amnat Phisanchamroen, director of Bang Pakok 1 Hospital, has brought to study a map to help take care of the infected people. In terms of community quarantine Able to add another 200 beds by the beginning of August. at Thung Khru Hospital will join Kin Hotel at Charoennakorn, Thonburi District, adding 500 beds Bangkok City Suite Hotel in Ratchathewi District adds 300 beds, Field Hospital will add 140 beds in Ratchaburana area 60 more yellow beds, 30 more red beds, 50 more green beds, available this August.
"The director of Piyavate Hospital informed the meeting that Piyavate Hospital is exploring the area to accommodate yellow patients. And red in the area, as well as Dr. Thongthong Naenna, said that the Mongkut Watthana Hospital plans to add a total of 3,300 beds by August. The important thing is that it will be a bed that can take care of patients who need ventilators. The group with kidney disease requires dialysis. and the group requiring caesarean section." Dr. Apisamai said
Dr. Apisamai continued that This week's figures give an overview of where the beds are distributed and in what areas. and how will people access services however I would like to thank all sectors. General Prayut Chan-o-cha, Prime Minister, as the Director of Prof. has always emphasized that the cooperation of the public sector, the private sector, the people and the civil society. which must be thankful because Piyavate Hospital Bangpakok Hospital Mongkut Wattana Hospital will also be a part. But that has been trying to help throughout the past, there will be a Bangkok Hospital. Thonburi Hospital which is an important force that many personnel come down to help care for infected patients
"And thanks to the Private Hospital Association. Department of Health Service Support Ministry of Health Helping to coordinate the visualization of the open bed. It is expected that people will be able to receive services that are accessible faster and more efficiently. helping to reduce mortality at home." Dr. Apisamai said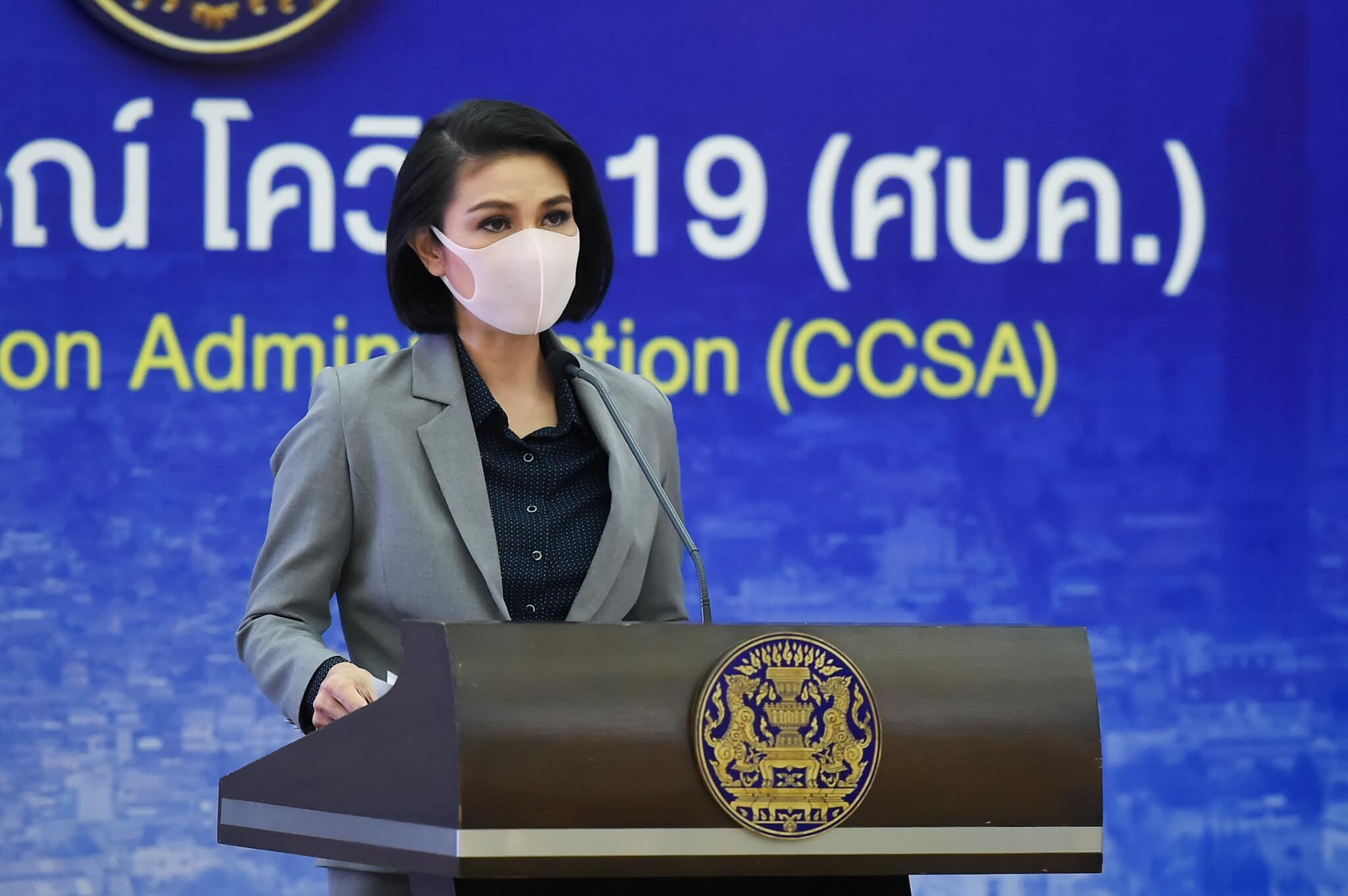 Dr. Apisamai said that I would like to leave it behind that in April 2021, we encountered a problem where people go to bed and wait. We have now increased our potential to thousands of beds. but still not keeping up with the demand Because the number of infected people reaches 15,000, but wants to see that health personnel The personnel of Bangkok Metropolitan Region and all sectors have not been discouraged. Although we may have to adjust the plan to separate at home and separate from the community. But the increase is to preserve the lives of the people.
When asked about the progress of the vaccine and the vaccination point at the Bang Sue Central Station that was crowded until the risk of infection Dr. Apisamai said that Today's vaccination has increased by 90,934 doses, making the total of the country now at 15,960,778 doses, if counting only Bangkok, a total of 56.24% injections, of which 54% of the elderly are injected. The small batch of BMTA has been reported that At Bang Sue Central Station, there are also people from other provinces who come to vaccinate such as Ratchaburi, Saraburi and Suphan Buri. The public health is concerned. Because we are in measures to prohibit moving and traveling in and out of the dark red area. is forbidden
Dr. Apisamai said that however Coming in for vaccination is a policy that we would like to accelerate the mobilization of vaccinations. Therefore, it must be deposited to Bang Sue Central Station that there must be a proper review of the organization. We will have an urgent discussion. because we also allow walk-in to inject But would like to slow down the injection first.
"The Ministry of Public Health has emphasized that in all provinces across the country, one dose of vaccination is required for 50% of the population. At present, the numbers are still moving quite slowly. The Department of Disease Control reported that in other provinces Now that the vaccine has been delivered, about 2 million doses are still pending. Please hurry to mobilize the injection as well. And there must be an appropriate appointment arrangement. not to cause congestion that may become a point of transmission of infection." Dr. Apisamai said