I think there are many people who want to increase their followers on Twitter, and want to use Twitter more for disseminating company information. This book is a very easy-to-understand and interesting book that reveals what people in Tokyu Hands, which is famous for corporate accounts, have done. I read it at once.
How to grow a Tokyu Hands-style corporate account
Tokyu Hands Style How to Raise a Corporate Account is a book written by a person on the official Tokyu Hands Twitter account.
>>Tokyu Hands (@TokyuHands) / Twitter
>>[Official Website]Tokyu Hands
As a corporate account, there are many famous accounts such as Tanita and Sharp, but Tokyu Hands is also a popular account that has many fans with posts full of humanity.
This book is a wonderful piece of non-fiction that reveals everything from the struggles of the people in it, what they are careful about as a corporate account, and how to withstand the expectations and pressures they receive from the company. has become
It is definitely a recommended business book for those who want to know specific examples and operation sites.
The world of official Twitter that spreads with sympathy: How to grow a Tokyu Hands-style corporate account | Tokyu Hands official Twitter representative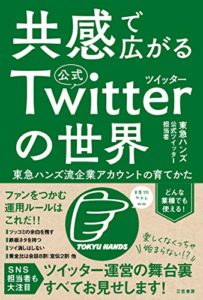 See more on Amazon
See reviews on Amazon
See details on Rakuten
See details on Yahoo! Shopping
Impressions of how to grow a Tokyu Hands-style corporate account
You can see legendary tweets
There are two types of corporate Twitter accounts: a communication type to increase the number of fans, and an advertising type to handle public relations work.
It is said that the emphasis is on how to increase engagement with fans rather than increasing the number of followers. And although you can't aim and buzz, there are many posts that have become legends. Of course, even if it is said to be buzzing, it is not zero premise that there is a brand called Tokyu Hands, but there are many places where the essence can be used as a reference.
For example this tweet.
Tokyo 23 wards, Tama area #heavy snow alert seems to have been issued. Not if you are at Tokyu Hands. Go home early.

Tokyu Hands (@TokyuHands) January 22, 2018
He tweeted that when a heavy snow warning is issued, it is not the time to come to Tokyu Hands. It would have been nice to recommend non-slip boots and snow goods, but the people inside didn't do that. These user-friendly posts resonate.
and,Has a policy of not deleting tweetsSo, it is very helpful when quoting like this. In this book, you can see whether even posts that seem loose at first glance are actually posted with such a sense of tension. Such people's commitment and thoughts on posting are useful for many Twitter account operators.
These and many other legendary tweets are specifically introduced as examples, which is very helpful.
And you'll definitely want to see the actual account.
I think Tokyu Hands Twitter fans will be able to enjoy it even more deeply if they read the posts after knowing these behind-the-scenes circumstances.
>> cheap!Less than half price on Amazonfood time sale
View special sale page
how to eliminate individuality
The so-called corporate Twitter accounts that become a hot topic tend to have their own personalities and tend to be personal. However, in this book, efforts to eliminate such things as much as possible are specifically introduced and are helpful.
It says 80% chat and 20% PR, but it seems that there are voices from other departments that they want to tweet about such projects, and such internal responses are also written. In addition, even when snuggling up to the user, there are ingenuity everywhere, such as matching the tone and including a morning greeting that anyone can do, and it is introduced without exhaustion. If you are the operator of that Twitter account, you will nod at such a service spirit.
If you analyze the posts as it is written that there is nothing good for corporate accounts to make negative comments, you can see that they use "thank you" a lot. It is very helpful to know how to put personality in 140 characters and what words to choose in such a case.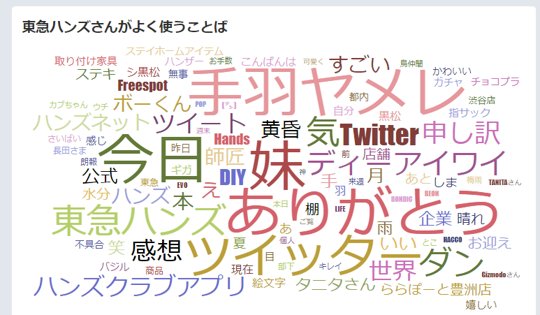 Even if you can't trace 100% of the finer details of your personality, it's not hard to imagine that even more detailed know-how will be accumulated in the company, so it's safe to assume that it will be okay to replace him. Of course, like Tanita Twitter, there is a possibility that we will be entrusted with independent SNS operation.
How to not be troubled with posting material ~ actively involved
What is introduced in this book about corporate Twitter operations is that they are actively involved. Rather than shrinking because it is a corporate account, this book encourages you to focus on communication and actively get involved.
In the text, many familiar company accounts such as Sega and Loft are introduced, and they are all Twitter accounts that can be used as a reference. Be sure to check out not only Tokyu Hands, but also the introduced Twitter account. The charm of this book is that it has a lot of related information.
If you analyze Twitter, it seems that you are often involved with Wakasa Seikatsu recently.If you actually look at it…
It's hard to get an official mark, so I tried to become an official mark myself. pic.twitter.com/Ayx2A5Q9OQ

Wakasa Life Public Relations Department[Official](@WAKASASEIKATSU) June 3, 2021
It sure looks like it's easy to draw (´・ω・`)
In addition, he is very energetic, providing his own stories to his followers and coming up with hashtags and projects that match the trends of the world.The commitment to not posting schedules is certainly reflected in the difference in the amount of heatI feel like
In addition, this book introduces various ways of entwining and planning, so please take a look at the essence.
how to deal with getting caught
There are many things that can be used as a corporate account in Tokyu Hands' Twitter operation. Above all, I would like to refer to the policy of "5S" that does not mention the following.
politics
religion
sports
sexual
difference
However, even so, he has made political remarks in the past exceptionally. That's from a follower's tip that Governor Koike is referring to Tokyu Hands. As expected, I can't go through it.
So, please check the tweets posted by Tokyu Hands in this book. I really thought that it was a famous tweet that responded without being caught in flames with sophisticated words and cuts in 140 characters. There are many business accounts that can help you.
If you look at it so far, you'll want to know more about Tokyu Hands' Twitter account, as well as other famous Twitter accounts that are mentioned.
Therefore, I recommend this book from Nikkei Trendy.
Overview of corporate SNS account operation
How to create corporate fans revealed by the too free official SNS "people in the middle" | Nikkei trendy, Nikkei cross trend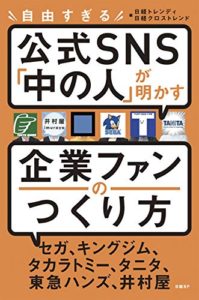 See more on Amazon
See reviews on Amazon
See details on Rakuten
See details on Yahoo! Shopping
The story of Tokyu Hands is almost the same as the above-mentioned book, so please be careful when buying it. Still, the knowledge of people in famous Twitter accounts such as Mr. Tanita and Mr. Imuraya is introduced in an easy-to-understand manner.
Was that the story behind that tweet? Etc. The exposure story of the scales from the eyes is the best. Legendary tweets are also posted in detail, which is very helpful.
I recommend that corporate Twitter representatives read two volumes. If you read it by ear using the text-to-speech function, you can read it in two days.
Please read it if you feel a little stuck in the management of corporate Twitter accounts. Even for individuals, Twitter is so much fun! And you should be able to rediscover it.
This is a business book that many people who use Twitter should read.
summary
Understand the back side of corporate Twitter account management
Abundant specific knowledge such as the difficulties unique to corporate accounts and how to overcome them
We also recommend a separate book that introduces accounts of other companies
My only regret is that the e-book will not be available on Google Play Books as of June 3, 2021. E-books are often difficult to read on Kindle, so I would like other e-book stores to distribute them.
…and this is how I update my blog every day. If the article is of any help to you, please donate to keep me motivated.
Throw 100 yen on this blog
・ ・ ・ ・ ・
>> cheap!Less than half price on Amazonfood time sale
View special sale page
↓↓↓Free newsletter now available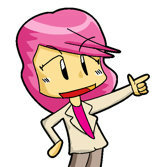 Enterprise Twitter