<! –
->
Suara.com – Sony postponed the PlayStation 5, which was scheduled for June 4, to reveal the next generation console.
The delay was related to protests that occurred in the United States over the death of George Floyd, a man who died at the hands of Minneapolis police on May 25 last.
Sony announced it through the official PlayStation Twitter account on June 2.
"We have decided to postpone the PlayStation 5 event scheduled for June 4. While we understand that gamers around the world are excited to see PS5 games, we feel that now is not the right time for the game and for now, we want to step back and allow sound more important to be heard, " tweet @PlayStation Twitter account in a notification.
Since Floyd's death, thousands of protesters have taken to the streets in big cities and condemned the police's actions and highlighted racism and systemic inequality that is detrimental to the lives of black people in the United States.
On Monday (1/6/2020), Sony Interactive Entertainment through the PlayStation Twitter account also issued a statement supporting black people.
"We condemn the system of racism and violence against the black community. We will continue to work towards a future marked by empathy and inclusion and stand with our creators, players, employees, family and black friends. #BlackLivesMatter," write a PlayStation Twitter account, as reported by Polygon on Tuesday (2/6/2020).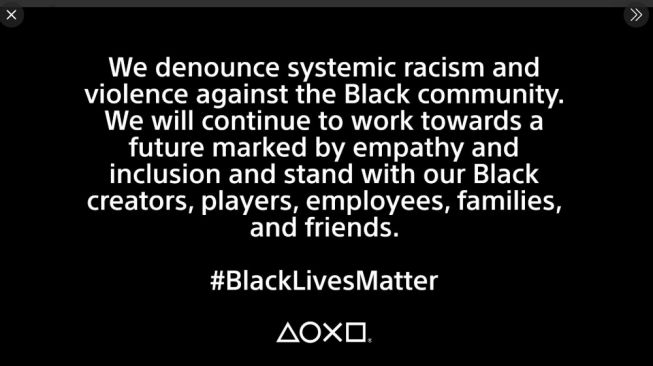 Sony's decision to postpone the event followed a similar move by the Electronic Arts (EA) publisher. EA announced that it was delaying the announcement of Madden NFL 21, which should have been held on Monday (1/6/2020).