2023-05-29 20:33:47
Several brand products that make the home more sustainable are on offer during the period
Between May 29th and June 11th, Samsung promotes Sustainability Week, mainly due to the arrival of World Environment Day, on June 5th. During this period, the brand reinforces the awareness and importance of caring for the planet and using resources consciously. As one of the main pillars of the company, Samsung works to create solutions that bring comfort and practicality to people's lives and, at the same time, reduce the environmental impact.
"Samsung Sustainability Week aims to reinforce the company's commitment to environmental preservation and ESG initiatives. Sustainability is one of our main pillars and has been present since the conception of our products, without leaving innovation aside. We believe that technology can be a great ally in saving natural resources and we have several devices in our catalog to provide the best experience and, at the same time, help the planet", reinforces Thiago César, marketing director of the Consumer Electronics division at Samsung Brazil.
During the Sustainability Week period, Samsung has prepared several offers with devices that can help save resources and preserve the environment, such as reducing water and energy consumption, greater durability, using recyclable materials in their composition and much more. Check below the products that will be at a reduced price over the next few weeks, to make your home more sustainable and economical.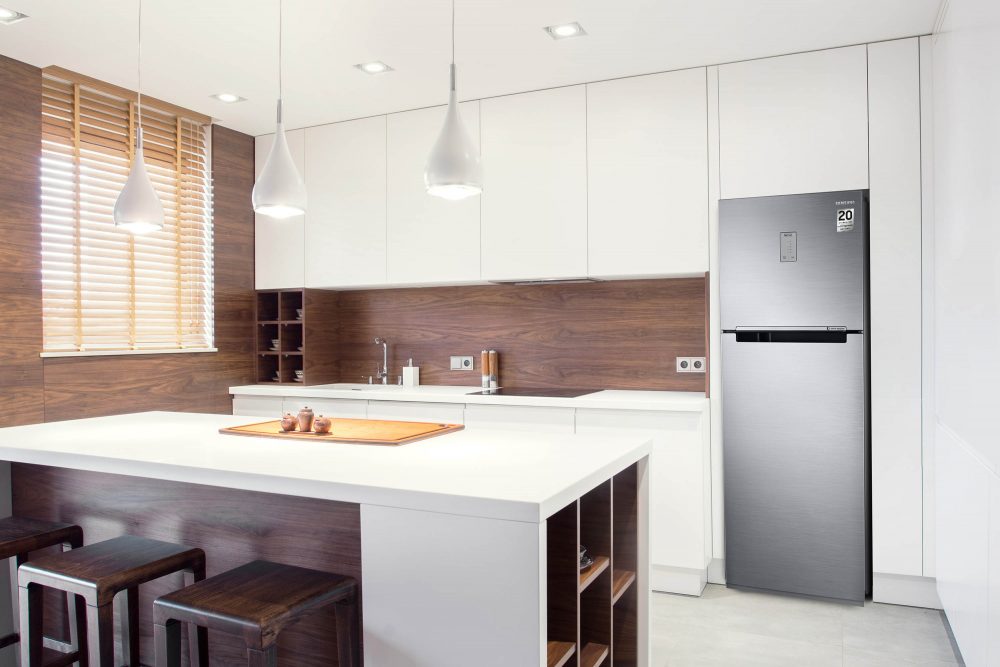 Evolution RT46 refrigerator
Among the products with a reduced price in this period of offers, is the refrigerator Evolution RT46, with capacity for 460L. It is equipped with the exclusive Digital Inverter technology, which has a 20-year warranty on the compressor, and the number 1 in energy savings.1 achieving maximum rating (A+++) from Inmetro. The product also includes the POWERVolt feature, that is, more resistant to power surges, greater durability and compatible with voltages 127v and 220v.
And it's not just the ecological part that the RT46 stands out, this fridge also has a deodorizing filter, made with natural fibers and activated carbon that removes odor particles and preserves the flavor of food for longer. With the Easy Slide shelves, it is possible to slide them easily with a drawer, allowing a more efficient organization of food with support for up to 45 kg. Power Cool technology, on the other hand, injects cold air into the refrigerator, allowing you to quickly freeze and cool food and drinks at the touch of a button.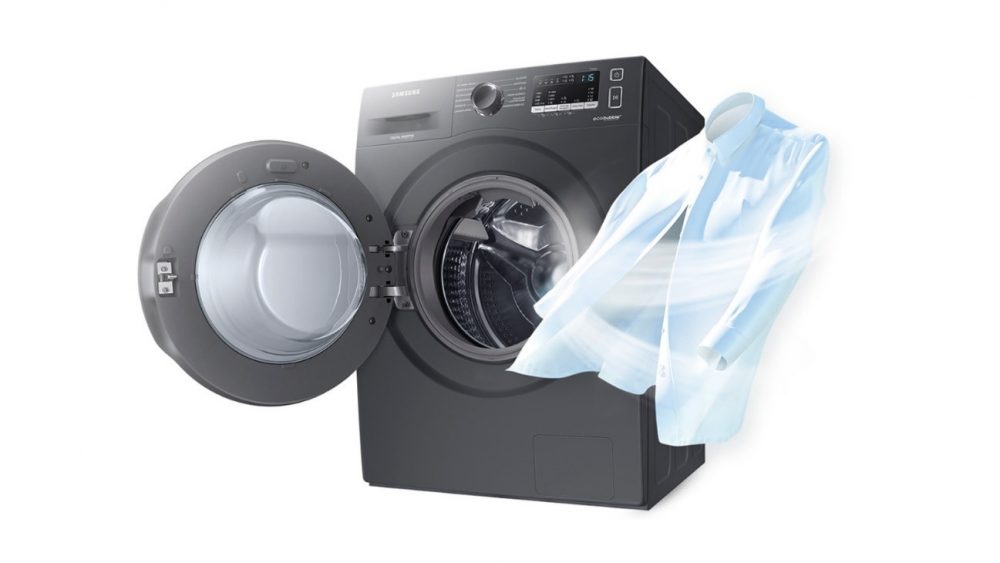 WD11A washer and dryer
Lava and dry WD11A is another ideal product for a more sustainable routine, as it is part of Samsung's No. 1 line in water saving, consuming less of this resource when compared to other models available on the market. This washer and dryer also stands out in energy efficiency, in addition to its high performance with several functions to keep your clothes always clean, regardless of the level of dirt. Ecobubble technology2, for example, produces soap bubbles that make washing much more powerful. It facilitates 40x the penetration of soap into the fabric and promotes a more effective wash even with cold water and its engine with Digital Inverter technology has a 20-year warranty, offering energy savings and much less noise when washing your clothes.
It is also capable of washing, drying and dry sterilizing3. This feature eliminates unwanted odors and up to 99.9% of bacteria and allergens that cause respiratory problems, without using soap or water, protecting your family's health. Cleaning your washer and dryer is also easier thanks to the Eco Drum Wash4which leaves the drum always clean without the use of chemical products and even sends a notification to the user whenever it is necessary to carry out a new cleaning.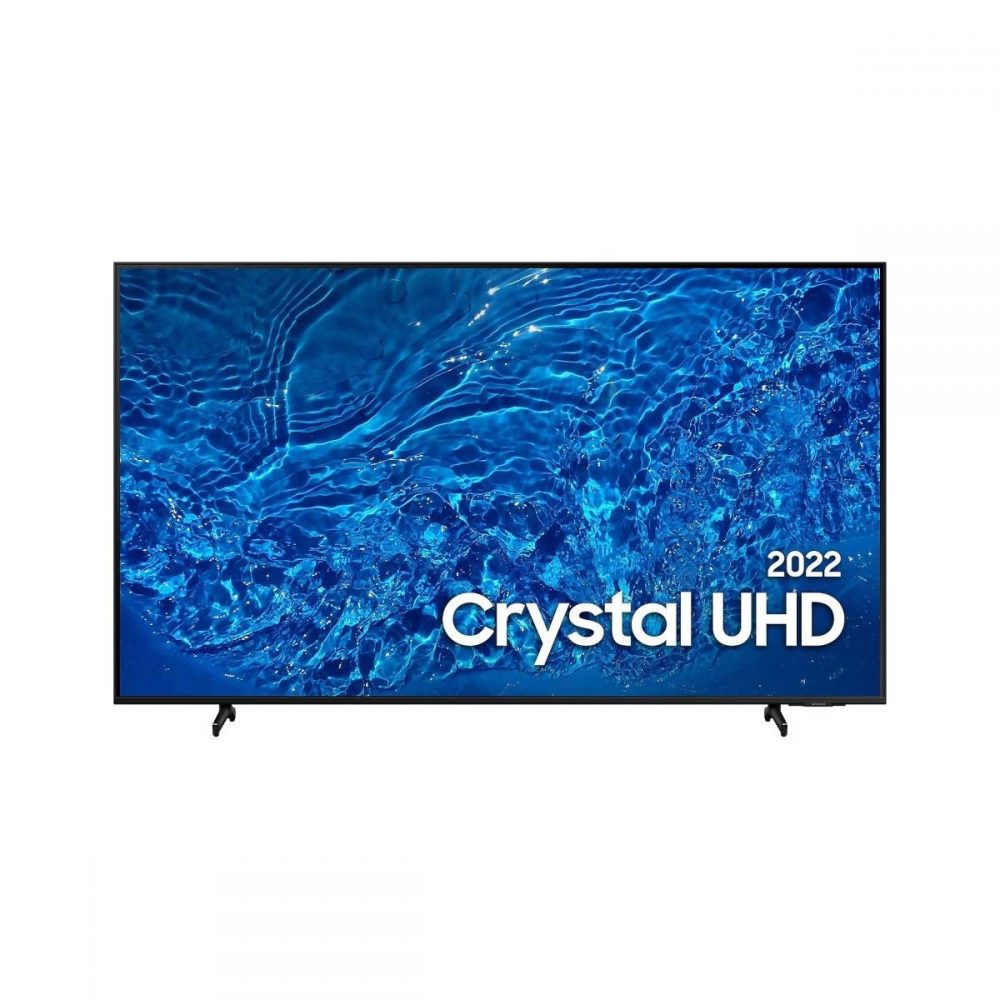 Smart TV Crystal UHD BU8000 com controle SolarCell
The Smart TV model Crystal UHD BU8000 renews your experience of consuming audio visual content and even comes equipped with a remote control SolarCell. This accessory is produced with 24% recycled materials, in addition to dispensing with the use of traditional batteries. To recharge it, just use your rear solar panel, your home's ambient light, USB or even radio frequency, avoiding the disposal of millions of batteries in nature.
With sizes between 43 and 85 inches, the Crystal UHD BU8000 has Dynamic Crystal Color on its display, this solution improves contrast allowing the user to see all the subtleties and nuances of colors approaching real life. Its Air Slim Design is discreet and elegant, providing a television that is only 2.5 cm thick, matching any space. The Crystal 4K processor5 manages to improve the resolution of lower quality content, automatically bringing images closer to 4K. Crystal still has the Samsung Gaming Hub6to enjoy the main game streaming services with more than 1000 games straight from the TV and without the need to connect a video game, in addition to Smart Hub Tizen to access content related to movies, series and live channels.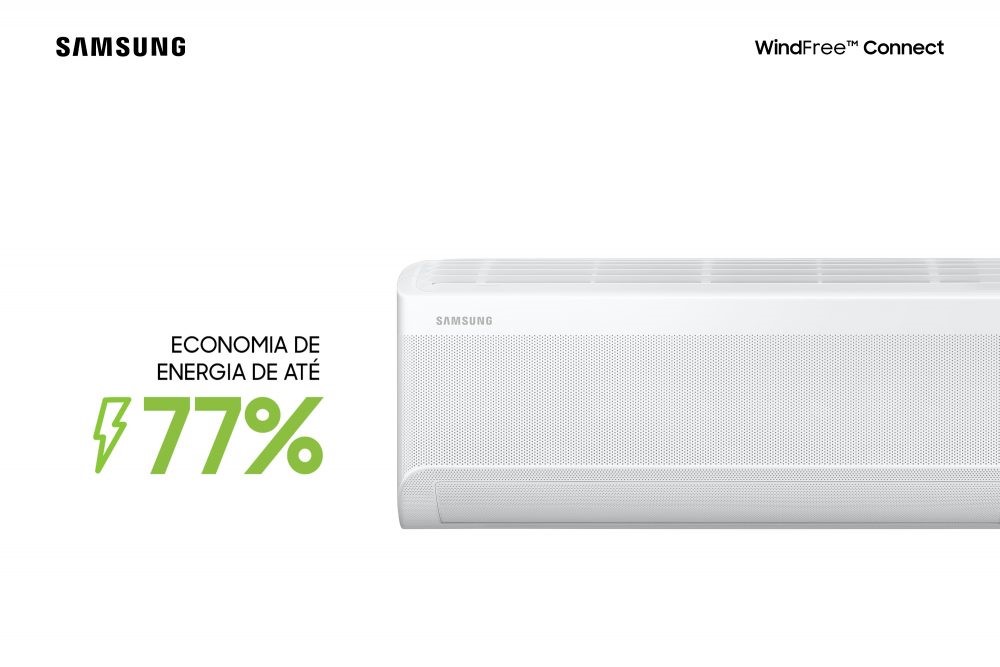 Windfree air conditioning
Capable of cooling environments without producing any wind7WindFree air conditioning makes the home more comfortable and cozy in a much more economical way, using up to 77% less energy8 thanks to the Digital Inverter compressor9, which has a 10-year warranty. Resistant to power surges and compatible with voltages 127v and 220v, it also has a special filter, which keeps the air fresh and ensures the cleanliness of the inside of the equipment. In addition to collecting dust, this technological feature fights up to 99% of bacteria10 when the air passes through a dense antibacterial filter mesh, which improves the air quality in the environment where it is installed.
In addition, the Good Sleep mode also creates the ideal climate for bedtime, as its temperature control keeps the environment comfortable for peaceful nights sleep. WindFree control is also easy and intuitive thanks to the SmartThings system, in which the user can turn the air conditioning on and off, program its operation, change settings, monitor energy consumption via smartphone or even by voice command. That way, you can program an environment at the ideal temperature for when you return home, without having to wait.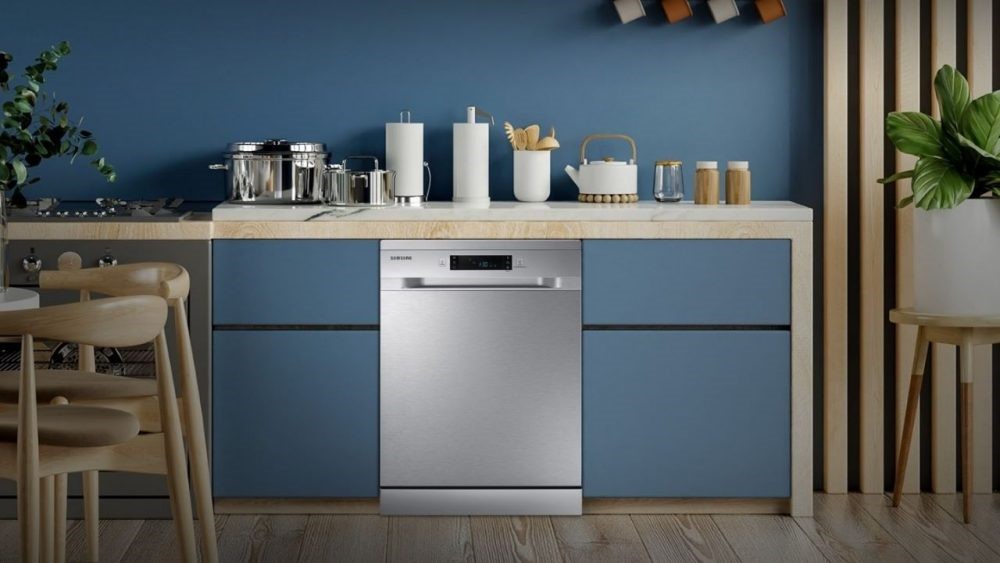 Dishwasher 10 services
Samsung's 10-service dishwasher, available in Inox and Black Inox colors, can help save not only time, but also water and energy. There are several options for washing cycles, which make the product versatile to adapt to different amounts of dishes and levels of dirt. The Hygiene function, for example, leaves dishes, cutlery and kitchen utensils always hygienic due to the final rinse with water at 70˚C, which delivers a deep cleaning. With the Auto Cycle, the level of dirt is automatically detected and the system itself determines the best cleaning process. The Express Cycle function takes just one hour11 for washing and drying lightly soiled dishes such as cups, cutlery and plates. Another function that offers more flexibility is Half Load12in which it is not necessary to wait for a large amount of dishes to be washed.
For more details on these and other offers, visit the website www.samsung.com.br and take advantage of reduced prices to make your home more modern and sustainable.
Other Samsung Initiatives
If you are thinking of renovating your home appliances, know that you can get discounts on the purchase of new appliances from the brand by participating in the Eco Troca program. Created to encourage the conscious disposal of appliances and electronics, just schedule the collection of your old device, of any brand and condition, on the website and exchange it for discount vouchers at Samsung's online store. The initiative includes monitors, dishwashers, televisions, refrigerators, air conditioning and washing machines.
1 Up to 40% savings: according to Inmetro's evaluation, comparing the duplex digital inverter models classified as A+++ with non-inverter models considering kWm consumption. The value may vary depending on environmental factors and user usage. Reports available on the Inmetro Brazilian Labeling Program website (https://www.gov.br/inmetro/pt-br/assuntos/avaliacao-da-conformidade/programa-brasileiro-de-etiquetagem/tabelas-de-eficiencia-energetica/refrigeradores-frigobares-combinados-combinados-frost-free). The 20-year warranty is limited to the compressor. Learn more at amsung.com.br.
2 Facilitates 40x penetration of soap into fabric: tested in accordance with IEC 60456-2010/4kg wash load/cold Super Eco Wash (WF80F5E5U4W) against cotton at 40°C without EcoBubbleTM (WF0702WKU). Individual results may vary. Based on Springboard Engineering's laboratory performance test report on EMPA strips, comparing a normal detergent solution and bubble technology without mechanical action.
3 Sterilization: refers to the Air Wash cycle, which is a wash without the use of water or chemicals that removes 99.9% of certain bacteria, based on the test report performed by Intertek.
4 Removal of 99.9% of bacteria: Based on Intertek and BAF 2018 Drum+ wash cycle report. Eliminates up to 99.9% of certain bacteria from inside the washer and removes up to 99% of dirt from the washer rubber. door.
5 All Samsung UHD 4K products are CEA (Consumer Electronics Association) and DE (Digital Europe) certified. These entities have established minimum criteria to certify a product such as UHD 4K, including ensuring that the product has the ability to reproduce all colors in each pixel. The experience may vary depending on the type and format of the content.
6 Gaming Hub is available in the following countries/regions: US, Canada, UK, Germany, France, Spain, Italy, Korea, and Brazil. Compatible with 2022 releases: Crystal UHD (BU8000), QLED 2022 (Q60B, Q65B, Q80B), Lifestyle (LS03B, LS01B, LS05B) and Neo QLED 2022 (QN85B, QN90B, QN700B, QN800B and QN900B). To access it, you must have a Samsung Account and purchase an internet package. Any purchase or subscription costs may be charged by content and game provider partners. Published games, interfaces and applications may vary by country. Developers can remove their apps from the platform or stop supporting them at any time. Samsung is not responsible for data stored in third-party applications, check the Terms and Conditions for each platform.
7 The American Society of Refrigeration, Heating and Air-Conditioning Engineers (ASHRAE) defines the windless effect due to blown air currents with a velocity of less than 15 m/s. 43% faster cooling: Based on comparison testing of model AR12KSWDHWK with conventional model AR11EASER
8 Up to 77% savings tested on model AR07B9350MAN in fast cooling mode.
9 Tested on AR09MSFHBWKNET compared with conventional model Samsung AQ09TSB. Model 24,000 BTUs Q/F (24KSS) does not have 8-pole inverter digital motor
10 Fights up to 99% of flu viruses, including H1N1, as well as reducing harmful airborne bacteria, dust mites and fungi. Test carried out on the model SA604C air purifier in a 1m3 closed chamber at the Microbiology Department of the University of São Paulo (USP); this product helps to prevent the spread of diseases but does not replace the recommendations of the Ministry of Health, including vaccination. There are no studies proving the action against the virus that causes COVID-19, which, for combat and prevention, the recommendations of the Ministry of Health must be followed.
11 Wash and dry in 1 hour: Lightly soiled crockery such as cups, cutlery and plates. For more information, see the manual on page 14.
12 Half Load Function: The half load function offers greater flexibility as it only allows the use of the selected area of ​​the dishwasher, making washes in small quantities. The half load function uses the same amount of time and water as the full cycle.
1685393560
#Samsung #Sustainability #Week #offers #discount #sustainable #electronics