Sony Thai Co., Ltd. launch camera Alpha ZV-E10 It is a camera in the Alpha Series family that stands out with the perfect blend of Sony's advanced imaging technology. with the image sensor APS-C Exmor CMOS with resolution 24.2 Megapixel with image processing chip BIONZ X To create high quality images with high sensitivity at ISO 100-32,000 can be extended to 50-51,200 At the same time, it also comes with Background Defocus that can switch to take a clear picture after blurring or adjust the background to be sharp and clear It also produces beautiful and natural bokeh. And for the first time for an interchangeable lens camera from Sony, users can use the function. Product Showcase that allows for reviews Or selling products online is easy with fast and accurate focus at the touch of a button. The camera automatically shifts focus from the subject's face to the highlighted subject.
for camera Alpha ZV-E10 It has been specifically designed to meet the lifestyle of videographers. This makes the camera body compact and lightweight at only 343 grams, making it possible to shoot with just one hand. while the camera also comes with an LCD display screen Swivel and side opening Including being able to connect to a microphone located on the top of the camera conveniently It also makes settings easier when users enter selfie shooting mode, both high and low angles, while also comes with other functions that have been designed to It is easy to operate both stills and videos, as well as additional shooting mode buttons such as Still/Video/S&Q. on top of the camera It allows users to easily change the desired shooting mode with a single tap. Moreover It also supports advanced video recording features such as 4K video recording and slow motion. with high image quality Electronic image stabilization (Active Mode) that enhances stable video recording performance even when walking and holding the camera by hand including technology AF (Auto Focus) The advanced features also enable fast and accurate autofocus operation with excellent tracking performance. It also has a high quality sound system. to save the whole image and the sound is perfectly clear.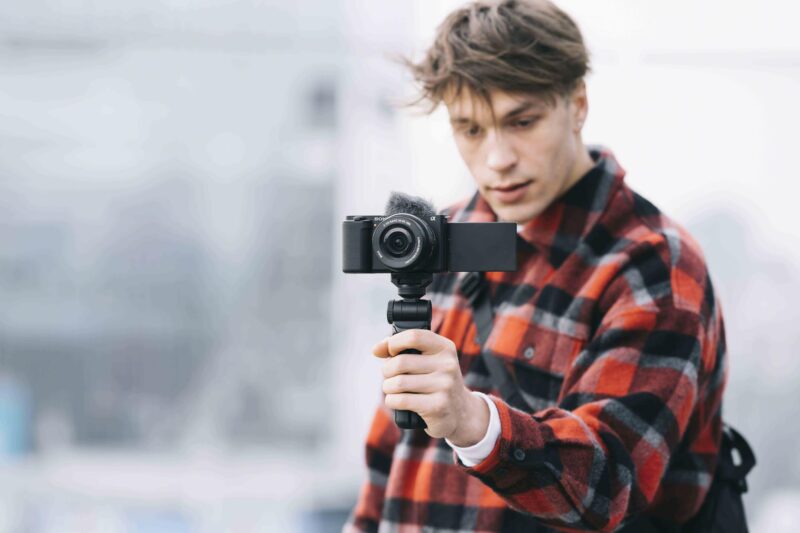 Interchangeable lens camera to enhance creative shooting
camera Alpha ZV-E10 It allows users to express their work creatively. It integrates a wide range of lenses in Sony's line of E-mount lenses for higher quality. Able to adjust various viewing angles Responding to creative ideas effectively
Advanced autofocus system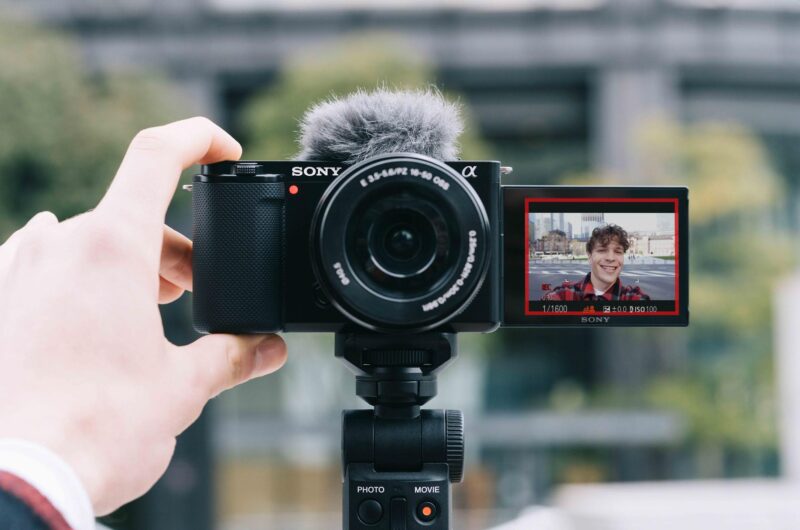 Alpha ZV-E10 Camera Still focusing on autofocus (AF) technology allows users to concentrate. Focus on the composition of the image. And let focusing be the camera's perfect function, while the Fast Hybrid system achieves fast, accurate focusing, as well as the Real-time Eye AF system built into the Alpha ZV-E10. Will be able to focus on tracking the eyes all the time while shooting video, including the Real-Time Tracking system that tracks faces and the eyes of objects For fast and accurate autofocusing, even when shooting on the go or in challenging environments.
Users can also customize the camera's autofocus (AF) settings. Moreover, the Touch Focus function Also available on the Alpha ZV-E10, users can set the focus position in still images by touching the LCD screen. Touch screen with a single tap The user can immediately shift the focus to the subject in the periphery of the image. It can be used in both still image and video mode.
high quality sound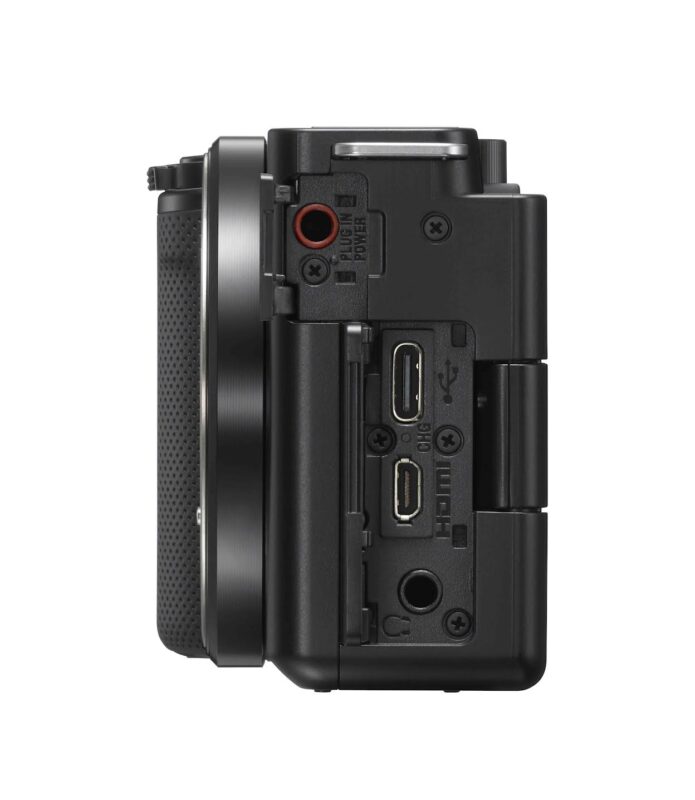 Sony's leading technology also enables the Alpha ZV-E10 to record crystal-clear sound. It will capture the sound clearly. It also comes with a built-in Directional 3-Capsule Mic and airbrush to reduce wind noise in outdoor areas. and helps the speaker's voice recording clearer. Moreover The camera also features a digital audio interface via the Multi Interface Shoe for crisp, low-noise digital audio recording. It also comes with a 3.5 mm microphone jack for connecting an external microphone for higher sound quality. And can also connect an external mic via the MI connector as well, including connecting to the headphone jack. It will be able to help verify the sound recording accurately. It is also possible to set the audio output time for Live or Lip Sync.
Focus on the object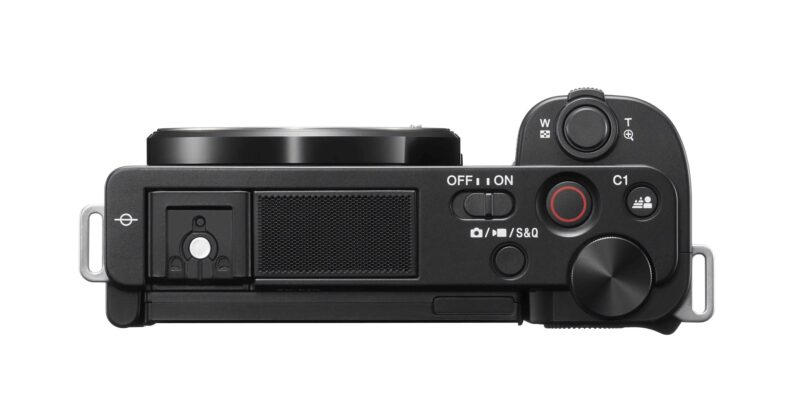 With the exposure mode (Face Priority AE) built into the Alpha ZV-E10, exposure correction is automatically corrected. so that the subject's face is not overexposed or underexposed. With the Face Priority AE algorithm, exposure metering can be changed quickly. It allows the camera to detect the face of the subject. and adjusting the exposure to ensure that the face is displayed at the optimum brightness. Even when taking selfies in scenes where the light changes drastically or even if the face is turned away from the camera momentarily It also features the same advanced color technology as the ZV-1, which optimizes skin tones in both still and video modes.
State-of-the-art video recording features
• Movie recording in 4K resolution without pixel binning.
• Supports recording in XAVC S™ format at 100Mbps when recording in high resolution 4K Slow&Quick Motion.
• Supports Full HD recording at a maximum speed of 120fps.
• Capable of capturing amazing time-lapse videos.
• Support recording of Hybrid Log-Gamma(HDR), S-Gamut3.Cine, S.Log3, S-Gamut3 and S-Log3 files.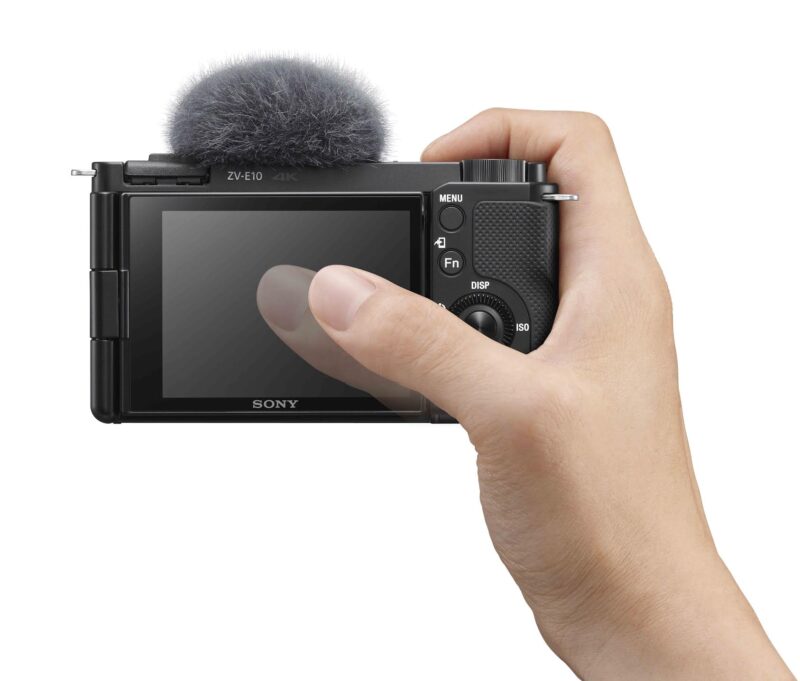 Designed for creators
camera Alpha ZV-E10 It is also designed with a handle that is easy to hold. It comes with a large Movie button placed on top of the camera. This makes it possible to record videos quickly. When paired with accessories like the Grip with wireless remote control This makes it easy to control zoom and image manipulation with one hand. What's more, there is an indicator light for recording on the front of the camera. A red frame on the LCD screen appears effectively while the camera is recording.
In addition, the camera Alpha ZV-E10 It also comes with a zoom lever that is positioned near the fingers. that can zoom images optically with a power zoom lens and sharp zooming with a single lens When paired with prime lenses This allows the user to zoom while maintaining the resolution of the video. Especially recording with 4K detail, at the same time, you can adjust the zoom level in-out up to 8 levels, increasing the flexibility of using video as well. Moreover The battery is still high performance, can be used continuously for a long time. Provides enough power for up to 125 minutes of shooting, or 440 shots when fully charged. Or it can be used together with power supply accessories such as AC-PW20AM effectively. This allows users to record for a long time without worrying about the battery. will run out during recording. Power can also be supplied via the USB Type-C® connector to extend the lifespan and save the camera's battery when shooting on the go. as well as a rotatable LCD screen It allows users to put the camera into power saving mode by turning it off. And when you want to take a picture, you can open the control panel to take a picture right away.
Do not miss any contact
• Live Streaming
camera Alpha ZV-E10 It can also be used as a high-quality webcam or for live streaming by connecting to a PC or smartphone for added flexibility while using it without additional software. This results in outstanding picture quality and crystal clear sound quality, and Face Priority AE and Soft Skin Effect adjust the brightness of the light to a soft, beautiful brightness according to the lighting conditions. changing all the time and adjust the exposure to make the face still brighter While Live Streaming or Video Calling very well meanwhile It also supports connection via the same standard USB cable used in conventional cameras, such as UVC (USB Video Class), UAC (USB Audio Class), etc. It can also be connected to a power supply via a USB cable while streaming. Fresh milk for continuous use and longer Users can assign this function to custom buttons. to start live streaming right away.
• Easy data transfer.
It is also compatible with Imaging EDGE Mobile. from Sony to optimize professional performance. Make it possible to transfer photographic images. and video files to smartphones via Wi-Fi After the camera is paired with the Imaging EDGE Mobile app, users can transfer RAW images, get location information from their smartphones, and save them, and transfer files from SD cards. in the camera to a smartphone via Bluetooth. easily even when the camera is off.
Pre-Booking and Release Schedule
camera Alpha ZV-E10 is available in 2 colors, white and black. Ready to open for interested parties to order between 28 July and 8 August this year at a price 23,990 baht in the package body with lens E PZ 16-50mm F3.5-5.6 OSS (model SELP1650) and will be officially released by the end of August 2021 onwards.
Special…for all customers who order cameras ZV-E10 During the period between 28 July and 8 August will receive special privileges. is a product discount code worth 2,000 baht to be used to purchase accessories for the ZV-E10 camera in participating models via the Sony Store Online channel (store.sony.co.th) after receiving the product register in the system My Sony with complete details by August 31, 2021
Interested parties can ask for more product information at the Sony Information Center at Tel. 0-2715-6100 or visit www.sony.co.th And try to experience photography with the latest technology at all Sony Store showrooms, Sony Center stores and selected leading camera dealers or visit www.sony.co.th