On Wednesday (13th) the popular classic TV series "Star Trek", the actor William Shatner (James T. Kirk) and the crew of the Blue Origin NS-18 rocket went into space together, Shatner became the oldest astronaut in history at the age of 90.
Actor Shatner joined Blue Origin's second manned space trip on Wednesday, along with Blue Origin's Vice President of Mission and Flight Operations Audrey Powers, satellite imaging company Planet Labs co-founder Chris Boshuizen, and clinical trial software. Glen de Vries, co-founder of Medidata.
The space flight was originally scheduled to depart on Tuesday, but it was postponed to Wednesday due to wind conditions. At about 10:50 am local time, US time, the NS-18 rocket was launched from the first launch site in western Texas, challenged to fly over the Carmen Line, experienced a gravity-free state in the sky (about 3 minutes), and gave a quick glimpse of the beautiful earth Contour, the space capsule will eventually land on a parachute.
The Kármán line defined by the International Aviation Federation (FAI) is the altitude at 100 kilometers above sea level, which is the boundary between the atmosphere and space.
This trip to space made William Shatner, 90, the oldest person ever in space. This is also Bezos's Blue Origin after its first manned mission on July 20. The second manned space trip.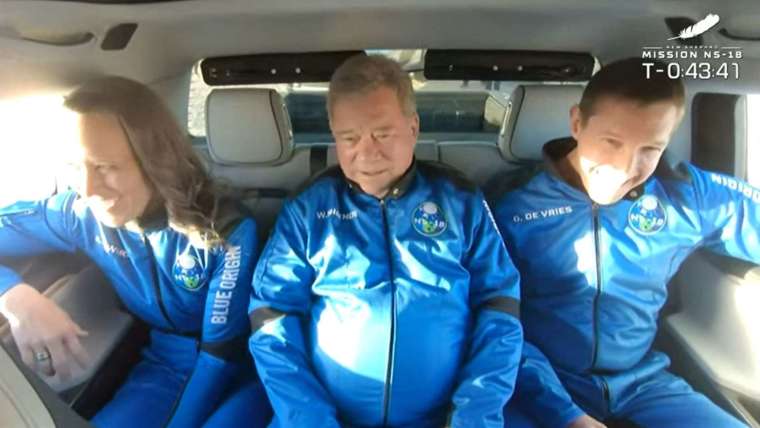 Blue Origin's current competitors include Virgin Galactic founded by British billionaire Richard Branson, and Musk's space exploration company SpaceX.
Although Amazon founder Bezos previously pointed out that Blue Origin has sold $100 million in space ship tickets, and the demand for space travel is quite high, however, recent negative news about Blue Origin has continued.
Twenty-one former and current employees of Blue Origin published joint articles, bombarding the company with high-level sexual harassment and disregarding rocket safety. There were also successive waves of employee exodus due to policy and management issues.
Before the deadline on Wednesday afternoon, Blue Origin's rival Virgin Galactic (SPCE-US) On Wednesday, it fluctuated higher by 2.00%, and temporarily reported at US$24.00 per share. Amazon (AMZN-US) Rose 0.72% to a provisional report of US$3,270.69 per share.
The global space economy continues to grow. In view of the threats from China and other countries, the US government has expanded its space development budget every year from 21.5 billion U.S. dollars in 2019 to 25.2 billion U.S. dollars in 2021.
Recent data shows that the size of the space economy market in 2040 is expected to exceed $1 trillion. In the future, space travel is expected to become one of the leisure and entertainment options for the top rich.