News business Steam: Valve unveils the most popular and lucrative games of 2020
Which games hit Steam in 2020? Valve answers this question by releasing its traditional retrospective of the bestsellers and most popular games of the year.
First of all, let us specify that the games are randomly sorted into several categories. For the 100 games that generated the highest turnover, taking into account sales, DLC and microtransactions, we find Platinum, Gold, Silver and Bronze categories. Twelve titles are in the Platinum category, including three released in 2020 (Doom Eternal, Fall Guys, Cyberpunk 2077) and regulars already present in the top of 2019 (Monster Hunter World, Rainbow Six Siege, PUBG, GTA V, Dota 2, CS:GO, Destiny 2). Le phénomène Among Us, sold at a low price (€ 3.99), and Red Dead Redemption 2 complete the package.
The list of the most popular games is similar to say the least. Eleven titles have managed to register more than 200,000 players connected simultaneously at any given time. The presence of Life is Strange 2 in this category is explained by the free availability of its first episode last September. "When we count the number of people playing, we exclude brief spikes corresponding to events such as freebies and free weekends, in order to highlight the games that have established a large player base.", says Valve about this list.
You can discover the complete lists and the other categories (best sales VR, best news of the year …) at this address.
Steam Best Sellers of 2020 (Gross Revenue)
Platinum Category
Gold Category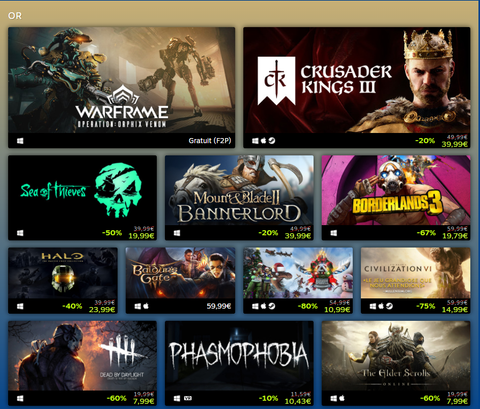 The most popular games of 2020 on Steam
Over 200,000 people involved simultaneously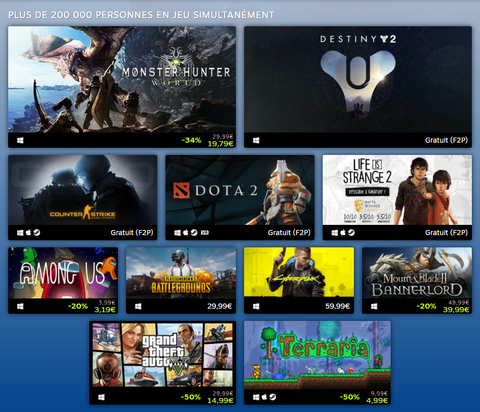 Over 100,000 people involved simultaneously

By Clementoss, Writing jeuxvideo.com
MPTwitter