Test drive the new Audi Q3 Sportback under the Audi Blissful Trip activity on the route Bangkok – Suphan Buri with a fleet of more than 10 Audi models such as the Audi TT Coupé, Audi A5 Coupé, A5 Sportback and Audi Q3 SUV.
For the Audi Q3 Sportback at Sanook Auto has the opportunity to test drive this time is the Q3 Sportback 40 TFSI quattro S line Black Edition, which is considered the top of the Q3 family and Q3 Sportback sold in Thailand. In addition to being featured in the Sportback style body that gives a more sporty feel than usual. It also comes with S line decorations, both outside and inside. It is also complemented by the Black Edition styling kit, making it even more different compared to the regular S line.
The Black Edition is a black exterior kit consisting of a black grille, black door window sills, black front air vent frames, black door mirror covers, etc., along with 20-inch alloy wheels wrapped around it. With tires size 255/40 R20 the same on all four sides.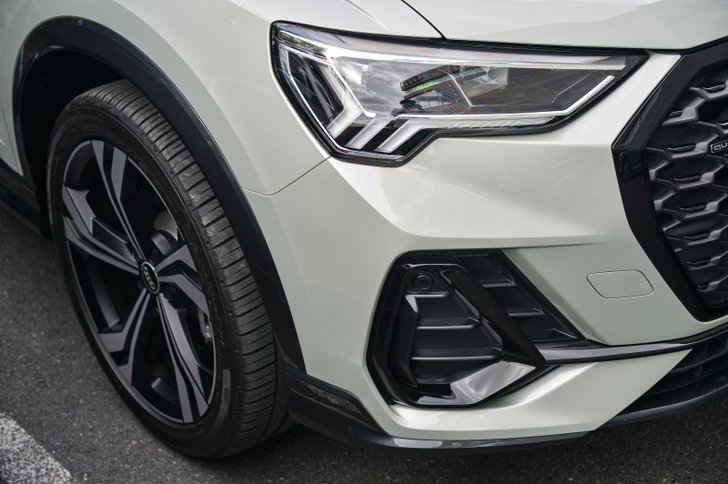 In addition, the Q3 Sportback 40 TFSI quattro S line Black Edition also comes standard on the exterior, including LED headlights and taillights with dynamic rear turn signals, LED daytime running lights, electric-folding side mirrors. with defroster system, opening-closing the rear door without hands, the system to turn on-off the headlights and automatic wipers, etc.
while the cabin is equipped with sports front seats upholstered in leather material Decorated with the symbol S line, can be adjusted with electricity, the front pair with push-back system, multi-function steering wheel, sports rear cut Decorated with the S line symbol with Paddle shift keys, 10.25-inch virtual cockpit driving information display, MMI Radio Plus system with 8.8-inch MMI Touch screen, supports Bluetooth and USB connectivity, smartphone connectivity Audi smartphone interface, six speaker positions, two independent climate control zones and white interior lighting (Lighting package).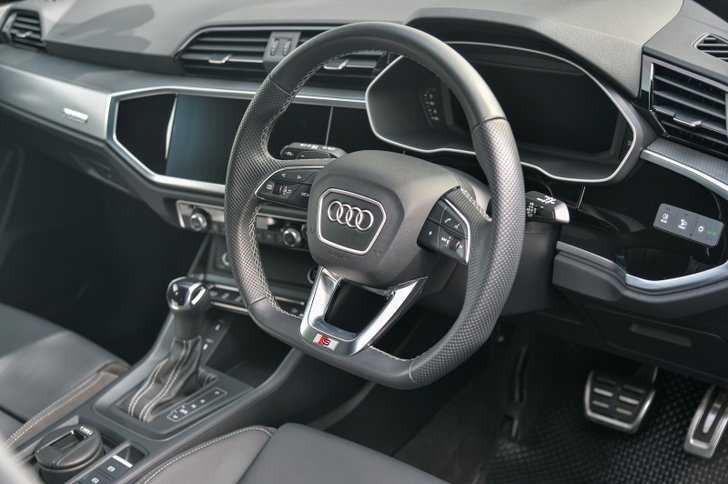 In addition, the Audi Q3 Sportback 40 TFSI quattro S line Black Edition is also equipped with a reversing camera system. Work with the distance sensor both front and rear. with an electric handbrake system that has a function to lock the brakes while stationary (Audi hold assist) and other standard safety systems Available as a full-fledged version of a luxury European car. Whether it is the ESC stability control system, TCS anti-roll system, ABS / EBD braking system, Hill descent control, dual front, side airbags and curtain airbags, etc.
The power of the Q3 Sportback 40 TFSI quattro (including the Q3 40 TFSI quattro) is a 2.0-liter turbocharged inline four-cylinder petrol engine producing 180 horsepower at 3,900 – 6000 rpm and a maximum torque of 320 N. -meters at 1,400 – 3,940 rpm, transmission is delivered by a 7-speed S tronic automatic transmission with quattro all-wheel drive, available only with the engine code 40 TFSI.
Audi has stated the acceleration of the Q3 Sportback 40 TFSI quattro S line Black Edition from 0-100 km/h in 7.8 seconds and a top speed of 220 km/h, which is plenty for an SUV of this size. This compact is designed to emphasize mobility both in the city and out of town.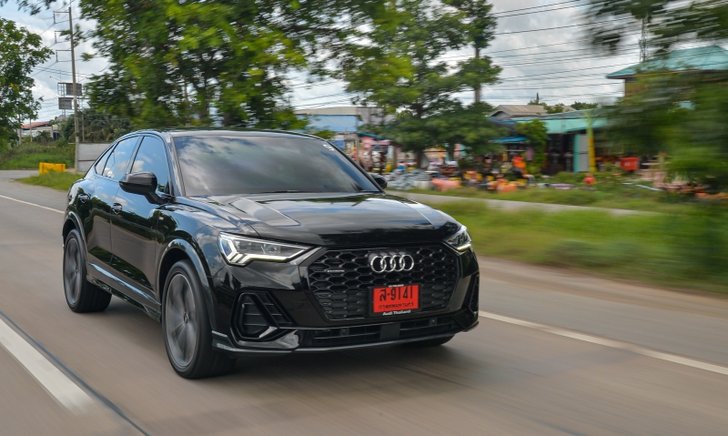 As for driving the Audi Q3 Sportback 40 TFSI quattro S line Black Edition, it must be said that its engine performance may not be the best. Although it has a maximum power of 180 horsepower and a maximum torque of 320 Newton – meters, but with an SUV body with large wheels up to 20 inches, the pulling force of both the start and the acceleration cadence secretly overtake. a little Still, it still offers plenty of power for everyday use.
But the highlight that can be called doing well is amazing. It can be seen as a lower suspension that can subdue the roads of Thailand. Because although the suspension of the Q3 Sportback is higher than the general sedan. But it feels like a compact sedan with a great suspension. able to maintain excellent stability in every corner It is complemented by the quattro all-wheel drive system that adds even more confidence. It is said to be one of the most fun and agile SUVs on the market.
In terms of absorbing shock from the road, it must be admitted that the suspension of this car is designed to focus on sport as a main. Driving through rough roads can feel the vibrations coming into the cabin. But with the quality of materials and assembly, it can keep the tightness of the suspension sound very well. Makes driving feel smoother All of this comes in exchange for a fun-to-drive suspension coupled with moderate passenger comfort.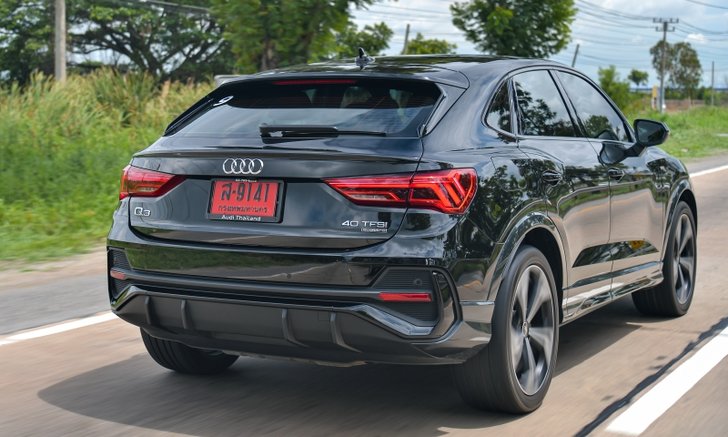 In addition to the test driving In this trip, we also talked with the management about past successes. and future marketing plans of Audi Thailand by Mr. Krisanakon Sawetanan, Chief Executive Officer of Micester Technic Co., Ltd., said, "Sales are growing every year. Including the results for Q1 of 2022 and cumulative sales in Q2 that are likely to meet the targets. The key factor in its success is due to the sales volume of more than 70% from popular models such as the Audi TT Coupé, A5 Coupé, A5 Sportback, Q3 and Q3 Sportback, which have been well received by consumers in Thailand throughout the period. The past 5 years with the new era Audi under "Micester Techniques" has proven that we have earned the trust of customers in Thailand."
"The uniqueness of Audi's products is all imported quality cars at affordable prices. unique design cutting edge technology and the perfect performance for urban living This makes Audi perfectly responsive to customers in the premium segment. Whether it's an all-time favorite icon unique design Stand out like no other like the Audi TT Coupé, which we continue to penetrate the market. sports cars such as the A5 Coupé and A5 Sportback at exciting prices, and in the Compact SUV segment, where consumers in Thailand appreciate versatility with a sporty look, we have the Q3 and the Q3 Sportback."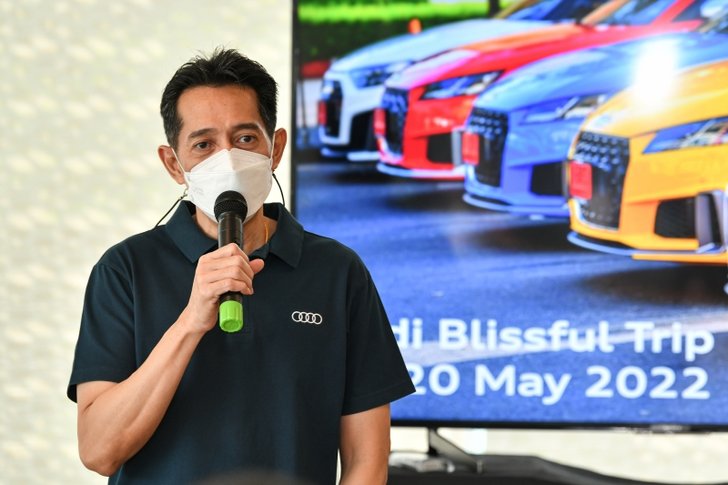 "Today, our product portfolio is strong, diverse, meeting the needs of customers covering all needs. Even in the global semiconductor shortage situation We work closely with AUDI AG and receive production planning support. The quota allocation allows Audi Thailand to have vehicles ready for delivery throughout the year. Especially in popular models such as A5, Q3 and TT that are sufficient to meet the needs of customers in Thailand."
"Another strong point Sales promotion policy Build a strong brand base for both old and new customers. The Audi has been well received. The quality of every service center is the same standard as AUDI AG. The price of spare parts is affordable. with a 5 year or 150,000 km quality warranty for every Audi customer After sales service, it is clear that today Audi Thailand is on the right track, whether it is investing in modern technology. Comprehensive standard of AUDI AG to use in the after-sales service. investment in personnel Both customer service work, engineers and technician teams. Beyond satisfaction and pride in after-sales service is that customers get a new and impressive experience from after-sales service. Expansion of showroom network Today, we are aggressively expanding our showrooms and service centers covering all regions."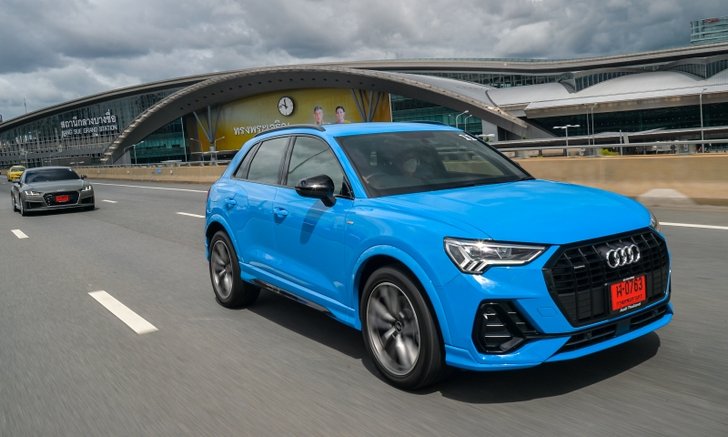 All Audi vehicles sold in Thailand are assembled from factories in Europe. by the customer who issuednew carwill be taken care of by Audi Protection Warranty.new car 5 years or 150,000 kilometers distance, whichever comes first 100% electric cars and all new plug-in hybrid TFSI e cars are guaranteed for 8 years or 160,000 kilometers of high-voltage batteries, whichever comes first. and emergency roadside assistance services nationwide 24 hours a day for 5 years Audi customers can be confident with after-sales service. which has the same quality standard in every branch
As for the future, Audi Thailand will launch any new cars, you must follow closely.