The Chinese manufacturer TCL releases a 5g smartphone for 399 euros. The TCL 10 5G features Qualcomm's Snapdragon 765G-SOC with integrated 5G modem, 6GB ram and 128GB flash storage.
The TCL 10 5G is one of the first midrange smartphones with 5g support. ZTE previously presented the Axon 11 with the same soc, but it is not known whether that device will be released in Europe. ZTE's device costs 2700 yuan in China, converted about 350 euros. HMD also equips its Nokia 8.3 5G with the Snapdragon 765G; however, that device costs 599 euros.
TCL equips the 10 5G with a 6.53 "LCD, four rear cameras and a 4500mAh battery. There is a fingerprint scanner on the back and the Android phone has a 3.5mm jack. Whether and when it device is released in the Netherlands and Belgium, is not yet known, but TCL does mention a euro price of 399 euros and says that the device will be released 'later this year'.
There will also be a TCL 10 Pro, but that device does not have 5g support. TCL provides the Pro model with a 6.47 "OLED screen with a resolution of 2340×1080 pixels. This device has a fingerprint scanner behind the screen and a notch instead of a hole for the front camera.
The TCL 10 Pro also has four cameras on the back, but the wide-angle sensor has a higher resolution of 16 megapixel and instead of a depth camera, there is a 2-megapixel sensor for taking videos in low light. The device has a Snapdragon 675-soc, 6GB ram and 128GB flash storage. The battery has a capacity of 4500mAh. TCL will release the 10 Pro on Monday in Portugal for 499 euros. The device will come to other countries later, but when is not yet known.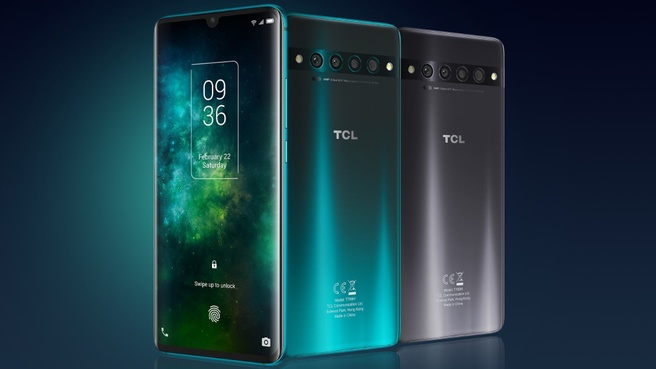 TCL also introduces a cheaper model, the 279 euro TCL 10L. That device has a Snapdragon 665-soc, a 6.53 "LCD with a resolution of 2340×1080 pixels and four cameras on the back. The primary camera has a 48-megapixel sensor and the setup is similar to that of the TCL 10 5G The 10L has 6GB ram and 64GB flash storage and it contains a 4000mAh battery.
Device
TCL 10 Pro
TCL 10 5G
TCL 10L
Screen
6.47 "-oled, 2340×1080 pixels
6.53 ", 2340×080 pixels
6.53 ", 2340×1080 pixels
Soc
Snapdragon 675
Snadrapgon 765G
Snapdragon 665
Ram and storage
6GB + 128GB
6GB + 128GB
6GB + 64GB
Rear cameras
64Mp primary
16Mp ultrawide
5Mp macro
2Mp video
64Mp primary
8Mp ultrawide
5Mp macro
2Mp depth camera
48Mp primary
8Mp ultrawide
5Mp macro
2Mp depth camera
Battery
4500mAh
4500mAh
4000mAh
price
499 euros
399 euros
279 euros