Alongside the soaring Bitcoin price, Cardano is one of the altcoins that recorded excellent performance at the start of the year: with a market capitalization that now exceeds $ 30 billion and a price that seems to be able to hold up to- above $ 1, Cardano is now considered one of Ethereum's most serious competitors, along with Polkadot.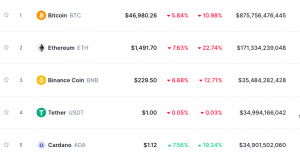 Project display
Cardano was established in 2017 by Charles Hoskinson, one of the co-founders of Ethereum. One of the fundamental points of divergence of Vitalik Buterin and Charles Hoskinson concerned the status under which Ethereum was to operate. Buterin indeed wanted Ethereum to remain an open source project while Hoskinson preferred that it take the status of a real company.
Cardano presents itself as a third generation blockchain (as opposed to Bitcoin which would be a first generation blockchain and Ethereum which would be a second generation blockchain).
Three separate entities oversee the project:
The Cardano Foundation, based in Switzerland, in the heart of the Cardano ecosystem;
IOHK (Input Output Hong Kong), under the responsibility of Charles Hoskinson, who is a blockchain research and development company. It should be noted that IOHK is also participating in the development of another blockchain resulting from a fork with Ethereum, Ethereum Classic;
Emurgo, a blockchain company that is responsible for the business development of Cardano.
How the blockchain works
Cardano obviously has its own cryptocurrency called ADA, the supply of which is set at 45 billion units. Between 2015 and 2017, Cardano proceeded to distribute tickets redeemable for ADA tokens amounting to 25.9 billion in a series of public sales. After the mining of the first block on September 29, 2017, the three entities managing Cardano each received an ADA allocation of 2.46 billion ADA for IOHK, 2.07 billion ADA for Emurgo and 0.648 billion ADA for the Cardano Foundation. The total supply in circulation is currently estimated at ADA 31 billion.
Compared to other blockchains, Cardano has a particularity that sets it apart: its architecture is based on two layers, one for transaction validation (Cardano Settlement Layer) and another for application deployment (Cardano Computation Layer). The first layer makes it possible to send and receive ADA cryptocurrencies and to record transactions permanently on the blockchain, like single-layer blockchains like Bitcoin. The second layer makes it possible to develop the multiple uses of a blockchain such as tokenization, the creation of smart contracts or decentralized applications.
Project evolution
Cardano designed the project around the following five eras: Byron, Shelley, Goguen, Basho, Voltaire.
Also Byron:
The first version of Cardano revolves around the deployment of the fundamental elements of its blockchain: the implementation of a new Proof of Stake (PoS) algorithm called Ourobouros, the establishment of the infrastructure necessary for the sale and purchase of ADA cryptocurrency, the Daedalus wallet as well as another "light" wallet, Yoroi, developed by Emurgo.
Shelley era:
One of the main criticisms leveled against Cardano is the highly centralized nature of its blockchain: only seven nodes were allowed to validate network transactions and observers suspect that these nodes are controlled by the three organizations overseeing the project. Shelley aimed for a gradual decentralization of the network, gradually delegating the management of the network nodes to the Cardano community. Shelley introduced a system of delegation, incentive and rewards, to encourage users to place their ADA cryptocurrencies in staking pools.
Byron's transition to Shelley was completed at the end of July 2020.
Basho, Goguen and Voltaire eras:
Basho should introduce interoperability solutions with the implementation of "side chains". Goguen will focus on smart contracts, which therefore means decentralized applications will be able to run on Cardano. And finally, Voltaire will be focused on governance issues, with the implementation of a decentralized treasury: ADA holders will then be able to propose improvements to the protocol. They will also be able to vote on these proposals, through "staking" or a system of delegation.
The shock statements by Charles Hoskinson on Ethereum, during a livestream, were not appreciated by supporters of the latter. AT opposite of Gavin Wood, Hoskinson doesn't mince words and believes that Cardano can bury his rival. Cardano's potential is undeniable and as such it benefits from the attention of institutional investors: it is indeed one of the cryptocurrencies chosen by Grayscale for its new trusts, which is a guarantee of trust and legitimacy. With the "hard fork" Mary that allowed the blockchain to become a multi-asset network, Cardano is gradually preparing to enter the Goguen era. At the same time, Cardano actively participates in the design of solutions that can accelerate the adoption of cryptocurrencies, in particular on the African continent.
All of these advancements contribute to the appreciation in the price of Cardano. But as Hoskinson has repeatedly said, its aim is not to foster speculation but to create an infrastructure with real added value.
@dpham561 If you see me trying to boost the price of Ada, then I've been compromised and sell all your Ada. Cardano… https://t.co/ELkf3YCMZS

— Charles Hoskinson (@IOHK_Charles)
________
Follow our affiliate links:
To buy cryptocurrency; SEPA Europe zone and French citizens:
To buy cryptocurrency in Canada:
To generate interest with your bitcoins, go to the site of BlockFi
To open a Bitcoin savings plan, go to the regulated platform StackinSat
To secure or store your cryptocurrencies:
To invest in mining or masternodes:
To transact your cryptos anonymously:
To accumulate crypto while playing:
If you want to learn more about Bitcoin and cryptocurrency investing, here are two perfect books: "Understand Bitcoin in 2 hours"and"Invest in Bitcoin".
________________
Here are the sources of information we offer:
Our free weekly newsletter: https://www.getrevue.co/profile/CryptonewsFR
Our audio podcast: https://www.buzzsprout.com/1111262
Our YouTube channel: https://www.youtube.com/channel/UCEu7E2wqP3t3QzAWTWF9weg
Twitter: https://twitter.com/cryptonews_FR
Instagram: https://www.instagram.com/fr_cryptonews
Facebook: https://www.facebook.com/cryptonewsFR
Telegram: https://t.me/cryptonews_FR
_________