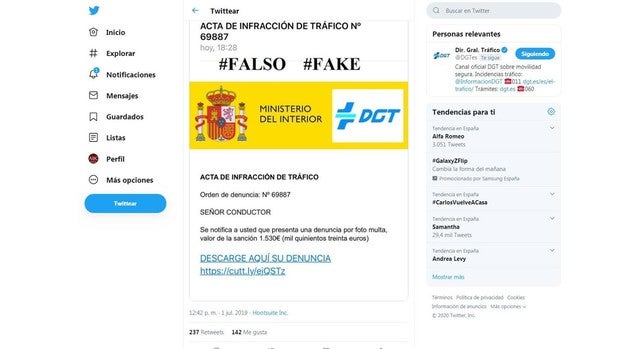 A new scam is being disseminated via email, as reported by the DGT through its Twitter account.
Specifically, the agency warns that it has detected in sending through "e-mail" some alleged notifications of fine, signed by the DGT itself and the Ministry of Interior. In it, the receiver is informed that he has committed a traffic violation for which a fine is imposed, with an amount exceeding 1,500 euros, and he is encouraged to click on a link to be able to read the complete complaint. The name of the offender and the license plate of the car are included in the electronic letter to give more sensation of being real.
Sources of this organization have explained that these types of scams are reactivated from time to time, so they advise not to open the mail received and delete it.
⚠️Cuidado⚠️Este mensaje que algunos habéis recibido en vuestro correo electrónico es #FALSO #FAKE. #DGT nunca notifica de esta manera. Solo si te has dado de alta en la #DEV https://t.co/qlIifVQLWN puedes recibir un aviso de notificación al que accedes con tu identificación. pic.twitter.com/krxu3HVyQ9

— Dir. Gral. Tráfico (@DGTes) July 1, 2019

But in reality it is a scam attempt, since the DGT itself has spread through the social networks a message in which it warns: «Be careful, this message that some of you have received in your email is false, 'fake' ».
They also remember that only if the user has registered in the Road Electronic Address will he receive notification notifications via email, and in no case a download link is included to access the sanctions.
If the user has not registered in the telematic service, the DGT does not communicate the infractions through email, since it is only done through conventional mail through certified shipments. .