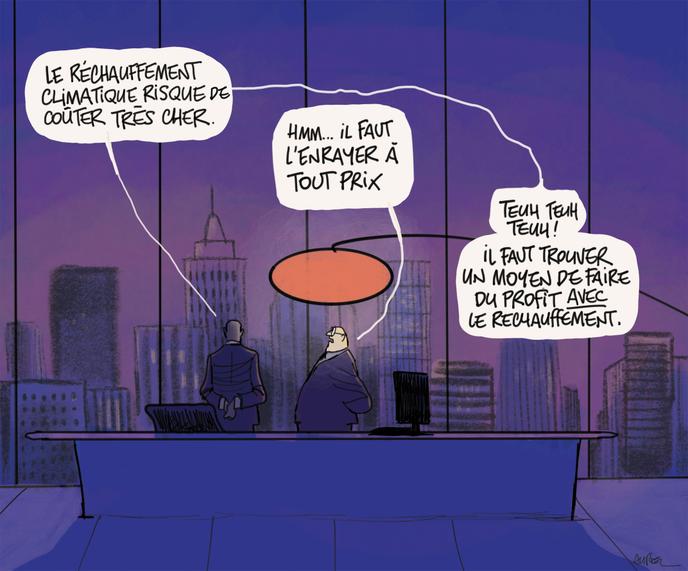 When, in 2014, a tiny island, lost in the middle of the Pacific, launched the procedure to become a member of the International Monetary Fund (IMF), hardly anyone at the headquarters of the financial institution in Washington, had not heard of it.
How could they have? Nauru has no currency and no central bank, and its gross domestic product (GDP) of $ 120 million (108 million euros) counts for nothing in the global economy. Two years later, in 2016, the small island of 11,000 inhabitants became 189e and the last State to join the Fund.
At the time, the managing director of the IMF, Christine Lagarde (she is now head of the European Central Bank (ECB)), welcomed him in these terms: "As Nauru faces challenges common to small island economies, including geographic remoteness and climate change, the country will benefit from its full participation in economic cooperation with our member states. "
Climatic stress tests
Like other Pacific islands, Nauru is preparing to face the economic consequences of climate change and future natural disasters. IMF experts have come to help him build a budget and a public financial management system. "The authorities must at least have a clear vision of their economy, to better detect their vulnerabilities and their needs Says Alison Stuart, economist in charge of small states in the Asia Pacific division of the IMF.
Read also
International aid essential for the Pacific Islands with global warming
The IMF is also beginning to integrate this risk into its economic forecasts. In all discretion, in 2019, he conducted the first climatic stress tests in the most vulnerable countries, in the Bahamas and even in Jamaica, to measure their resilience. cyclones. The passage of Hurricane Ivan in 2004 cost the island of Grenada the equivalent of 148% of its GDP, and on the island of Dominica, devastated by Hurricane Maria in 2017, the losses amounted to 260% of its GDP.
In the face of climate change, these vulnerable countries must invest in resilient infrastructure: redevelopment of ports because of rising sea levels, strengthening of buildings to resist hurricanes …
The Organization for Economic Co-operation and Development (OECD) estimates these investment needs at $ 6 trillion a year by 2030 worldwide. When the pace of cyclones increases, countries will no longer be able to invoke exceptional circumstances to justify high spending. The IMF therefore advises them to include spending on reconstruction and emergency aid each year in their budgets.