Drama-addict page calls for government to take all AstraZeneca vaccine quota for doctors and nurses Ready to leave the hospital Do not put pressure on doctors-nurses. Give a sinovac injection.
On May 2, 2021, Dr. Witawat Siriprachai or Sergeant Pichit, the drama-addict admin page posted a message calling on the government to remove the entire AstraZeneca vaccine quota. Come to doctors and nurses first. Because it is a very vulnerable group All messages are as follows.
Doctors and nurses should get a high-performance vaccine because the risk of infection is very serious. Among the options that we have right now, AZ is better (oh well, we have two options, sinovac and AZ, but if pfizer moderna is good, most nurses would want them the most). Calls the state to bring all AZ vaccine quota to doctors and nurses first. And sent a warning to various hospitals not to pressure doctors and nurses Sinovac vaccination He has the right to choose.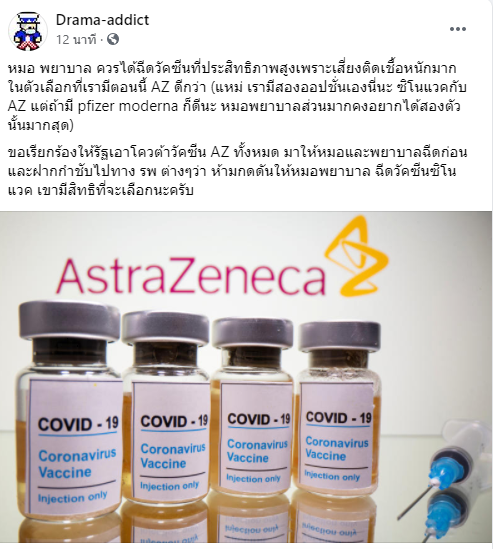 Yesterday fresh news It is reported that on Twitter, a group of medical workers said that they were pressured by the agency to get the Sinovac vaccine, for example, to sign a contract that if COVID is infected. The agency is not liable for any reason, write a memo to the hospital director. This may affect the wage assessment and the use of pressure words. While these doctors and nurses were concerned about the severe side effects of the vaccine, Confirm that I want to inject Novakasi as well. But it must be a vaccine that can be chosen Should not force each other More importantly, if there are side effects from vaccines, measures should be taken to accommodate or assist them.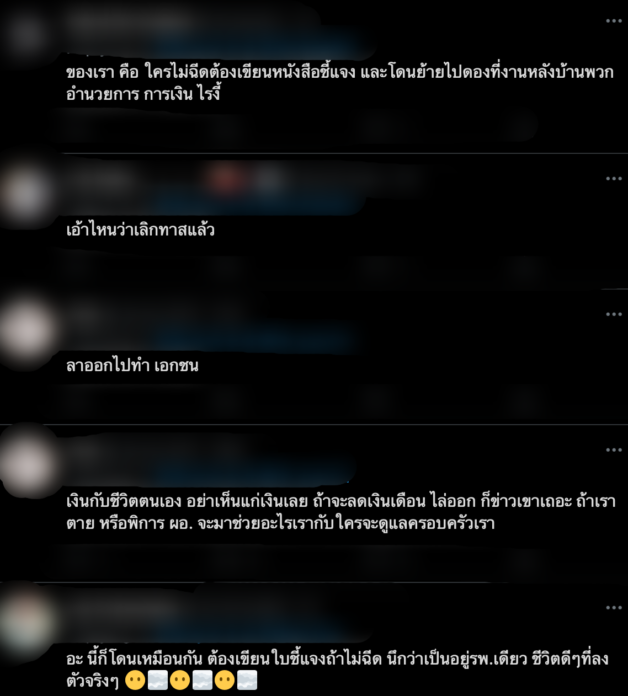 On April 30, Mr. Anutin Charnvirakul, Deputy Prime Minister and Minister of Public Health. Gave an interview about choosing a brand of vaccine for the people that People may not be able to choose to inject. Because each type is appropriate to administer injections in different target groups, such as the Pfizer vaccine. There are experimental results in children from 12 years and if they can be brought in, they will reserve injections for children 12-18 years.
Sinovac vaccine, injected with the second needle three weeks from the first dose, took less time to build immunity than other vaccines. Need to expedite injection to medical personnel Front office staff Immigration police To create safety for people to work in a fast time At the same time, a reserve of each vaccine must be given to the individual indication as needed, such as a vaccine allergy.
"The general public has no advantage and disadvantage about getting the Sinovac or Astra vaccine. Because everyone will receive the same immune-safe vaccine. Confirmed that all brands of vaccines entered Thailand There is a safety audit committee already, "said Anutin.
Previously, MD. Thongchai Lertwilairattanaphong Chief Inspector of the Ministry of Health said the vaccine Astra Seneca. Will enter Thailand in the first 26 million doses in June to August 2021 from June 6 million doses, July 10 million doses and August 10 million doses.
For the second round of 35 million doses from September to December 2021, divided into September 10 million doses, October 10 million doses, another 10 million in November and 5 million in December by introducing the first lot. Then 117,600 doses on February 24, 2021, which were distributed to the target areas. To inject immediately to target group 1 stage
"AstraZeneca's vaccine Prescribed to be injected mainly in the elderly over 60 years old. The injection in a medical setting is designed to be injected on a different day than the Sinovac vaccine. By people who received the Astrakhan vaccine injected on Saturday – Sunday And Sinovac's injection Monday – Friday So as not to make the vaccination not confused Because of different target groups, "said Dr. Thongchai.
As for the progress of AstraZeneca vaccine production in Thailand through Siam BioScience on April 28, Mr. James Teak, president of AstraZeneca (Thailand) Co., Ltd., revealed that Currently, the production of the vaccine against COVID-19 in Thailand by Siam Bioscience is accelerating production. Which has already made great progress The first lot of vaccines are expected to be gradually delivered to the Thai government as scheduled. During this June To spread the vaccine to the Panachachon Thai group faster
However, AstraZeneca attaches great importance to vaccine safety and quality. AstraZeneca's products undergo a total of more than 60 quality standard checks from the start of the production to the vaccination. So that vaccinated people will be assured that they will receive a high quality product that meets international standards.