Director of the Lord of the Rings trilogy, Peter Jackson had an incredible choice at his disposal, but his favorite character is surprising and only appears from "The Two Towers": it is Treebeard.
The Lord of the Rings ! So many mythical characters in three books and three films: Aragorn, Legolas, Gimli, Frodo, Sam, Gandalf, Gollum, Boromir … Difficult to choose one who would be above the others, except for the director of the trilogy cinematic: Peter Jackson. In the audio commentary for the long version of The Two Towers, the filmmaker indeed shares his love for a particular character, and his statement is rather surprising:
I love the character of Treebeard, his old-fashioned, pedantic side, and he's probably my favorite character. Gollum is fantastic, obviously, but for a fantasy character Treebeard has an old bureaucrat look that would make him almost tiring. This is what is funny. He's pretty happy with himself, and that was our way of gently mocking Tolkien, who had such an admiration for Treebeard that you couldn't help but mock him slightly while making the movie.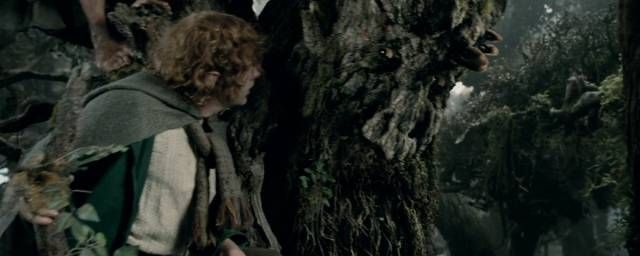 As a reminder, Treebeard (or Barbebois, in the new translation of Tolkien's books) is an Ent, a giant and conscious humanoid, having the overall appearance of a tree. Merry and Pippin encounter Treebeard when he frees them from the orcs. The two hobbits then tell him their story and in the film, the living tree leads them to Isengard, not without making a detour by the Council of Ents. This character is also very close to Tolkien, as Jackson recalls later:
"Tolkien would not have denied what Treebeard said, for he put a lot of himself into this character, which in large part illustrates his conception of nature and his laudable obsession with trees and trees. forests. "
Who does the voice of Treebeard?
In the original version, it is the actor John Rhys-Davies who lends his voice to this character, who is one of the oldest Ents in Middle-earth. Who ever thought that a dwarf would double a giant? Still in the DVD audio commentary, Peter Jackson explains why he chose Gimli's interpreter:
The terrifying anecdote about Christopher Lee and the Lord of the Rings
"[John Rhys-Davies] has that hint of Welsh accent that, along with the sound effects, gives his voice an echo, a resonance that makes it feel like it's coming from the bowels of the tree. "
Rhys-Davies will also improvise the line "I have always liked going south", declaimed in The two towers. On the big screen, the creature appeared in The two towers and The Return of the King, with more presence in the long versions than in the cinema versions of the films. And you ? Who is your favorite character from the saga?
Michel and Michel tackle the false connections "Two towers" and the "Return of the king":