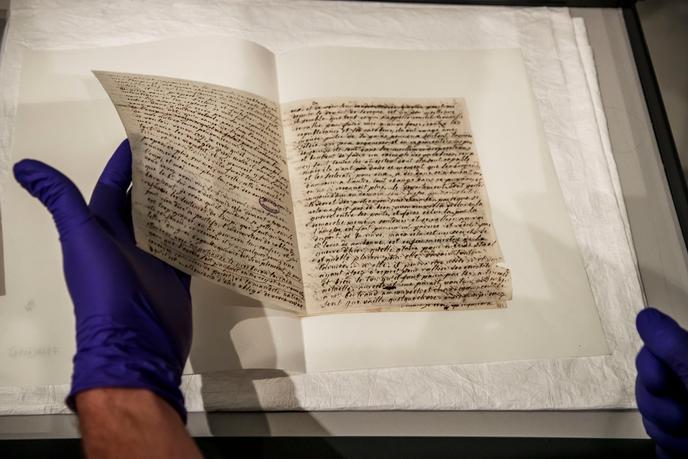 In the basement of the Cité de la Musique, where he transported his experience, Fabien Pottier has finished programming his "2 D XRF scanner". He launches the machine, presents a chair to the visitor and shows the last decrypted extract. It is a short, crossed out, illegible passage placed at the end of a handwritten letter dated October 10-12, 1791, the underlying text of which this postdoctoral student revealed. A few tender, rather banal words but addressed to an eminent personality: Marie-Antoinette, Queen of France! "Goodbye my good friend, I will never stop worshiping you", we read, with a guilty indiscretion, on the screen …
Fabien Pottier can show off. He and his colleagues in the "Rex II" program, funded by the Heritage Sciences Foundation and supported by the National Archives, succeeded. At the end of a studious and patient work using innovative imaging methods and highly sophisticated equipment, these researchers not only managed to read half of the redacted letters of the secret correspondence between Marie-Antoinette and Axel de Fersen , but they also managed to discover the name of the mysterious character who hid, under curls, legs and spikes, the intimate passages of these letters.
Article reserved for our subscribers

Read also
The underside of Marie-Antoinette's letters
The circumstances in which these messages, written during the dark hours of the French Revolution, reappeared, have been told many times. In 1877, in Sweden, a certain baron Rudolf Maurits von Klinckowström announced the publication of a corpus of unpublished documents concerning Marie-Antoinette: around sixty letters and notes that his great-uncle, Count Axel de Fersen would have exchanged, with the queen, between June 1791 and August 1792, when the royal family was placed under house arrest at the Tuileries.
Not without surprise, historians have discovered the importance of this little-known Swedish gentleman. Organizer, on June 21 and 22, 1791, of the "flight to Varennes", this episode which ends with the arrest of a Louis XVI disguised as a bourgeois in a village in Lorraine, he exercises the function of unofficial representative of the queen at the courts of Europe until the declaration of war with Austria (April 1792). Meanwhile, on February 13, 1792, this convinced monarchist, poor politician but valiant man, achieved a real tour de force: secretly meet, at the Tuileries, the severely guarded royal couple, and … spend the night at the palace!
You have 76.56% of this article to read. The suite is reserved for subscribers.