2023-09-19 21:28:00
Visit museums in the middle of the nightfree of charge, with guides and varied activities, it is a unique experience that is possible during "The museum night". This Saturday, September 23, starting at 7 p.m., you can visit some of the almost 300 museums that have prepared different activities in tune with their theme in the different neighborhoods of the city of Buenos Aires.
From 7 p.m. to 2 p.m. there is an extensive schedule of activities, some require prior registration and others have limited space. Transportation will also be part of the initiative and subways (all lines and the premetro from 6 p.m. until the service closes) and buses will be free of charge, showing the "free pass" that is downloaded from BOTI.
Participating bus lines: 1, 4, 5, 6, 7, 8, 9, 10, 17, 19, 20, 21, 22, 23, 24, 25, 26, 28, 31, 32, 33, 34, 39 , 41, 42, 44, 47, 50, 51, 55, 56, 57, 60, 61, 62, 63, 64, 68, 71, 74, 75, 76, 78, 79, 84, 85, 87, 91 , 92, 98, 99, 100, 101, 102, 103, 106, 107, 108, 109, 110, 111, 113, 115, 117, 118, 127, 128, 130, 132, 134, 135, 146, 15 0 , 152, 158, 160, 161, 164, 168, 169, 177, 178, 188.
All programming can be consulted from WhatsApp through BOTI, the City's virtual assistant, 11 5050-0147.
In this edition of The Night of the Museums 38 new spaces participate. In addition, 28 schools in the City will open to show their spaces with activities for the whole family. The municipalities of Lobos, Tandil, Vicente López and 3 de Febrero join the Night of the Museums with several cultural spaces.
Among the new things, the City's MuseosBA network inaugurates: the new Museum of Imagination and Play (MIJU), the first recreational space in the City of Buenos Aires designed and designed for girls and boys from 0 to 12 years old. It has an immersive room that invites you to enjoy a 360º experience with animation. Outside the museum there will be a Playground and special recreational routes. In addition, 28 schools in the City will open to show their spaces with activities for the whole family.
The Art Factory will inaugurate Ténder Vórtex Tormenta, an installation designed by Martin Huberman & El Estudio Normal, for the Central Hall of the space. Ténder Vórtex Storm envelops the viewer in the fantasy of being face to face with a climatic phenomenon of abysmal magnitudes, making the Power Plant an ideal space for the development of a new emotional infrastructure.
The Visual Contact exhibition will be inaugurated with photographic portraits of Andy Cherniavsky, Irina Werning, Lisa Giménez, Matilde Marin, Nora Lezano, Rocío Fernández Charro, Sol Abadi, Violeta Capasso, Vivian Galban. will also be carried out Alice in Wonderlandthe one-act chamber opera (1989), semi-staged version with texts by Lewis Carroll and Marta Lambertini by the Instituto Superior de Arte del Teatro Colón.
In turn, the Modern Museum The featured event will be the accessible tour Revelations of a Possible World aimed at PwD with the collaboration of the Ninawa Daher Foundation, through the rooms that make up the exhibition program Art, That Endless River. It is a proposal to weave together debates and reflections on our relationships with the heavens.
Agenda of activities of museums and national institutes:
Historical Circuit:
Cabildo Museum (Bolívar 65)
7 p.m., 9:05 p.m. and 1 a.m. Talks at the foot of the excavation, conversations about the archaeological excavation work being carried out in the Museum courtyard and about its most important findings.
7:30 p.m. Paper suitcase, clown show.
8:15 p.m. Dream companions, magic show.
9.30 pm Folklore show: Claudia Madeo.
11 pm Water Show.
From 7 p.m. and every two hours, guard relief of the 1st "Patricios" Infantry Regiment.
From 7 p.m. to 2 a.m. Continuous screening of The body of the storyshort film about the architectural transformations of the Cabildo, made by Joaquín Aras with the support of the Activate Heritage scholarship
Night of the Museums: a subway ride in carriages that are more than 100 years old
Costume Museum (Chile 832)
7 pm Inauguration of Defective Bodies, by Victoria Azcona, exhibition on the problem of bodies that are outside the size parameters established by the clothing industry.
8 pm Dance & Tramas, from the Aída V. Mastrazzi Higher School of Artistic Dance Education, within the framework of the Teleteca exhibition.
8 pm Teleteca en Acción, design workshop with Araceli Pourcel, Emilia Boscacci and Pablo Insaurraldi.
9 pm Stamp workshop to make your own pattern album in dialogue with the Teleteca exhibition.
10:30 p.m. Vocal ensemble Violetas, songs of the world and our lands.
Apple of Lights (Peru 222)
From 7 p.m. History Points with Víctor Ramos, a virtual tour to discover the almost three centuries of history of the Patio de la Procuraduría through videos that are accessed through QR codes installed on the walls.
From 7:30 p.m. Projection of photos and videos of the Faculty of Exact, Physical and Natural Sciences, which occupied this space until 1971.
9 pm Show Women in Poetry and Songs.
10 pm Other Aires Orchestra, electronic tango.
11 pm El Remolón Show.
From 00 to 02 a.m. Grand Dance of the Apple of Lights by DJ Villa Diamante and guests.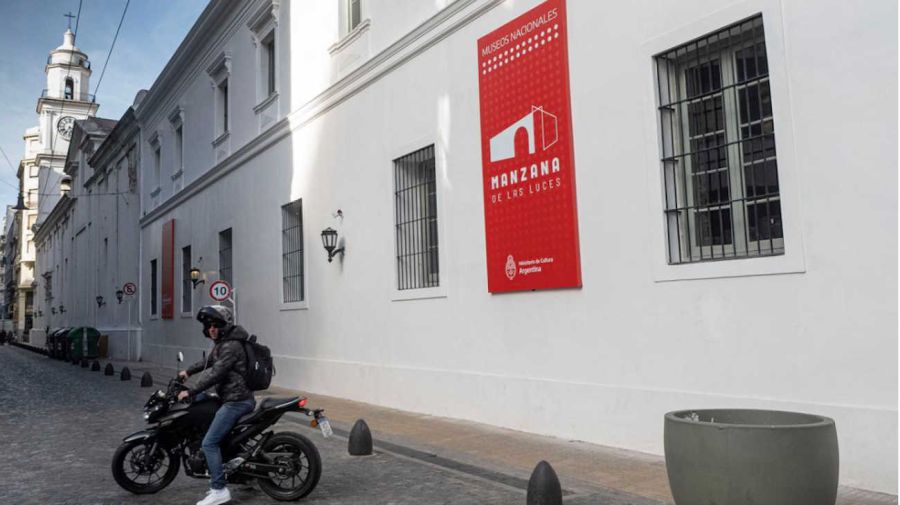 National Historical Museum (Defensa 1600)
7:30 p.m. and 9 p.m. National Folkloric Ballet.
10 p.m. Music Band of the Argentine Naval Prefecture.
11 p.m. Candombe rope, live drums.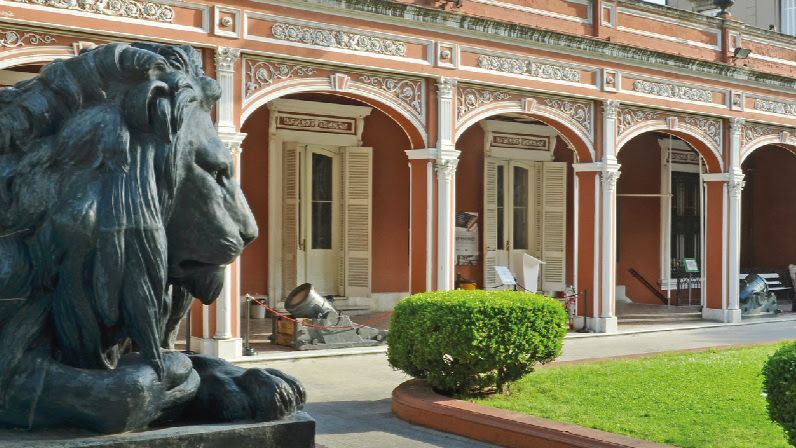 Browniano Institute (Av. Almirante Brown 401)
7 pm Opening of the Yellow House and lowering of the national pavilion.
8 p.m., 9 p.m., 10 p.m., 11 p.m., 12 a.m., 1 a.m. Guided tours of the Naval Glories Room and the Almirante Brown Room (activity by staircase).
10 p.m. Navy Music Band.
From 7 p.m. to 2 a.m. in continuous, historical recreationism by the American Civil Association of Historical Recreationists (ACARHI).
From 7 p.m. to 2 a.m. continuously, activities for children: assembling sailor hats and Admiral Brown bicorns, assembling names with naval signal flags, interaction with recreationists.
Center Circuit:
Borges Cultural Center (Viamonte 525)
At 6 pm Cinema. Identity Documents Cycle. CINE.AR at the Borges "Three basic things." Documentary / 70 min / Argentina /2023
Director: Francisco Matiozzi Molinas.
From 6 to 8 p.m. Tango al paso, with the El Abrojito milonga.
From 8:30 p.m. to 11 p.m. Danced interventions in various spaces of the Borges. Malena Ypas and Gabriel Valido dance.
At 8 and 10 p.m. Panoramic views. Guided tours of the Matria Store to explore the pieces of artisans from various parts of the country that were part of the Transforming Energy exhibition.
Oriental Museum (Viamonte 525, 2nd floor)
From 7 to 10 p.m. Asian Karaoke! Music day with K-pop School, Kpop Revolution and Kstyle
CASo (Sound Art Center, Riobamba 985, 3rd floor)
11 p.m. Yoto, concert by musician and visual artist Ignacio Sandoval
Kirchner Cultural Center (Sarmiento 151)
It will open its doors from 6:00 p.m. to midnight (last entry time will be at 11:45 p.m.)
You can visit:
– the Immersive Room.
– the spaces dedicated to Philately.
– There will be film screenings.
– There will be special programming on the 3rd **Children's Floor.
– Visit various exhibitions and works distributed in the building: Proyecto Tributes, El Justicialista, Participación al poder, Narcisa Hirsch. The intensity of a look, Invert the scene, What, visual poetry?, Real fictions. BIENALSUR, San Martín, Rosas, Perón, by Alfredo Bettanin, and Iván and the Wolf. Ivan resurrects a dying wolf, by Nushi Muntaabski.
– Toque Festival 2023: luthiers' fair, masterclass, workshops, interventions on the Explanada and the La Diseño concert at the National Auditorium. In addition, once the concert is over, guided tours will be taken in the National Auditorium, to get to know it in its entirety.
– There will also be a gastronomic space, with food trucks on the Esplanade and the El Hormiguero Cooperative offering its products on the ground floor of the Cultural Center.
Rojas Museum (Charcas 2837)
From 7:20 p.m. to 7:30 p.m. Opening of the night by the Leer (nos) Convoca workshop.
From 8:00 p.m. to 8:30 p.m. Bedtime Stories, by the museum's educator, Silvina Rovito.
From 9 to 9:30 p.m. Reading of the research Chapter Apart and Eurindia, Sounds of the Territory.
From 10 to 10:30 p.m. Museums at Night, readings by Museum workers.
From 11 to 11:30 p.m. Who's Afraid of the Dark? Stories of suspense, terror, myths and legends in the light of the lanterns, in the Patio de los Naranjos.
Starting at midnight Microphone open to the public. Theme: night.
Bicentennial House (Riobamba 985)
7 p.m. Inauguration of the 8M Acquisition Prize exhibition, 2021-2022-2023 editions.
9.45 pm Marina Fages, musical show.
11:30 p.m. Opening event and presentation of the Maldichas cycle, with a performative reading of Sara Gallardo's work by a surprise guest.
0.30 h DJ Loló Gasparini.
Engraving Museum (Riobamba 985, 4th floor)
7 p.m. Presentation of the publication on the exhibition (Des)facts of Language, with the curators Karina Granieri, Julia Masvernat and Alicia Valente. Sound set by Canto Desigual.
8:30 p.m. The material and immaterial heritage of lithography, conversation with Lorena Pradal, exhibiting artist of Where Do the Stones Go?, about the craft and teaching in lithographic art.
9 pm Printing and Graphic Workshops in Buenos Aires between 1890 and 1940, talk with Ana Bonelli Zapata, Aldana Villanueva and Sandra Szir.
From 10 p.m. to 12 p.m. Graphic Activation! We open the Machine Room, led by Rodrigo Cuberas and the Museum team, so you can experiment with different graphic tools and techniques.
From midnight to 2 a.m. Bodies, graphics and public space, an audiovisual piece derived from the latest open call for Documented Experiences, the museum's research program on graphic interventions.
Miter Museum (San Martín 336)
8:00 p.m., 10:00 p.m. and 12:00 a.m. The House and its Stories, guided tour about what life was like in the house, who Miter was and his facets.
National Institute of Theater Studies- INET (Av. Córdoba 1199)
From 7 p.m. to 2 a.m. Creole Theater between Centuries (1884-1910), an exhibition that celebrates the cultural and theatrical wealth of Argentina.
People's Mural, to share experiences and reflections through a collective mural.
Ice Palace (Viamonte 525)
From 7 to 9 p.m. Constellations of Voices and Ideas, tour of the new edition of the National Hall of Visual Arts by members of the Federal Disciplinary Award Jury and the Transdisciplinary Selection and Awards Jury.
From 9 pm to 12:30 am All my parts, collage workshop as part of the 111th National Hall of Visual Arts.
Liberator Circuit:
National Museum of Fine Arts (Av. del Libertador 1473)
From 5 p.m. to 2 p.m., there will be a special program that includes short guided tours, activities for families and tours in Argentine Sign Language (LSA).
8 pm Bella Noche at the Museum, activity for families. Room 28.
8 pm Pablo Picasso. Tribute, short guided tour. Room 33.
8:30 p.m. Without bread and without work, by Ernesto de la Cárcova, short guided tour. Room 19
8:30 p.m. The Dancers, by Degas, in LSA, tour in Argentine Sign Language. Room 12.
9 pm Bella Noche at the Museum, activity for families. Room 28.
9 p.m. The Bathroom, by Prilidiano Pueyrredón, Room 22
9:30 p.m. The Birth of the Virgin Mary, by Jacob Cornelisz van Oostanen, short guided tour. Hirsch Room.
10 pm Alfredo Hlito. A Stubborn Permanence, short guided tour. Room 40.
10:30 p.m. La coiffure (The hairstyle), by Berthe Morisot, short guided tour. Room 14.
10:30 p.m. Exploring the Art of the Ancient Peoples of the NOA, in LSA, tour in Argentine Sign Language. Room 24.
11 p.m. Alfredo Hlito. A Stubborn Permanence, short guided tour. Room 40.
23.30 h Elevators in full sun, by Benito Quinquela Martín, brief guided tour. Room 31.
00h Pablo Picasso. Tribute, short guided tour. Room 33.
00.30 h The drama, by Raquel Forner, short guided tour. Room 31.
National Museum of Decorative Art (Av. del Libertador 1902)
From 7 p.m. until closing, music provided by DJ Nicolás Etchelecu.
From 8 p.m. to midnight, characters from the Río de la Plata Historical Society dressed in the fashion of the 1920s, the moment of splendor of the Errázuriz Alvear Palace, will accompany the tours.
8 p.m. Rhythm and Poetry, rap workshop for children and young people by AesUno.
21 h Ensemble de violas de DAMUs.
10 pm Rock Choir, conducted by Martin Merayo.
11 pm Arcana Ensemble (baroque music), directed by Andrés Gerszenzon.
00 h Sol Mayor Choir, directed by Mariano Irschick.
Belgraniano Institute (Av. Intendente Bullrich 481)
7:15 p.m., 7:45 p.m., 8:15 p.m., 8:45 p.m., 10:15 p.m., 10:45 p.m., 11:15 p.m., 11:45 p.m. and 12:15 a.m. Guided tours of the main room and the president's office: art gallery, sculptures, objects and documents referring to the hero.
Roca Museum (Vicente López 2220)
7:30 p.m. Framing stories. Get to work, workshop space for children from 5 to 9 years old.
7:45 p.m. Violetas, female vocal ensemble with a repertoire of world songs.
8:30 p.m. The faces of Modern Argentina, participatory visit around the political and border axes.
8:30 p.m., 11 p.m. and midnight Immigration and Nation. Reflections, participatory visit around the major topics linked to immigration to our country during the period 1880-1914.
9 pm Asturian Dances, dance and music by Manolo del Campo's Pelayo Ensemble, from the Asturian Center of Buenos Aires.
From 9:30 p.m. to 10:30 p.m. Noel Morroni Trio, a jazz group that welcomes the public at the museum door.
From 9:30 p.m. to 10:30 p.m. ¡Qué Historia el Bingo!, a not at all traditional bingo where you can test your knowledge about history.
10:30 p.m. Basque dance and music by the Laurak Bat community.
11:00 p.m. to 11:30 p.m. The Museum that was a House, a participatory visit focused on the architecture, design and history of the owner of this house that became a museum, Amelia Bazán and José Arce.
11:30 p.m. And here come the Poles, dance and music.
00 h Recoleta to Assemble. Saldías neighborhood. A Railway History, participatory visit to the temporary exhibition.
From 00:30 to 2 a.m. We dance with the Calabrese, performed by the folkloric ballet of the Calabrese Association of Buenos Aires.
Evita Museum – INIHEP (Lafinur 2988)
From 7 p.m. Action in the room: Women's Vote, regarding the 76th anniversary of the promulgation of the women's suffrage law.
9 pm Women Conquering Rights, musical presentation with María Eugenia Diaz and guest singer-songwriters.
00 hs Musical presentation by Martín Catoira.
Sanmartiniano Institute (Mariscal Castilla 2752)
8, 10, and midnight Guided tour on the history of General San Martín and the South American War of Independence, led by Lic. Carlos Larrosa.
11 p.m. Pour La Musique, tribute to Claude Bolling.
00 hs Interpretation of the Argentine national anthem.
0.10 hs For Music & Roxana Horton, music.
Belgrano Circuit:
Sarmiento Historical Museum (Cuba 2079)
9 pm Rita, opera by Gaetano Donizetti.
11 pm Tango and Boleros Concert, with Lucrecia Merico and musicians.
From 7 p.m. to 2 a.m. The History that Surrounds Us, sporadic introductory talks at the entrance/garden of the Museum, by Francisco Heguilein, from the Educational Area.
Yrurtia House Museum (O'Higgins 2390)
9 pm Los Amantes, participatory tour of the exhibition with Rodro Cañás and Rosalba Mirabella (artists from Tucumán) around Federal Experiences, with the support of the Activate Heritage scholarship.
Museum of Man – INAPL (February 3, 1370)
From 7 p.m. to midnight INAPL Fair: INAPL research teams will share with the public the questions that guide their research, how they work, what they discover.
From 7 to 11 p.m. La Perinola, Creole circus and carnival show by the La Musaranga National Automata Company.
7 pm The Power of Masks, workshop led by the Museum's educational team.
9 pm The Queen of Hearts, participatory musical show by Eugenia Barker.
10 pm Tribute to Languages/Encounter through Words. INAPL Ethnolinguistics Team. Activity led by Claudia. Fernandez. I came to share a text in the language of your ancestors.
Malvinas Museum (Santiago de Calzadilla 1301)
From 7:00 p.m. to 12:00 p.m. Malvinizá tu T-shirt. Bring your t-shirt and print it with the Falkland Islands.
8 and 9:30 p.m. I Vote for the Malvinas Islands National Park, joint guided tour with National Parks through the flora and fauna room.
From 7 p.m. to 1 a.m. Origamar, workshop to learn how to make the animals that live on the Islands.
1695159025
#night #museums #visited #shows #offer