Social media is teeming with rumors and lies about Brigitte Macron, the wife of the President of the Republic. But her children are also the target. Two false reports found some echo at the start of the year. The first has been circulating since 2017 and concerns Brigitte Macron's son, Sébastien Auzière. The second, more recent, targets his daughter, Tiphaine Auzière.
What the publications say
On Facebook, in recent days, the same text has been shared by several Internet users:
"So Brigitte Macron's son Sébastien Auzière is vice-president of the IFOP polling institute and his daughter Tiphaine Auzière is a lawyer for the CFDT. Chance does things so well … !!! "
People who share them see it family collusion and manipulation at the highest peak in the state. But everything is wrong.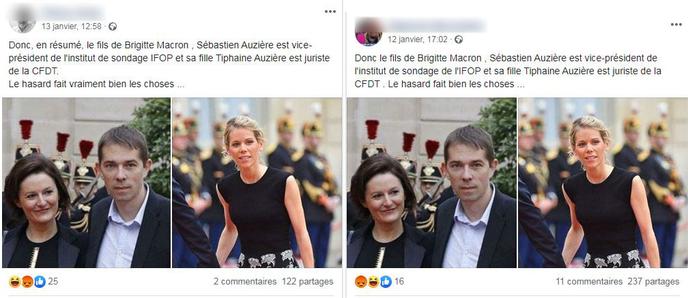 FALSE
1. Tiphaine Auzière is not a lawyer for the CFDT
This rumor appeared on January 11, day the government announced the temporary withdrawal of the pivotal age, on a Twitter account which clearly presents itself as "Anti-Macron and anti-LREM" :
"Brigitte Macron's daughter, lawyer Tiphaine Auzière, is a union defender at the CFDT! The CFDT which is delighted with the end of the pivotal age announced by Emmanuel Macron and Edouard Philippe. There is not a very big problem there! ? "
The assertion was immediately taken up by other Twitter users who accused Tiphaine Auzière to be a lawyer for the CFDT, then she had a second life on Facebook.
To prove their claims, a page of the lawyer's biography is published, published on the GrandsAvocats.com website, on which we can read: "General lawyer, specialized in advice and litigation for the firm Opal'Juris alongside Stanislas Duhamel, Tiphaine Auzière is also a union defender at the CFDT. " The mention of CFDT has been removed from the file since, but the old version is visible here.
But this passage has been misinterpreted. A union advocate is a "Employee authorized to assist or represent another employee engaged in litigation proceedings (industrial tribunal, court of appeal)", as defined by the Service-Public site. Asked by Release, Tiphaine Auzière explains that she completed a six-month internship (in 2008-2009) with the CFDT Bétor-Pub union, which brings together employees from the engineering, advertising, IT, accounting, etc. sectors.
She also defended herself on Facebook :
"I am a lawyer, not within the CFDT but from my own structure: AGN. I defended and will continue to do so, employees, unions, companies in difficulty, it is a professional commitment that is close to my heart. My job is completely dissociated from my civic engagement in the service of the territory. "
Tiphaine Auzière was therefore never a lawyer for the union. She now practices her profession in Etaples (Pas-de-Calais).
2. Sébastien Auzière does not work at FIFG
The second rumor concerning the children of Brigitte Macron is older but tenacious. Since 2017, his son, Sébastien Auzière, has been falsely accused of working at the French Institute of Public Opinion (IFOP), an institute of market surveys and studies, and to rig political polls advantageous for Emmanuel Macron.
However, there is no link between the head of state's stepson and this institute. In reality, Sébastien Auzière works for Kantar Health, a group specializing in studies and advice in the health field, of which he is the vice-president. According to his LinkedIn profile, he has worked in the group since 2007, and has held his current position since January 2016. But Kantar has nothing to do with the FIFG, whose shareholding is different. Note that within the Kantar group, there is a branch that carries out political polls: Kantar Sofres-OnePoint.
Read also
Macron and IFOP, the alleged family collusion was false information