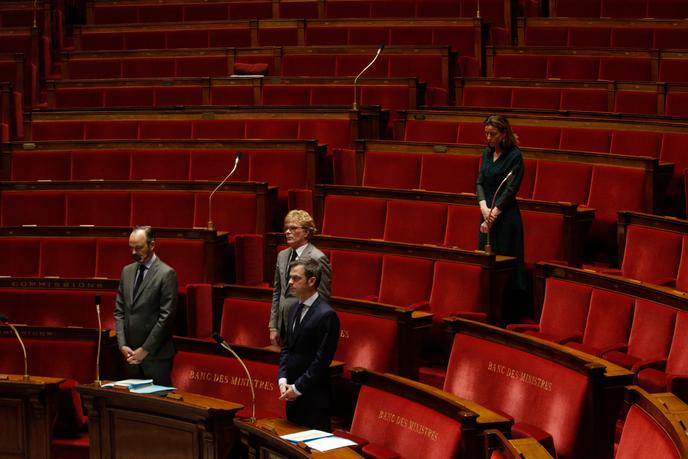 They got up in a sad and cold Hemicycle, three-quarters empty. In the bench of ministers, this Tuesday, March 31, the head of government, Edouard Philippe, marked face and bleached beard, the lowered head, the minister of health, Olivier Véran, straight like a stake, and, just behind, a step in withdrawal, the Minister of Relations with Parliament, Marc Fesneau.
Above them, scattered, a dozen deputies, not more, for obvious health reasons. At the perch, the President (La République en Marche, LRM) of the National Assembly, Richard Ferrand, talks about the dead of the Covid-19, and their desolate families. "The pandemic has also mourned our Republic", he added, paying tribute to former deputy (Les Républicains, LR) Patrick Devedjian, president of the Hauts-de-Seine departmental council, who died on the night of March 28-29. And then there is silence.
Since the start of the epidemic, the political world has not escaped Covid-19. And must tame illness, sometimes death. On the front line in the field, after being very exposed during the municipal campaign, local elected officials are particularly affected. Often aged, a dozen mayors infected with the virus have already died. Others, many in number, mayors or assistants, are in intensive care at the hospital. "Among local elected officials, it hits hard", admits a minister.
Article reserved for our subscribers

Read also
Coronavirus: highly exposed, many mayors and their deputies fell ill
At the top of the state, three members of the government announced that they had been infected: Franck Riester, Emmanuelle Wargon and Brune Poirson. First hit, the Minister of Culture resumed work. Every Wednesday, he goes to Place Vendôme with his colleague in the justice system, Nicole Belloubet, to attend the Council of Ministers by "video", which his ministry is not equipped with. He told her the "Difficult phase" through which he went, in the past few weeks. "From the point of view of risks, anxieties and hopes, we are no different from the rest of the population", observes Nicole Belloubet.
Eighteen MPs infected
In the National Assembly, which was a major source of infection, there were no longer sick parliamentarians. The latest assessment, established in mid-March, reported eighteen MPs infected. But many have not sought out or fallen ill since, without saying so.
On the side of the High Assembly, the boss of the LRM senators, François Patriat, identifies three elected representatives out of twenty-four within his group. "The political class is not above the wave, he observes. For once, the people will not be able to say: all hidden! "