AMD Radeon RX 6600 and RX 6600 XT graphics cards, which are expected to be announced in the coming days, will receive suggested retail prices of $ 299 and $ 349, respectively. This was reported by Neowin, citing a source close to AMD.
The authors of the publication emphasize that the indicated prices are not final yet, and taking into account the deficit and other factors, AMD and NVIDIA have repeatedly changed prices literally on the eve of the official announcements. The RX 6600 XT is reported to have better performance than the $ 329 GeForce RTX 3060, and is slightly inferior in ray tracing to the NVIDIA RTX 3060 Ti, which has a suggested retail price of $ 399. Initially, AMD planned to set the price of $ 369 on the RX 6600 XT, but later decided to lower it so that buyers did not opt ​​for the RTX 3060, which has 12 GB of memory versus 8 GB for the RX 6600 XT.
The indicated recommended prices, emphasizes the Neowin edition, in practice are highly likely to differ in a big way, except for those cases when it comes to products from partners taking part in the announcement of new video cards.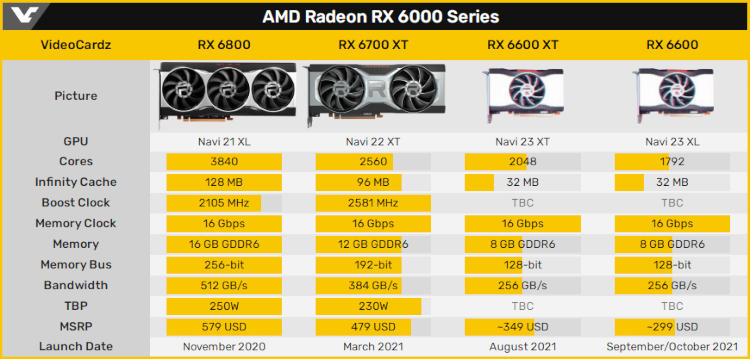 As for the technical characteristics, 32 CU (2048 stream processors) Navi 23 are expected on board the RX 6600 XT, and the amount of GDDR6 memory with a 128-bit bus width will be, as already mentioned, 8 GB. The model without the XT prefix will receive the same memory, but only 1792 stream processors. The announcement of the AMD Radeon RX 6600 series video cards is expected on July 30, and the older version may go on sale on August 11.
If you notice an error, select it with the mouse and press CTRL + ENTER.