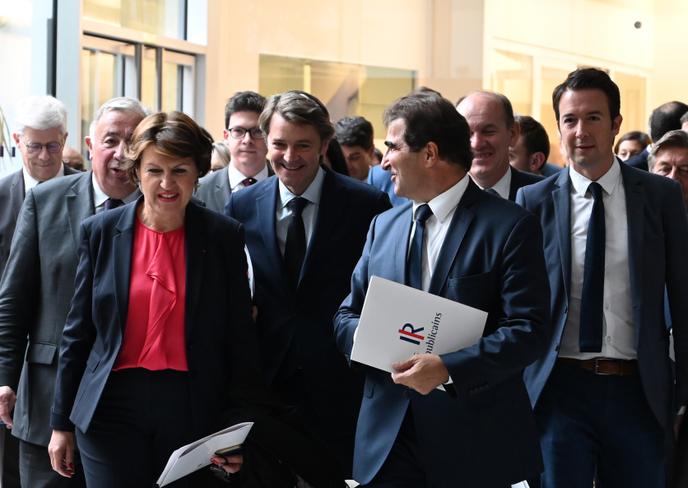 "Humility and reconciliation", it is on his words that Guillaume Peltier, number two of the party Republicans (LR), opens each stage of the tour of the regions in which he embarked to sit the new management team of Christian Jacob with the federations and elected local.
Saturday, it is in Paris that the party will stage its healing, for the first national council of the presidency Jacob, sort of Parliament of the formation that will gather rue de Vaugirard those 700 councilors who have answered present.
Read also
Christian Jacob elected president of the Republicans in the first round
"I would like the national councilors to leave with the feeling that the right is raising its head, that it no longer bends its back on successive failures", explains the president of the proceeding, Doubs MP Annie Genevard, who hears "Show that, yes, the right comes back into the political game and can once again hope to be a force of alternation".
To prove that finally, LR goes almost well, is not easy thing. To revive the production of ideas, a long schedule has been adopted, even impatient some members. And in principle, no line will be fixed before the municipal elections of March 2020: the program ends in July at a "big congress of ideas", preceded by six thematic conventions.
In the meantime, twelve professional forums will be unveiled Saturday: groups with a vice-president of the party, a deputy, a senator and experts to reflect on classic themes or newer – free work and create jobs, fight against the global warming, relaunch the social lift, the place of seniors in society.
"French-style work"
Apart from some fundamentals – order and authority – the debate is open, it is said. "No one can say until next July that his idea is the idea of ​​the party"warns Guillaume Peltier, who applies the principle to himself, while putting ideas on the table. "Revolutionaries" in his book Middle of Rope (Plon, 304 pages, 19.90 euros).
Article reserved for our subscribers

Read also
Guillaume Peltier, a right-hander in search of demonization
"Between a right that is focused on the only decline in public spending without wage increases and a left that is stubborn on the only increase in wages without new resources, I propose a revolutionary path", he writes in particular. He advocates "French Labor", a removal of social security contributions for "That gross wages and gross pensions become net wages and net pensions" financed by a 2% tax on payments and financial transactions.