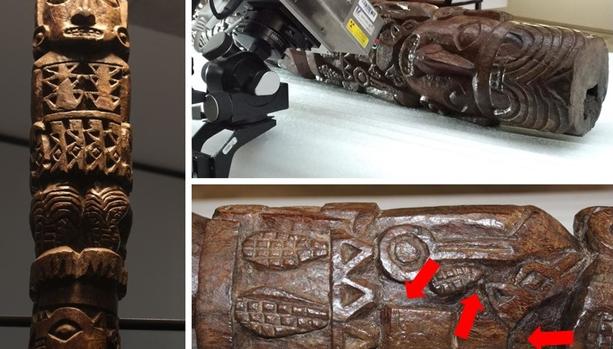 A group of French researchers revealed the secrets that hide the enigmatic painting found in the idol of the sanctuary and oracle of Pachacámac, one of the main archaeological remains of Peru, which the study reveals was cultured 700 years before the height of the Inca empire .
The French scientists carried out the first non-invasive analysis of these paintings and subjected the remains to carbon 14 tests, which have shown that they date from 731 BC, which probably places them in the Waris era.
"That confirms that the site of Pachacámac already had local ritual importance before the arrival of the Incas, which later turned it into one of its main pilgrimage centers, to the point of housing the oracle consulted by the emperor himself," said the authors, whose conclusions published on Wednesday the magazine "Plos One".
The scientists also analyzed the statue of the god Pachacámac, which until its discovery in 1938 was believed to have been destroyed in the 16th century during the Spanish conquest by Hernando Pizarro, Francisco's brother.
The red that covers the statue, which for years had been speculated that it was blood from ritual sacrifices, turns out to be mercury from cinnabar, a mineral known more than 2,000 years ago.
This product is located in the Andes almost 400 kilometers from the sanctuary, which shows, according to researchers, "that the idol was painted with the intention of showing an economic and political power" capable of carrying such a distant pigment despite have others more accessible.
Another of the revelations of the study is that not only is red in the wood, since the analysis has revealed white paint on the teeth of one of the figures and yellow on the hair of others. .