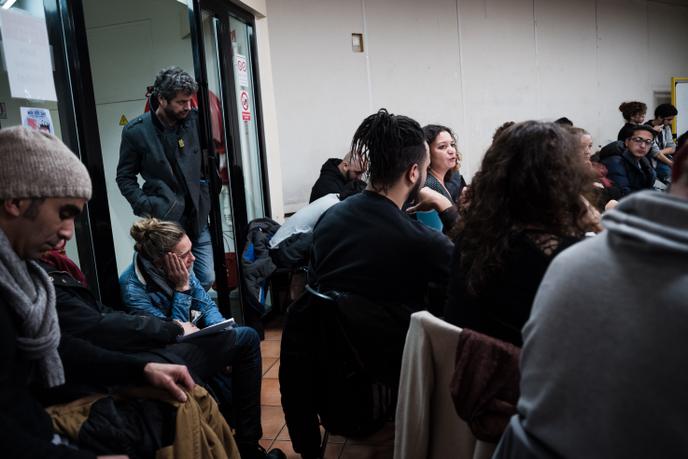 The sentence slams like a slogan: "The strike to the strikers! " Launched by Rémi, a railway worker at the Gare Saint-Lazare, it sums up well the state of mind that prevails among the 70 to 80 people, crowded in a room of the Labor Exchange of Saint-Denis (Seine-Saint-Denis ). They met there, Thursday, November 28, to prepare the December 5 action day against the pension reform. A composite assembly: bus drivers, RER drivers, SNCF agents, students, municipal officials, teachers …
Most of them are union activists, committed to the left and hard-working, but other profiles stand out and capture attention: they are representatives of groups of "yellow vests" living in Ile-de-France. The movement they embody is the reference of the moment – a source of new pride. "They woke us up"says Nathalie, a bus driver. "They blew up the traditional" truck, merguez and company "styleadds Torya, a railway driver. And most importantly, they managed to roll back the government, in 2018 – with the abandonment of the tax hike on fuel, not to mention the other measures in favor of purchasing power. A performance that the large confederations of employees have not managed to achieve since the withdrawal in 2006 of the first job contract (CPE).
Article reserved for our subscribers

Read also
Pension reform: for Edouard Philippe, on the front line, the vivid memory of the failure of 1995
In the meeting held in Saint-Denis, we seek to draw inspiration from the horizontal organization dear to "yellow vests". "December 5, at general meetings, there will be no leader, no leader, no representative put forward", asserts an agent of the Vincennes bus depot.
"We learned of previous movements, chained Adel, driver on the RER A. I am unionized UNSA, but they can say what they want to the direction of the UNSA: now, it is us who decide. "
An illustration, among others, of the double pressure put on the trade union centers: they find themselves today pushed by their own militant base but also by employees lambda, resolved not to let themselves be done.
The "yellow vests," which had sprung up outside the unions and sometimes against them, have been there. In their wake, collectives, born outside the traditional organizations of employees, have hatched here and there, almost virally at the time of social networks. In national education, these are the "red pens"; in the hospital, the Inter-Emergency Collective. At the RATP, two newcomers in recent years intrigue and worry the "classic" unions as well as the management of the company – confessing that it does not know them very well: La Base, made up of defectors from SUD and the CGT who claims to be participatory, leaderless and uncompromising; the Union Gathering, whose composition and functioning is dark for those who are not part of it.