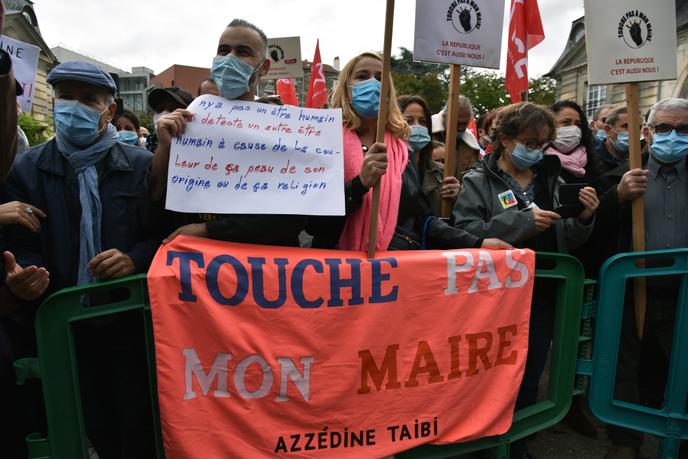 The alert came at the end of October, fifteen days after the assassination of Samuel Paty, the history and geography professor beheaded by an Islamist terrorist on October 16, in Conflans-Sainte-Honorine (Yvelines). During a videoconference between twenty or so elected from the suburbs, several expressed their concerns about the proliferation of racist reflections or anti-immigrant remarks they had heard.
"We were all really worried, as if a cork had jumped"remembers Gilles Leproust, the Communist mayor of Allonnes (Sarthe). "We then felt a real stiffening, and some of our inhabitants let go with puffs of racism which were expressed openly", adds Catherine Arenou, elected (various right) of Chanteloup-les-Vignes (Yvelines).
Read also the editorial:
Refuse the trivialization of racism
This impression of a slowly rising tide is exacerbated by the series of attacks and insults to which certain elected officials with foreign-sounding names were victims, long before the Conflans-Sainte-Honorine attack. Azzédine Taïbi, the communist mayor of Stains (Seine-Saint-Denis), was thus the target of several anonymous letters in July and September: "Look well in front, behind, on the sides… we will come to kill you! ", threatens one of them.
Other elected officials various left such as the mayor of Villetaneuse (Seine-Saint-Denis), Dieunor Excellent, or that of Givors (Rhône), Mohamed Boudjellaba, experienced identical intimidation at the end of August. Mohamed Gnabaly (various left), on November 10, found the portal of his home in Ile-Saint-Denis (Seine-Saint-Denis) tagged with four swastikas and the words " To death ".
For these various elected officials, these attacks are the consequence of a hatred which is expressed more and more on social networks. "There is a climate which is deteriorating against a background of hatred with the attacks as a backdrop. This existed before, but here a new level has been crossed ", assures Azzédine Taïbi. A feeling shared by Karim Bouamrane, the socialist mayor of Saint-Ouen (Seine-Saint-Denis): "Since the first confinement, we have felt a crystallization of underhand racism which also results in violence against mayors, and when they are elected black or Arab, this can result in xenophobic actions. " Or, in Strasbourg, by the environmentalist deputy Floriane Varieras, for whom "We see more uninhibited racism expressed on social networks from residents we know."
You have 64.43% of this article to read. The rest is for subscribers only.