Soccer

The definitive Swiss line-up is there – Nati coach Vladimir Petkovic does without these three players at the European Championships
The die is cast: These 26 players are allowed to travel to the European Championships with the Swiss national team. Nati coach Vladimir Petkovic says: "The three players who have to go home are a promise for the future."
In 12 days, the Swiss national team will start their EM adventure with the game against Wales. Now it is clear with which squad Nati coach Vladimir Petkovic starts the tournament. The last three players had to be on Monday Gregor Kobel, Dan Ndoye and Andi Zeqiri leave the Swiss camp.
Petkovic's choice is not a big surprise. In the last few days he wanted to give the three actors the chance to present themselves. Your time will come.
The Swiss line-up to click through:
Yann Sommer, December 17, 1988 (32), Borussia Mönchengladbach, 60 international matches.
Keystone
That's what Petkovic says about the squad
"All 29 players deserved to play in the finals," said Vladimir Petkovic about his decision. "Even those who can no longer be there have made a very good impression in the last few days and made a promise for the future. It was a valuable experience for both the coaching staff and the players. "
Changes can still be made to the squad until the first game of the tournament (on June 12th against Wales in Baku) if a player has been seriously injured or has corona. Goalkeepers who are physically incapable of being used can be replaced throughout the tournament. Accordingly, the three players, who were adopted today, remain on call.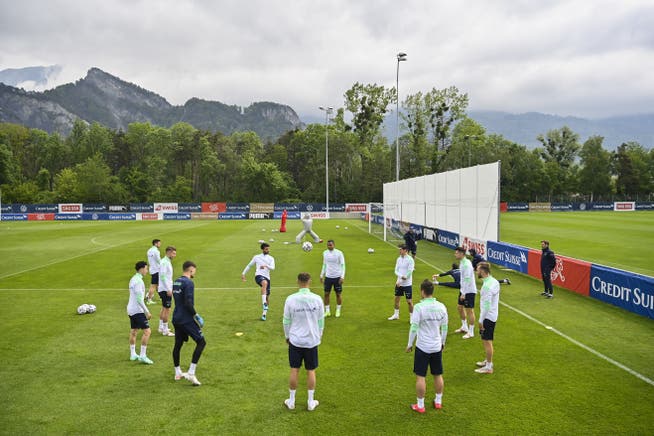 That is the program until the EM
The training camp in Bad Ragaz will last until next Friday. The second test match will take place on Thursday. After the 2-1 win against the USA, it's against Liechtenstein. The last practice session before the free weekend takes place on Friday. Here the players can recharge their batteries with their families for the coming weeks. The Swiss entourage will then fly to Azerbaijan on Monday. The first Swiss European Championship game against Wales will take place in Baku on Saturday, June 12th.
The Swiss line-up for reading:
goalkeeper: Yann Sommer (Mönchengladbach), Jonas Omlin (Montpellier) and Yvon Mvogo (Eindhoven).
defender: Fabian Schär (Newcastle), Nico Elvedi (Möchengladbach), Manuel Akanji (Dortmund), Ricardo Rodriguez (Torino), Becir Omeragic (Zurich), Eray Cömert (Basel), Silvan Widmer (Basel), Kevin Mbabu (Wolfsburg), Loris Benito (Bordeaux) and Jordan Lotomba (Nice).
midfield: Granit Xhaka (Captain, Arsenal), Remo Freuler (Bergamo), Denis Zakaria (Mönchengladbach), Xherdan Shaqiri (Liverpool), Djibril Sow (Frankfurt), Edimilson Fernandes (Mainz), Steven Zuber (Frankfurt), Ruben Vargas (Augsburg) and Christian Fassnacht (YB).
Sturm: Haris Seferovic (Benfica Lisbon), Breel Embolo (Mönchengladbach), Mario Gavranovic (Dinamo Zagreb) and Admir Mehmedi (Wolfsburg).
The program of the Swiss national team up to the EM
Training camp Bad Ragaz: May 26th – June 4th
Test match Switzerland – Liechtenstein: June 3, 6:00 p.m.
Departure for Baku: June 7th
EM group matches
Sat, June 12, 3:00 p.m .: Wales v Switzerland
Wed, June 16, 9:00 p.m .: Italy – Switzerland
Sun, June 20, 6 p.m .: Switzerland – Turkey