Thiamethoxam and « cocktail effect » with seven other pesticides on bees
My cybernetic wanderings have led me to " Mixture effects of thiamethoxam and seven pesticides with different modes of action on honey bees (Circle [sic] mellifera) (effects of the mixture of thiamethoxam and seven pesticides with different modes of action on honey bees (Apis mellifera) of Wenhong Li, Lu Lv, Yanhua Wang et Yu-Cheng Zhu, publié dans Scientific Reports.
Here is the summary (cut out):
« Although honey bees are routinely exposed to a complex mixture of many different agrochemicals, few studies have examined the toxic effects of pesticide mixtures on bees.
To elucidate the interactive actions of pesticides on crop pollinators, we determined the individual and joint toxicities of thiamethoxam (THI) and seven other pesticides [diméthoate (DIM), méthomyl (MET), zéta-cyperméthrine (ZCY), cyfluthrine (CYF), perméthrine (PER), esfenvalérate (ESF) et tétraconazole (TET)] for honey bees (Apis mellifera) using an ingestion toxicity test.
The results of the 7-day toxicity test indicate that THI caused the highest toxicity with a CL50 de 0,25 (0,20-0,29) μg mL-1followed by MET and DIM with CL50 4.19 (3.58-4.88) and 5.30 (4.65-6.03) μg mL-1, respectively. In comparison, pyrethroids and TET possessed relatively low toxicities with their CL data50 between 33.78 (29.12-38.39) and 1.125 (922.4-1.442) μg mL-1.
Of the 98 evaluated binary to octonary mixtures containing THI, 29.59% of the combinations exhibited synergistic effects. On the other hand, 18.37% of the combinations had antagonistic effects on A. mellifera. In addition, 54.8% of pesticide combinations incorporating THI and TET exhibited synergistic insect toxicities. [lire : abeilles].
Our results highlight that the coexistence of several pesticides can induce increased toxicity for honey bees. Overall, our results provided useful toxicological information on the combined actions of neonicotinoids and common pesticides on bees, which could accelerate the understanding of possible adverse effects of other pesticide mixtures in the agroenvironment. »
This study is ambivalent regarding its interest.
On the one hand, it seems unlikely to us that bees will be confronted, in a real situation, with certain cocktails of thiamethoxam and another insecticide (tetraconazole is a fungicide). In fact, the recommendations for use are formulated in such a way as to avoid contact of the bees with any of the products likely to affect them. The tests were also carried out with sugar solutions, under controlled conditions not necessarily representative of reality.
On the other hand, despite these limitations, the study highlights contrasting effects on bees for mixtures, more or less and according to the abstract null (50%), synergistic (30%) and antagonistic (20%).
The authors also underlined in their summary the existence of a synergistic effect between the insecticide thiamethoxam and the fungicide tetraconazole; and therefore the importance of considering the combined actions of " -cide " different. But the experimental protocol was limited to acute, not subchronic, effects.
The effects, it seems to us, are not extraordinary. We are far from the gestures of anti-pesticide circles. But they also constitute an invitation to take a closer look at the effects of any combined treatments or, taking into account the rates of degradation, following each other closely over time.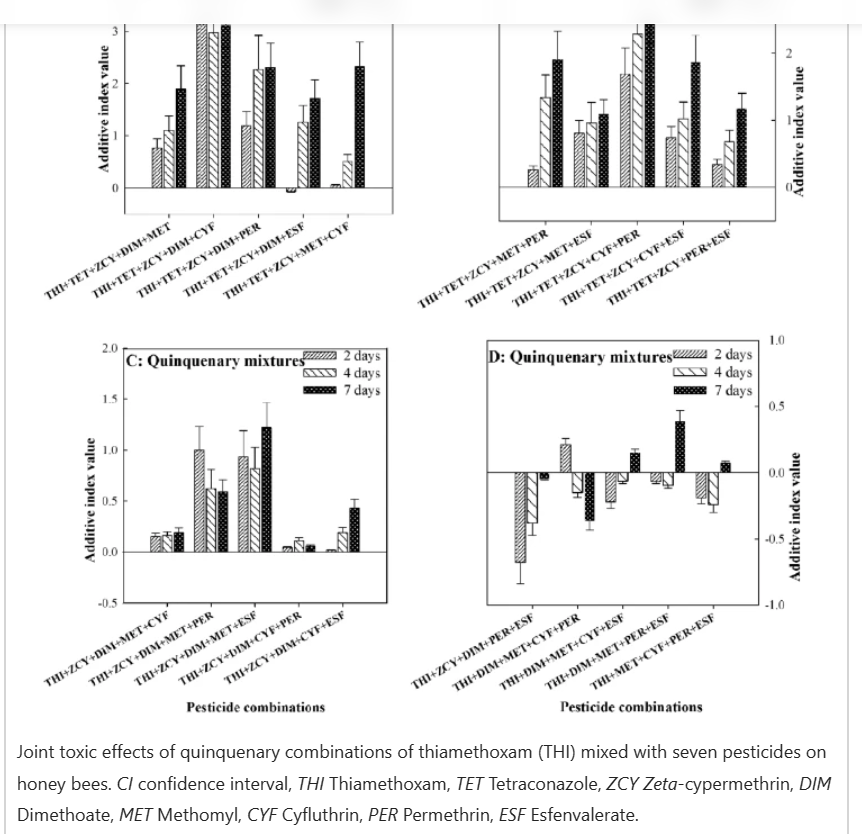 I reproduce here only two figures on the effects of " cocktails ". The authors also produced cheeses. I put them below without more.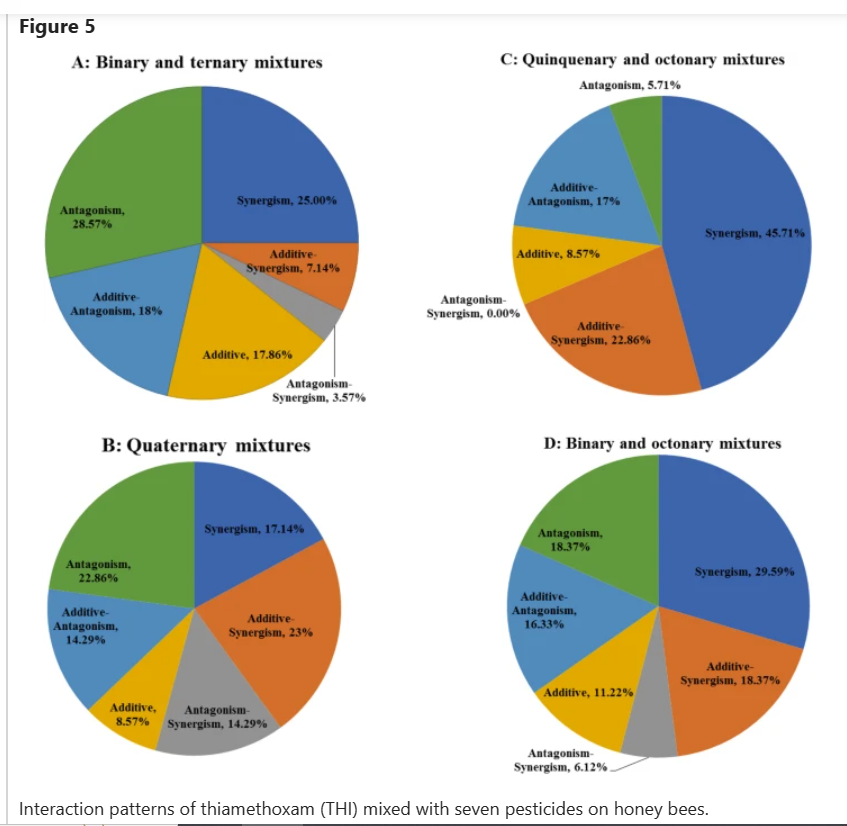 If you want to know what anti-pesticide activism – not outrageous in this case, despite references to DDT and the monarch butterfly – can make of such a scientific paper, see ici.