Updated:
save

The Acciona 100% EcoPowered is the electric car with the most energy available in the world, with a 250Kw synchronous motor, the equivalent of 340 horsepower. Its energy is stored in eight ultra-fast recharge lithium battery modules, and a 100W solar panel that supplies the complementary equipment. It is the first 100% electric vehicle and zero emissions to reach the finish line in a Dakar, and now it will complete the challenge of competing on five continents by participating in the extreme rally Emirates Desert Championship, in Dubai, between November 15 and 17
This motorcycle Acciona returns to the competition with its zero emission electric vehicle to demonstrate the potential of clean energy against fossil fuels in a car test of maximum demand.
On this occasion, the Acciona 100% EcoPowered will run the sixth edition of the Emirates Desert Championship. The vehicle will be the first electric model to compete in this rally, for which the organization has created a new category.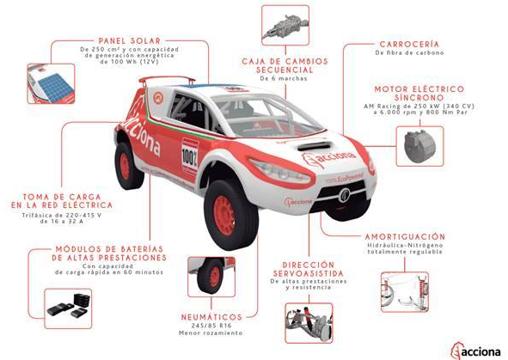 The test will consist of two stages that will take place in the desert of Liwa and a total route of 411Km. Almost all of the route will run in extreme conditions in which driving in the dunes will mark the development of the competition.
The Acciona 100% EcoPowered made history in 2017 by becoming the first vehicle fully supplied with electricity from renewable sources to complete the Dakar Rally, the most emblematic race in the world.
Since then has increased its trajectory with other tests of FIA World Championship such as Lower Italy or the Rally of Morocco, and regional competitions such as the Tatts Finke Desert Race (Australia).
With this new test in asian terrain, the Acciona 100% EcoPowered makes history by reaching the milestone of being the only 100% electric vehicle to run in approved rally tests on five continents.
Ariel Jatón, driver and developer, will once again get behind the wheel of the vehicle with which he crossed the finish line in the 2017 Dakar. Edu Blanco, co-driver and team manager, will complete the tandem that will guide the ACCIONA 100% EcoPowered in the Emirates Desert Championship.
The vehicle will also complete a tour of some of its most emblematic projects in the UAE, as the works of the Dubai Expo Metro 2020 or Mohammed Bin Rashid Al Maktoum Solar Park. There, workers and the public can learn about the technology that incorporates the vehicle and the renewable commitment it represents in the motor world. The Acciona electric car will also be presented in several universities and schools to bring its sustainable concept to new generations.
. (tagsToTranslate) electric car (t) (t) spain (t) emirates (t) desert