While the British royal family is in a state of anxiety, after announcing the launch of a book Prince Harry In January, the British newspaper, The Sun, revealed details of the phone calls that took place between the prince and his late grandmother, Queen Elizabeth II, shortly before her death.
According to the report, the late queen tried to bridge views and reach a peace agreement with Prince Harry, after his father, King Charles III, at the time stopped receiving his calls and talking to him.
One of those familiar with the royal affairs revealed to the newspaper, saying: "The late queen was always happy to talk to Harry, but when he asked for money, she said to him: Why don't you talk to your father? Prince Harry told her then that he no longer answers his calls."
The source went on to say that King Charles insisted that Prince Harry send his requests via email through his personal assistant rather than over the phone, after family members, including his brother Prince William, stopped speaking to Harry when they learned of his controversial book deal.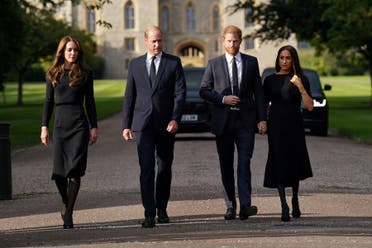 William and Harry with their wives (AFP)
He pointed out that when the Queen asked her son Charles, in his last conversation with him about Harry, what he would do about his requests, because she receives many phone calls from him, Charles replied that he was "not a bank."
Prince Harry has taken an advance of £17.5m as part of a £35m deal for Spear's memoirs, due to be published on January 10, 2023.
A press report on the British "Daily Mail" website stated that the royal family is very afraid of Prince Harry's new book, and the private information it will contain, especially since they were warned that Prince Harry criticized many things and people in the British monarchy.
Harry and his wife Megan, officially known as the Duke and Duchess of Sussex, gave up their royal duties in early 2020 and moved to the United States.
The couple deeply shocked the British monarchy in a 2021 interview with Oprah Winfrey when Meghan accused an unnamed member of the royal family of raising concerns about their son's possible dark color, and said her life as a member of the royal family had put her on the brink of suicide.