More than 9.6 lakh state welfare card registrants face the problem of incomplete registration. As TDRI scholars warn, this approach may not be accessible to real low-income earners.
Mr. Pornchai Thiravej, Director of the Fiscal Policy Office As a spokesman for the Ministry of Finance said that those registered for the 2022 State Welfare Registration Program between 5-8 Sept. More than 960,000 incomplete registrations out of 5.2 million registered users.
because the registrant fills out incomplete information or is not correct according to the criteria such as the Department of Provincial Administration database Detected that the registered person is a monk, under 18 years old, has a spouse, informs the spouse inaccurate information, the number of children and the ID card number is not correct for everyone. within 3 Nov.
While Mr. Somchai Chitsuchon, Director of Research, Thorough Development Thailand Development Research Institute (TDRI) proposes to the Ministry of Finance to review how to register for the State Welfare Card Scheme. to be in line with the social context of real low-income earners After noting that the Ministry of Finance still uses the old registration method. In spite of this method, the real low-income earners dropped as high as 51 percent.
It also proposes to use community mechanisms for PHMC and avoid using government personnel to join in the selection of those who are not considered poor from the existing database. from the payment of subsidies for newborns, the disabled, the elderly, etc.
Recently, the Ministry of Finance reported that the number of people registered for the project across the country has reached more than 14.1 million, which will gradually announce the results of registration every Friday.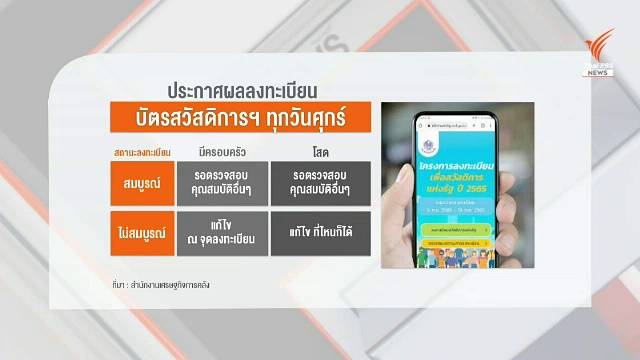 Read more
Start today! Check the right to register for the welfare card of the state
prepare yourself! Half of each person, Phase 5 opens an additional 3.07 million rights.