It would seem thatUbisoft is preparing to unveil the next episode of its saga Assassin's Creed within a few hours, which rumors so far want it to take place at the time of the Vikings. You are not without knowing it, the license is cross-media and is available on many supports now, including books and in particular novels accompanying the release of each game.
Amazon has listed a novel "Assassin's Creed" from the next game for a 17/11 release in Germany. After some research, I discovered that it was not a fake. The book is indeed listed on several German shops and … look at the keywords ???? pic.twitter.com/lxnDmtieNQ

– j0nathan⚡ (@ xj0nathan) April 28, 2020
Well, imagine that several online stores have recently listed a new Assassin's Creed novel of 352 pages, whose Amazon.fr ! At first glance, we might think of a fake following the recent false listings, but it is a priori nothing this time, as proved by the user @ xj0nathan by searching on several German sites the product sheet linked to the number ISBN-10 3833239522. Each time, the term "Roman zum Game" used to designate some of the previous novels is present.
For a price of fifteen euros, we could discover everything from November 17 as shown on Amazon, Bucher or Lehmanns, all distributed by Panini Books in the country. Others like Buchhandlung Rupprecht and Buchhandlung Brunner are content with a simple December 2020, but all agree for a release at the end of the year. In general, all the novels are published after the launch of the associated game, from a few days to that ofOdyssey published on October 10, 2018 almost a month to Underworld, who was staging Henry Green. The supposedly named Assassin's Creed Valhalla would thus see the day before this date, which will not surprise many people in the end.
Finally, and this remains to be taken with tweezers since we do not know if the different brands have received more details or not on this book, Lehmanns already indicates in keywords the terms "Ragnarok", "Valhalla" and "Viking", which would therefore confirm the theme of the game. A priori, we should not delay much longer before knowing more.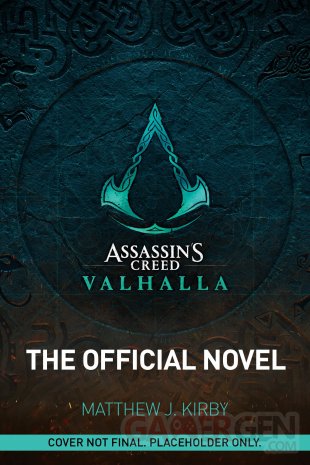 Update : an official novel has indeed been formalized, written by Matthew J. Kirby, which fans of the saga already know for Last Descendants. On the other hand, theISBN-10 1405946806 is different this time as attested Amazon.uk. In any case, you will have reading at the end of the year, it remains to be seen on what date.

Corrector – Writer
Alexandre SAMSON (Omega Law)
Addicted to Assassin's Creed and Destiny, a great RPG fan and passionate about video game experiences in general. Comic reader (DC) and various manga (One Piece!). Chemist by training and Whovian at heart.

Follow me

:
.