In early May 2022, cases of monkeypox (Monkeypox) not directly linked to travel to Central or West Africa where the virus is present, or people returning from travel, have been reported in Europe and around the world. Since that date, the disease has been the subject, in France and in Europe, of enhanced surveillance based on the Mandatory Declaration, the form of which has been specifically updated.
Update in France
As of 29 November 2022 at 12:00 p.m., 4,109 confirmed cases of infection with the Monkeypox virus have been recorded in France, i.e. 5 additional cases since the assessment of 1 November.
The distribution of confirmed cases by region of residence (or by reporting region when the region of residence is unknown) is presented in Figure 1. The Ile-de-France region concentrates the largest number of cases (2,500, i.e. 60, 8%), followed by Occitanie (312 cases), Provence-Alpes-Côte d'Azur (288 cases) and Auvergne-Rhône-Alpes (271 cases); 22 cases reside abroad.
The vast majority of confirmed adult cases identified to date are male and 111 cases over the age of 15 (2.7%) are female. The proportion of female cases reached a peak in W36 where it reached 13.6% (16 cases out of 118) then decreased (with 7.5% of confirmed cases, i.e. 3 cases from W39 to W41, and 2 cases in W42 ). Over the past 2 weeks (i.e. since the last assessment), 3 cases among the 5 new confirmed cases are women. The low numbers and the absence of information on a possible transsexuality of these female cases do not allow to conclude on a possible modification of the dynamics of transmission of the virus. Thirteen (0.31%) children under the age of 15 have been reported as confirmed cases since May 2022. Adult confirmed cases have a median age of 36; 25% of adult cases are under 29 years old and 25% are 43 to 81 years old.
Among the confirmed cases for which information is available, 96 (2.3%) were hospitalized because of their infection with the virus Monkeypox ; this proportion remains stable over time.
No deaths have been reported to date.
The distribution of cases by symptom onset date (when known) is shown in Figure 2. Symptom onset date for confirmed cases ranges from May 7 to November 9, 2022. declaration, the data of the last weeks are not consolidated. The reports received do not always mention the date of onset of the symptoms. As an alternative to this information, the distribution of cases according to their date of reporting is presented in Figure 3.
Since the peak of contamination reached at the end of June/beginning of July, the number of confirmed cases has decreased. To date, the weekly number of confirmed cases has fallen below the threshold of 5 cases. However, we must remain cautious because improving knowledge of the disease can reduce the need for treatment by the best-informed populations. Several other countries, particularly in Europe, are seeing similar trends in the number of new cases reported since the end of the summer. Over the past week, the number of new global cases has fallen by 46%.
Figure 1. Laboratory-confirmed cases of monkeypox (n= 4,087 cases) by region of residence (or by reporting region when region of residence is unknown), France, May-November 2022 (data as of 11/29/2022 – 12:00 p.m.)
Figure 2. Biologically confirmed cases of monkeypox (n=3,033 cases, number of missing data: 1,076) by week of onset of symptoms, France, May-November 2022 (data as of 29/11/2022 – 12:00 p.m.)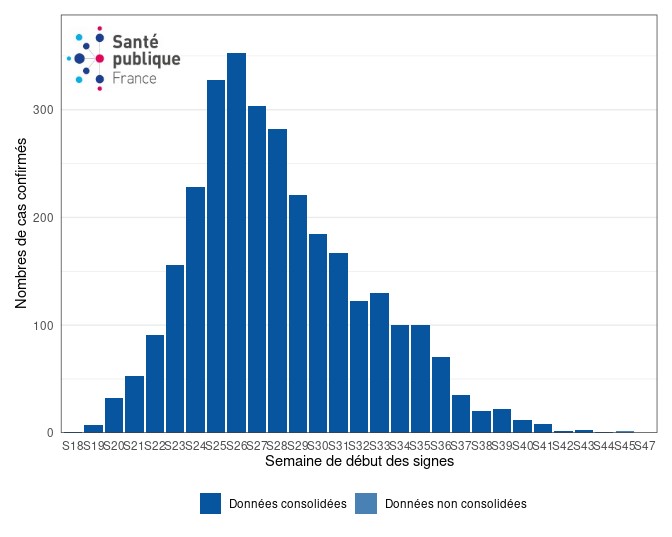 The data for the last few weeks is not fully consolidated.
Figure 3. Biologically confirmed cases of monkeypox (n= 4,109 cases) by reporting week, France, May-November 2022 (data as of 11/29/2022 – 12:00 p.m.)
The data for the last week (in light blue) is not fully consolidated. The reporting low observed in week 28 (July 11 to 17) can be explained by the July 14 public holiday.
Preventive vaccination against monkeypox
Regarding the deployment of vaccination, as of November 29, 2022, 174,572 doses of 3rd generation vaccine have been delivered by the Agency to the territories.
As of November 28, 2022, the total number of doses administered is 138,383 (source: Ministry of Health and Prevention).
Since July 11, 2022, in addition to people who have had risky contact with a sick person, people falling within the indications retained by the HAS can make an appointment to be vaccinated throughout France:
Men who have sex with men reporting multiple sex partners.
Trans people reporting multiple sexual partners.
sex workers.
Professionals working in places of sexual consumption.
Vaccination can also be considered on a case-by-case basis for health professionals who have to take care of sick people.
For more information on vaccination and access to vaccination sites:
Monkeypox info service: a listening device to answer questions about monkeypox
The "Monkeypox info service" telephone line is accessible every day from 8 a.m. to 11 p.m., on the toll-free number 0 801 90 80 69 (free, anonymous and confidential call and services). This device is in charge of accompanying prevention messages and protective measures, of providing information on symptoms, treatments and vaccination, of advising and directing towards the care devices.
Since the line opened in mid-July, 8,387 interviews have been carried out on Monkeypox info service.
64 interviews were carried out in weeks 46 and 47 (versus 97 over the previous fortnight).
The decrease in the number of calls to the Monkeypox info service device continues.
The 25-39 year olds are still the most numerous to contact the system, although down 7 points (41% vs. 48% over the previous fortnight).
At the same time, there is an increase of 8 points (24% vs. 16% over the previous fortnight) in the over 55s. Their questions relate, for nearly 75% of them, to vaccination and, for 42%, to the risks of transmission.
Questions relating to symptoms (side effects of the vaccine or possible contamination) are also up by 5 points (23% vs 18% over the previous fortnight).