Marine Aircraft Group (MAG) 12 conducted a live fire with AIM-9X missiles from the southern coast of Japan to exercise its air-to-air warfare capabilities. Planes F/A-18 Hornets fourth generation and F-35B Lightning II Fifth generation of the group's fighter squadrons, Marine All Weather Fighter Attack Squadron (VMFA(AW)) 533, Marine Fighter Attack Squadron (VMFA) 121, and VMFA-242 respectively, participated in the exercise. This also marked VMFA-242's first live missile fire since reaching full operational capability in May 2022. The 4th and 5th generation fighters employed an array of four AIM-9X missiles against air targets. The exercise was an opportunity to increase weapons proficiency and enhance the squadrons already formidable combat readiness in an air-to-air environment.
"The success of these types of exercises requires everyone to do their part and it is not as simple as pulling the trigger. It begins with the receipt of high explosive devices and coordination with the air station to transport, handle, load and launch them from the aircraft. Effective execution relied on careful planning by the pilots of the MAG-12 and from the multi-platform weapon system officers. Last, but perhaps most importantly, we needed the station's air traffic controllers to work in concert with Japanese air traffic control agencies to ensure the safety of all aircraft throughout the firing range and the length of the missile exercise," said Capt. Ray Rickenbach, VMFA(AW)-533 weapons training officer.
"MAG-12's unique position and role in the Indo-Pacific region demands our strength as a forward and deployed force. From our artillery and ground support Marines to our pilots and aircraft, we are able to function synergistically across the full spectrum of the joint force and are always prepared to act effectively in the event of a crisis or conflict with our partners and allies in the area," said Col. Derek M. Brannon, MAG-12 commanding officer.
"We are a combat-ready group with the right staffing of mission commanders, flight chiefs and flight attendants. We are able to carry and use all authorized ammunition at any time and day of the week, whether in training or in combat. This missile exercise is a demonstration of that capability," said Commander Douglas Kansier, executive officer of VMFA-242.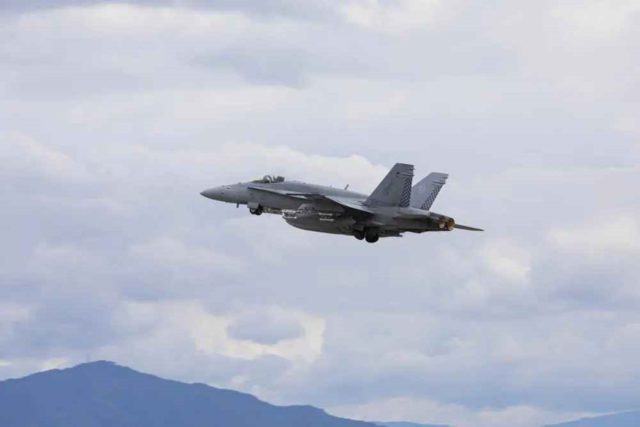 Behind the pilots and aircraft are equally critical gunnery personnel, procedures, weapons tactics instructors and airspace controllers who are part of the execution of any missile shot. Gunnery personnel from the 12th Marine Aviation Logistics Squadron and individual squads were essential to safely arming the gunnery on the aircraft in accordance with Marine Corps gunnery procedures. MCAS Iwakuni hosts the only forward-deployed U.S. F-35 squadrons and provides a unique capability in the Indo-Pacific region.. MAG-12 works regularly with international partners and allies, as was recently demonstrated during the Royal Australian Air Force's Pitch Black 2022 multilateral exercise. Under the command of the 1st Marine Air Wing, MAG-12 regularly operates in conjunction with US regional forces, as well as local allies and partners, to preserve a free and open Indo-Pacific.