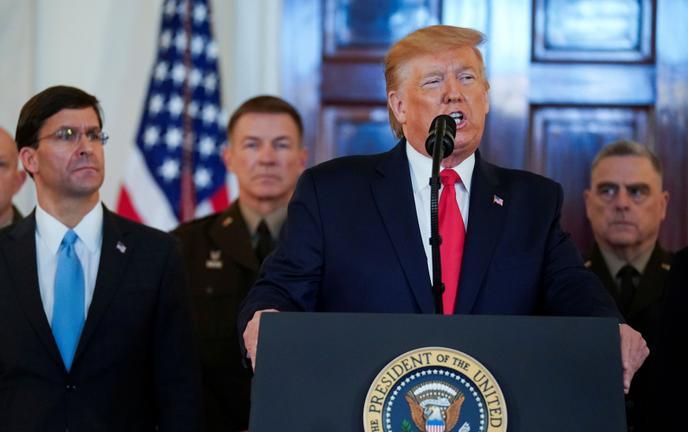 The United States Senate passed a resolution on Thursday (February 13) to limit Donald Trump's military action against Iran. This is a new snub for the American president, even if he will eventually be able to use his veto power against the promulgation of such a provision.
The text, which must be sent to the House of Representatives where it is likely to be confirmed, obliges the president to ask "A debate and a vote in Congress", the only power to declare war according to the Constitution, before any "Offensive war" against the Islamic Republic.
"If the president has and must always have the capacity to defend the United States against an imminent attack, the executive power stops there", Democrat Tim Kaine, the author of the resolution, said on Thursday, opening talks further supported by eight Republican senators. "An offensive war requires a debate and a vote in Congress", he added.
Text urges president not to engage armed forces in hostilities against Iran "Or any part of his government or his army", without explicit authorization for a declaration of war or specific authorization for the use of military force against Iran.
Article reserved for our subscribers

Read also
By ordering to kill Ghassem Soleimani, Donald Trump chooses escalation against Iran
Probable agreement of representatives
The Democrat-controlled House of Representatives will in turn have to approve the text, presumably by the end of the month.
There is little doubt that the House will give its agreement, since it approved in early January – with a comfortable majority (224 votes in favor, and 194 against) – a separate resolution on the same subject.
In 2019, Donald Trump had already suffered a snub when Congress passed a resolution demanding the end of American support for the Saudi military coalition in the war in Yemen, with the exception of operations targeting jihadist groups. In accordance with American constitutional law which allows the President of the United States, if he does not agree with a law passed in Congress, to refuse to promulgate the text, he had vetoed it.
Article reserved for our subscribers

Read also
Crisis in Iran: posture of the commander-in-chief, an electoral argument for Trump